Undergraduate Students
Florida Resident Costs
| | |
| --- | --- |
| Tuition and Fees* | $4,940 |
| Room and Board | $11,471 |
| Books | $1,200 |
| Total | $17,611 |
Non-Florida Resident Costs
| | |
| --- | --- |
| Tuition and Fees* | $21,005 |
| Room and Board | $11,471 |
| Books | $1,200 |
| Total | $33,676 |
*Based upon 30 credit hours, 2019-20 rates
Graduate Students
Florida Resident Costs
| | |
| --- | --- |
| Tuition and Fees* | $8,506 |
| Room and Board | $11,471 |
| Books | $1,200 |
| Total | $21,177 |
Non-Florida Resident Costs
| | |
| --- | --- |
| Tuition and Fees* | $19,998 |
| Room and Board | $11,471 |
| Books | $1,200 |
| Total | $32,669 |
*Based upon 18 credit hours, 2019-20 rates
Residency for Tuition
All students are required to complete a residency application. If you've lived in Florida for at least one full year before the start of classes, you may be eligible for in-state tuition.
NET PRICE CALCULATOR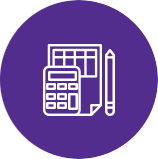 Want a clearer idea of what it will cost you to attend Florida Poly? Use the Net Price Calculator to compare tuition, fees, and other expenses against your expected financial aid awards to estimate your annual out-of-pocket price.
The Net Price Calculator could help us identify additional financial aid leads for you, so it's important that you provide accurate information (name, date of birth, phone number, and email).