Event Navigation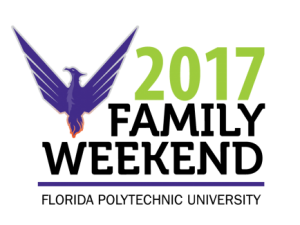 Save the Date!
Florida Poly Family Weekend is an exciting, jam-packed adventure for the entire family spread out over three days. You can learn about the future of Florida Poly from President Dr. Randy K. Avent, and then roll up your sleeves during our Families v. Students Field Day events. It's also a chance to enjoy student and faculty presentations, explore the surrounding city of Lakeland and become a member of the Parent Association.
We look forward to seeing you this weekend. Registration is now closed.
This weekend is jam packed with exciting events for both you and your student to enjoy together, while gaining a deeper understanding and connection to Florida Poly. From a hypnotist to field day events, 
check out the full agenda here. 
Schedule:
Friday October 13th
Saturday October 14th
Sunday October 15th
Accommodations:
TownePlace Suites by Marriott
TownePlace Suites by Marriott Lakeland Road 98 Lakeland, FL 33805
(863) 680-1115
Contact: Stephan Rice
Estimated Rate: : $109.00 – $127.00
Courtyard
3725 Harden Blvd Lakeland, FL 33803
(863)802-9000
Contact: Denise Bushover
Estimate Rate: : $109.00 – $127.00
Hampton Inn & Suites
3630 Lakeside Village Blvd, Lakeland, FL 33803
(863)603-7600
Contact: Mary Babylon
Estimated Rate: : $109.00 – $127.00
Group Code: FPU