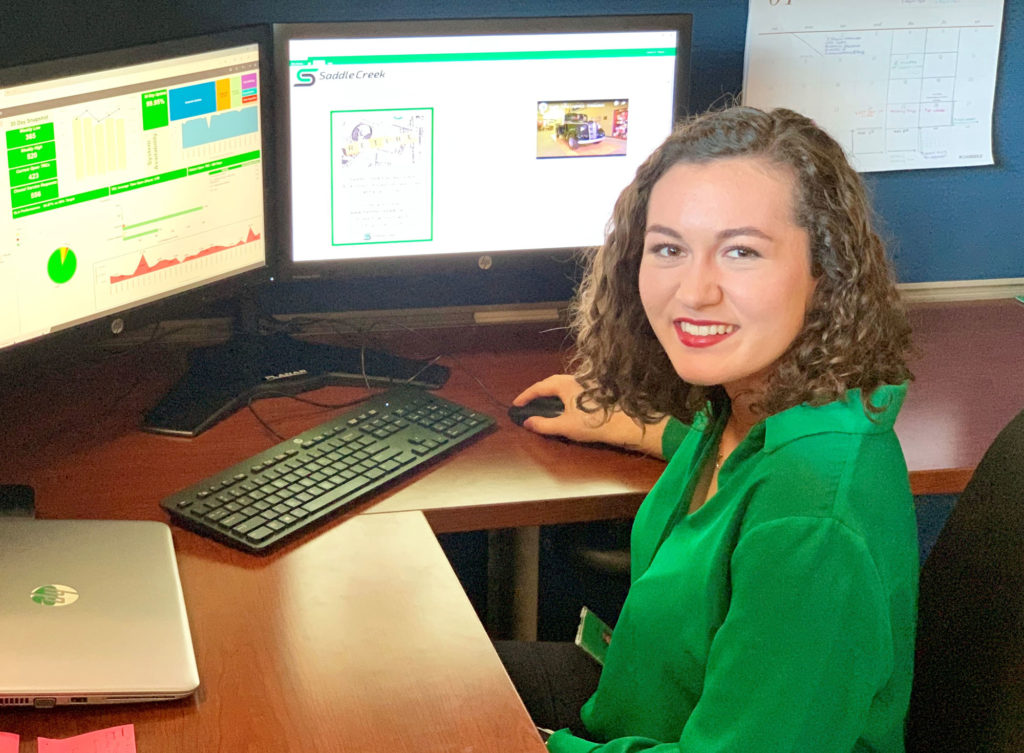 Florida Polytechnic University student Leanne Paquin is only 18 and she's already walking the hallways of Saddle Creek Logistics Services with the confidence of an expert data analyst. In reality, she's only just beginning. Paquin is a sophomore majoring in Business Analytics, fulfilling her dream of interning at a major company she's known her whole life.
"Growing up in Polk County, Saddle Creek was very familiar to me and I always imagined it would be a great place to work," said Paquin, from Auburndale, Florida. "My concentration is logistics and supply chain management, so it was ideal for me to go to a company that works with those areas."
As part of her 16-week internship in the Business Intelligence Department, Paquin supports the day-to-day operations working with the company's front line analytics. She is also helping other departments transition to more efficient programs that would generate data in an automated way, among other projects.
In the meantime, Paquin is learning how to use valuable data analytics tools like MicroStrategy and different programming languages like Sequel. She says this learning experience will give a great advantage once she's ready to hit the workforce full time.
"I came here with zero experience and they're taking the time to give me all this information and then teach me how to use it," said Paquin. "They're providing me tools to grow as a professional and go out into the workforce with a ton of really invaluable training and knowledge."
Paquin said Florida Poly has prepared her to enter into Saddle Creek ready to work as a team player, understanding deadlines with a quick approach to problem solving. These are skills Sam Ceriale, manager of business intelligence and database administration, looks for in interns and potential associates for the company.
"We look for people with analytical skills who understand programming language and business processes. But we also need them to communicate well as part of the team and adapt easily when things take an unexpected turn," said Ceriale. "Florida Poly students definitely bring that to the table."
Contact:
Lydia Guzman
Assistant Director of Communications
863-874-8450