Next Steps After Enrollment
Admitted Students
Congratulations Phoenix, You're in! Now that you've received acceptance here are your next steps to make it official.
We're Excited You're Here
As a new Phoenix, there is so much to learn! You probably decided to join the Florida Poly Phoenix family because of the stellar academics and all of the opportunities to study what you're passionate about. It's time to make the most out of what Florida Poly has to offer, but we also want to ensure that you're ready to be a Phoenix.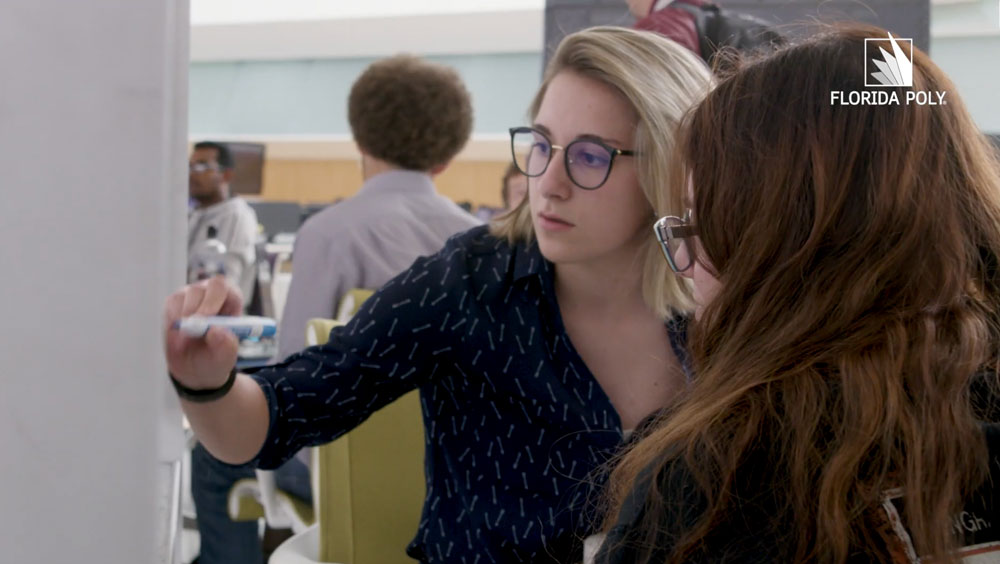 Your Next Steps
To enroll at Florida Poly please complete the following steps:
Confirm your enrollment
An admission deposit of $200 is required to confirm your enrollment at Florida Poly. Your deposit will be credited directly to your tuition account and is nonrefundable. Final confirmation of your admission depends on receipt of your deposit.
Submission deadlines: December 15 (Spring enrollment), May 1 (Fall enrollment).
*Indicates documents that are required for course registration.
Submit your residency form
Submit your Florida residency application.
All students are required to complete a residency application. If you've lived in Florida for at least one full year before the start of classes, you may be eligible for in-state tuition. If you haven't been living in Florida prior to enrollment, you'll still need to submit the form. To complete the residency application, log in below.
Complete your Free Application for Federal Student Aid (FAFSA)
Fill out your Free Application for Federal Student Aid (FAFSA) now for federal, state, and university need-based and merit-based grants and scholarships. Our Federal School code is 042634.
Receive your offer
You'll receive a packet from the Office of Financial Aid at the end of December with the following information:
Our financial aid brochure for new students and their families
An estimated award letter outlining possible awards for the upcoming year
Your Florida Poly scholarship award amount
Estimate your costs
Use the net price calculator to get an idea of your possible costs and financial aid during your first year at Florida Poly.
Questions
If you have any questions about your financial aid offer, please contact the Office of Financial Aid directly at financialaid@floridapoly.edu or 863-874-4774.
Reserve your spot
Once you make your deposit, you can apply for housing. Rooms are in high demand, so carefully review the residence options, amenities, and costs, and request your reservation soon.
Meal plan preference
Log into your CAMS student portal to select your meal plan. Don't know how to log into CAMS? Call Admissions at 863-874-4774 or contact your Admissions Counselor.
All incoming students must submit a medical health history form, including record of mandatory immunizations, completed and signed by your doctor. Getting an appointment with your physician can take time, so please schedule your physical as soon as possible.
Please submit these completed forms at least three weeks prior to registration to:
Office of Admissions,
4700 Research Way,
Lakeland, FL 33805,
OR
email to immunizations@floridapoly.edu
*Indicates documents that are required for course registration.
Forms:
Complete these additional steps
Student Enrollment Form: * To verify your enrollment to the university, you will receive an email to sign this form.
ALEKs:* This math placement exam is a requirement before getting registered for classes. For more information about how to register for the exam please visit the ALEKs webpage.
Anti-Hazing Course: This online course is partnered with HazingPrevention.org to provide evidence-based, best practices that teach you how to recognize, prevent and report hazing.To access this course, simply use your Poly NetID and password when logging into this
Pre-Orientation: Take the first step in your transition to becoming a Phoenix. For more information about new student orientation please visit the orientation webpage.
Selfie: Ready to take your ID photo? You are encouraged to send in a selfie for your Florida Poly ID photo. For additional information about your selfie please visit the selfie webpage.
Please check back often for additional information on these steps.
*Indicates documents that are required for course registration
Send your transcripts
Please have your official, final high school transcript, including your final grades and notation of your graduation, sent to us at least three weeks prior to the start of the semester. Remember that satisfactory completion of your final term is required for enrollment.
Send transcripts to:
Florida Polytechnic University
Office of Admissions
4700 Research Way
Lakeland, FL 33805-9531
*Indicates documents that are required for course registration
Earn credit toward your degree
You may earn credit through several credit-by-examination programs—AICE, AP, IB, and CLEP—under the following guidelines:
You must take the exams and report your scores to the university before the first day of classes.
You may earn a maximum of 45 semester hours by combining these credits.
Equivalent courses earned by examination will generally fulfill the same requirements that the Florida Poly courses fulfill. Credit will only be awarded once for any subject. Please refer to the University website for more information
Get your parking permit
Permits are required for vehicles on campus. As a student, you'll pay an annual fee of $115 for a parking permit, or $60 for a single semester.
Register for classes
Students will receive their schedule from the Office of the University Registrar around August 1. You will not be able to receive your schedule until all your enrollment paperwork is complete.
Tuition and Fees
Get familiar with our billing and payment process.
Once you complete your documents and receive your schedule, you can view your ledger which will reflect all account charges. Please see the Office of Financial Aid with any questions before then. You can access your personal account ledger by logging into your Florida Poly Pulse account or by contacting the Bursar's Office during regular business hours. Statements are not mailed.
Your ledger will include all tuition and fee charges and payments associated with your account. We encourage you to review your ledger statement prior to payment, once after initial registration, and at any time changes are made to your initial registration, to ensure that fees are adjusted accordingly. Tuition and fees must be paid by the deadlines specified in the academic calendar. The University reserves the right to assess late fees and restrict you from attending classes if your tuition and fees aren't paid by the payment deadlines.
Once you log into your account, select CAMS from the quick links to view your ledger.
Important Dates
Get ready for your first days as a Florida Poly Phoenix. Please check back often for updates.
All incoming students will be required to attend virtual orientation. An invitation to virtual orientation will be provided to all incoming students, this invitation will include information on scheduling both the Academic Advising Appointment and the Student Engagement Appointment. You will need to complete virtual orientation before arriving on campus in August.
Move in to your residence hall, meet your classmates, and get settled into campus. Make sure to bring a few helpers, wear comfortable clothes, and bring water—it gets hot in Lakeland in August.
Fall Orientation (Coming Soon)
More information coming soon.
Computer Check-In (Coming Soon)
If you're living off campus, this is your chance to meet your fellow commuters, check in with the Office of Student Affairs, and learn how to take advantage of opportunities within the campus community.
August 20 -
First Day of Classes
Explore the cutting-edge classrooms and advanced laboratories in the Innovation, Science and Technology (IST) building, where collaboration, exploration, and innovation rule.
Campus Life
You'll be part of a community of students, faculty, and staff, who are shaping our campus culture.
Living on campus
Our residence halls are fully furnished, three- and four-bedroom suites that include:
Fitness facility and game room
Full-size bed, desk, and amenities
Kitchens equipped with modern appliances
Common living areas with big-screen TVs
Washers and dryers are available
Our buildings have common areas for studying and socializing. An electronic access system and security cameras help keep students safe.
Reserve your spot
On-campus housing is in high demand. For more information and to choose your residence hall, click the button below.
Living off campus
For information about commuting and off-campus housing, contact the Office of Student Development at studentaffairs@floridapoly.edu or 863-874-8650.
Health clinic
Our campus health clinic offers a variety of health care services, programs, and information resources to help students maintain their emotional and physical health.
With a registered nurse on duty, the Office of Health Services provides general medical services for acute conditions, minor illnesses, and injuries.
The Office of Counseling Services provides private and confidential mental health counseling for students in need.
The Office of Disability Services coordinates academic accommodations for eligible students with mental, physical, and developmental disabilities.
Fitness Center
Our fitness Center provides students, faculty, and staff with a friendly, safe, and engaging environment to pursue healthy activities.
Open gym for self-paced workouts
Cardio machines with smart technology for Netflix, YouTube, tracking, and more
Group fitness classes
Small group training
Personal training
Fitness assessments
Equipment orientation
Active workshops and lectures
On-site and on-campus classes and training sessions
Campus distance map for walkers, joggers, and runners
Phoenix Dining
Phoenix Dining offers a variety of convenient on-campus dining options, as well as meal plans that offer the best value for students and employees.
Meal Plans
Anyone with a Florida Poly ID card is able to sign up for a meal plan. Students may use financial aid and scholarships to cover their meal plan. Deadlines may apply.
Per university policy, all residential students are required to participate in a residential meal plan membership; those who do not select a plan are automatically signed up for the 10 meals per week plan. Residential students have until drop/add day each semester to upgrade their meal plan selection. After that date, students are billed and locked into the selected plan for the semester.
Commuters are able to select any meal plan at any point throughout the semester.
Visit the dining website for more information.
Bringing your vehicle to campus
Whether you live in the residence hall or commute to campus, you are welcome to bring your vehicle—you just need to obtain a parking permit from the Office of Parking and Transportation. Students may park in one of four lots designated for general permit parking. Go here to buy a parking pass.
Student parking permit fees
Full-year: $115
One semester: $60
Visiting campus
There are four lots designated for Visitor Park & Pay. Refer to the map of our campus for designated parking lots.
Bus transportation
Florida Poly also offers complimentary bus transportation to certain local destinations. Before you arrive on campus, check out Parking and Transportation to see where the bus can take you.
Get Connected with the Florida Poly Mobile App
The app is available for free from iTunes and Google Play, for iOS and Android mobile devices.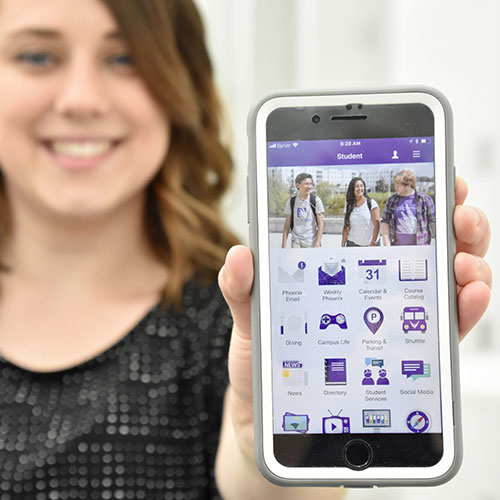 Stay connected to what is going on at Florida Poly. The Florida Poly Mobile app is your resource to get connected, stay informed, and get involved.
Contact Us
Questions? Feel free to reach out to our staff.