Presidential Ambassadors
Florida Poly's Presidential Ambassadors are servant leaders who are appointed by the University President to serve as official and formal hosts at designated events.
Mission and Purpose
The mission of the Presidential Ambassadors is to serve and represent the President and Florida Polytechnic University by promoting the successes and vision of our University with external partners and friends.
Florida Poly's Presidential Ambassador Program is a community of highly-talented students who are given the unique opportunity to promote the vision of Florida Poly in partnership with the Office of the President.
Presidential Ambassadors are appointed by the University President each academic year in consideration of their academic standing, leadership skills, and citizenship. The program fosters servant leadership development by equipping ambassadors with mentors, communication skills, and real-world experiences, enabling them to pave the way for the future of our University. Core to our ambassadors is a passion for Florida Poly and a commitment to volunteer service on behalf of the University.
Vision
To engineer outstanding students to be servant leaders and empower them to make an impact on the growth and development of our University.
Our Values
The key values we encourage and look for in our Presidential Ambassadors are service, growth, and family.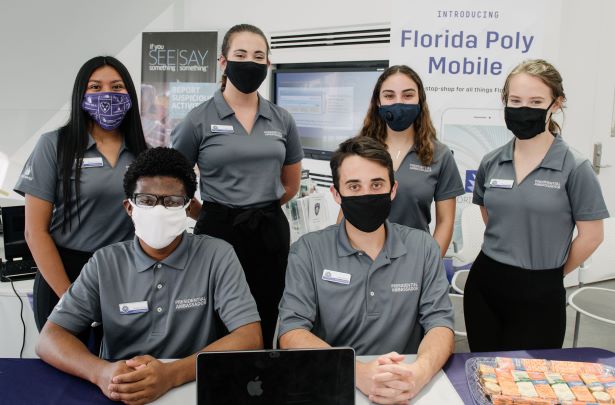 Service
Ambassadors work closely with the Office of the President to engage in activities that will have an impact for the lifetime of the University.
Throughout the year, ambassadors have multiple opportunities to apply their knowledge and skills as young leaders while promoting the University.
These may include meeting legislative dignitaries, conducting campus tours to industry partners and university donors, and co-hosting formal events.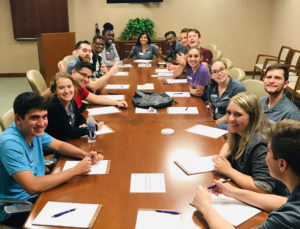 Growth
A growth mindset is key to being a servant leader. From the first day at induction, incoming ambassadors are paired with a mentor to develop skills to become an effective leader and ambassador.
Mentors serve as a coach for incoming ambassadors, answering questions and working to maximize their growth in the program. In addition, students receive instruction from business executives, military leaders, and University staff to develop strong interpersonal and networking skills.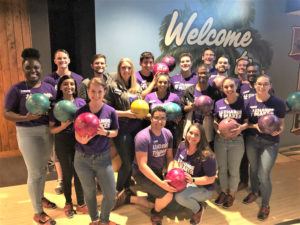 Family
Presidential Ambassadors are a close-knit family who often become great friends outside the program. More importantly, each ambassador comes from a different background with a diverse set of experiences, creating a unique opportunity to collaborate and learn from one another.
The bonds formed among members often extend beyond graduation and into life as they become productive young professionals.
Current Presidential Ambassadors
Get to know
the 2023-24 class of Presidential Ambassadors.
Presidential Ambassador Alumni
Once a Presidential Ambassador, always a Presidential Ambassador. Meet previous ambassadors who have graduated and are now a part of our alumni.
Presidential Ambassadors in the News