About
The Office of Facilities and Safety Services is dedicated to providing services and support for safe campus development and operations.
Our Services
Code Enforcement
Safety Compliance
Waste Management and Recycling
Building Operations and Maintenance
Custodial and Grounds Services
Lock and Key Control
Event Assistance
Campus Construction and Renovations
Service Areas
Safety Services
Environmental Health and Safety: Training Opportunities and Miscellaneous Assessments
Building Code Administration: Plans Review, Permitting and Inspections
Event Support: Food Safety and Special Circumstances (fires, lasers, drones, temporary structures, etc.)
Facilities Services
Building and Equipment: Maintenance and repairs by professionally licensed mechanics and skilled technicians who provide routine services as well as emergency services.
Custodial and Cleaning: Cleaning services for all building types.
Grounds Services: Maintenance of all types of landscapes with additional programs to include mulching, storm services, tree removal, and more.
Utility and Energy: Electric, water, heating and cooling provided to generators, boilers, and chillers through intensive BAS – Building Automation Systems.
Moving: Services to move desks, white boards, shelving, tables and chairs, pictures, and more.
Key and Lock Services: Provide keys, change locks, replace locks.
Events Assistance: Professional staff to support events with tables, chairs, podiums, and more.\
Planning, Design, and Construction
Planning: Develop and maintain a 10 year Campus Master Plan, and Annual Capital Improvement Plans.
Design: Coordinates with licensed design and engineering professionals to program, design, and construct and renovate facilities to support University needs.
Construction: Develops plans to execute the construction of capital projects, and oversees all on campus construction activities.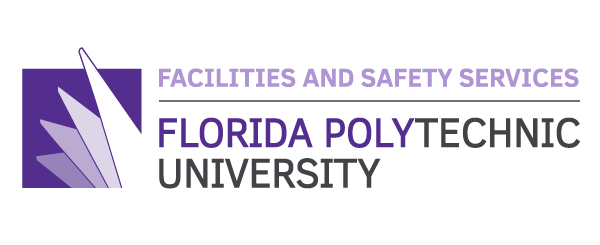 Location
4700 Research Way
Lakeland, FL 33805