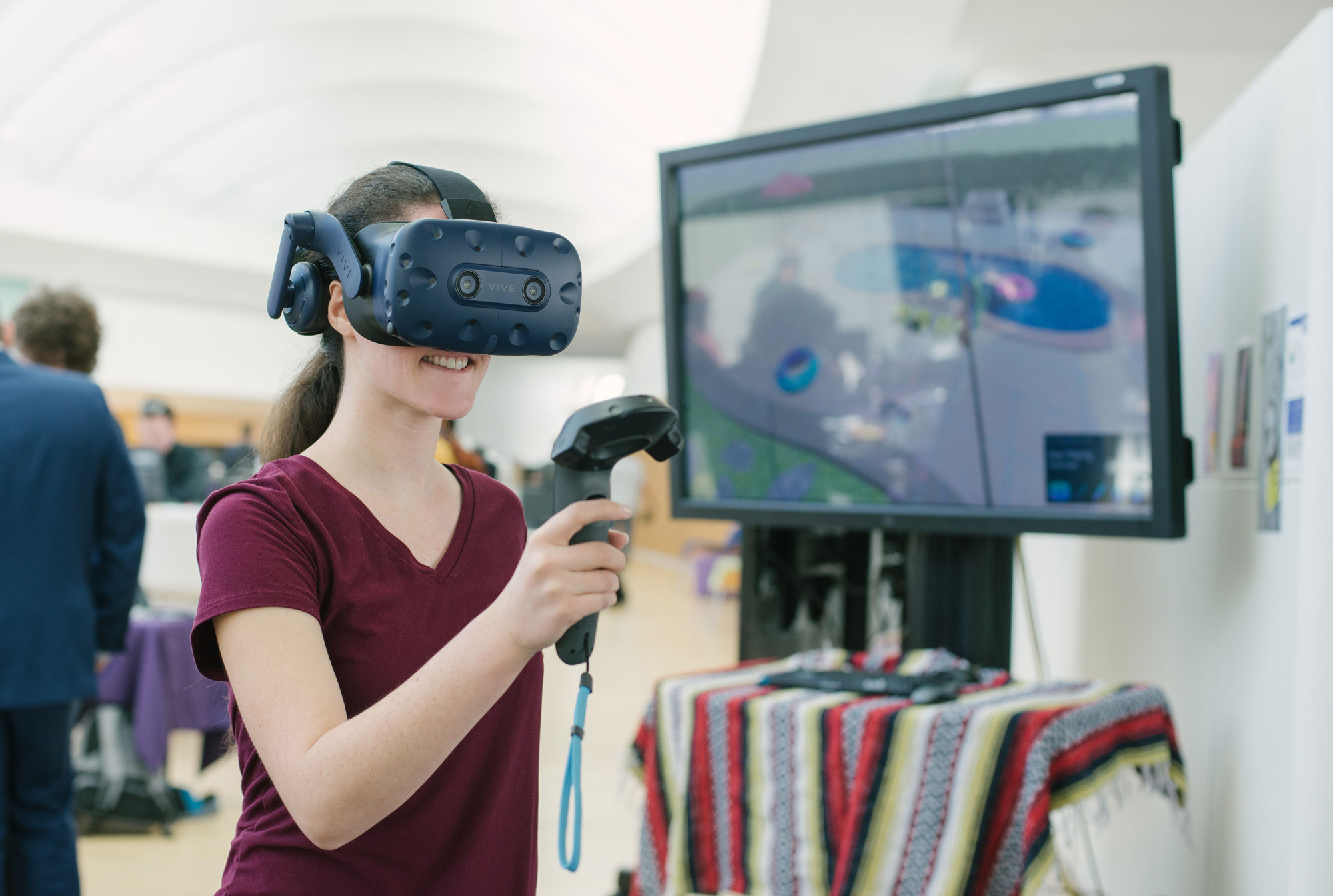 Clubs and Organizations
Joining in campus activities is a great way to build ties to the University, learn teamwork and leadership skills while meeting new people who can become friends for a lifetime.
There's more to the college experience than lectures and lab work. Florida Poly has more than 35 student clubs that are run by students for students. Students are encouraged to pursue their passions and explore new interest by joining a club.
At the beginning of the semester students have the opportunity to attend Club Row an expo-like event where all clubs and organizations showcase their clubs.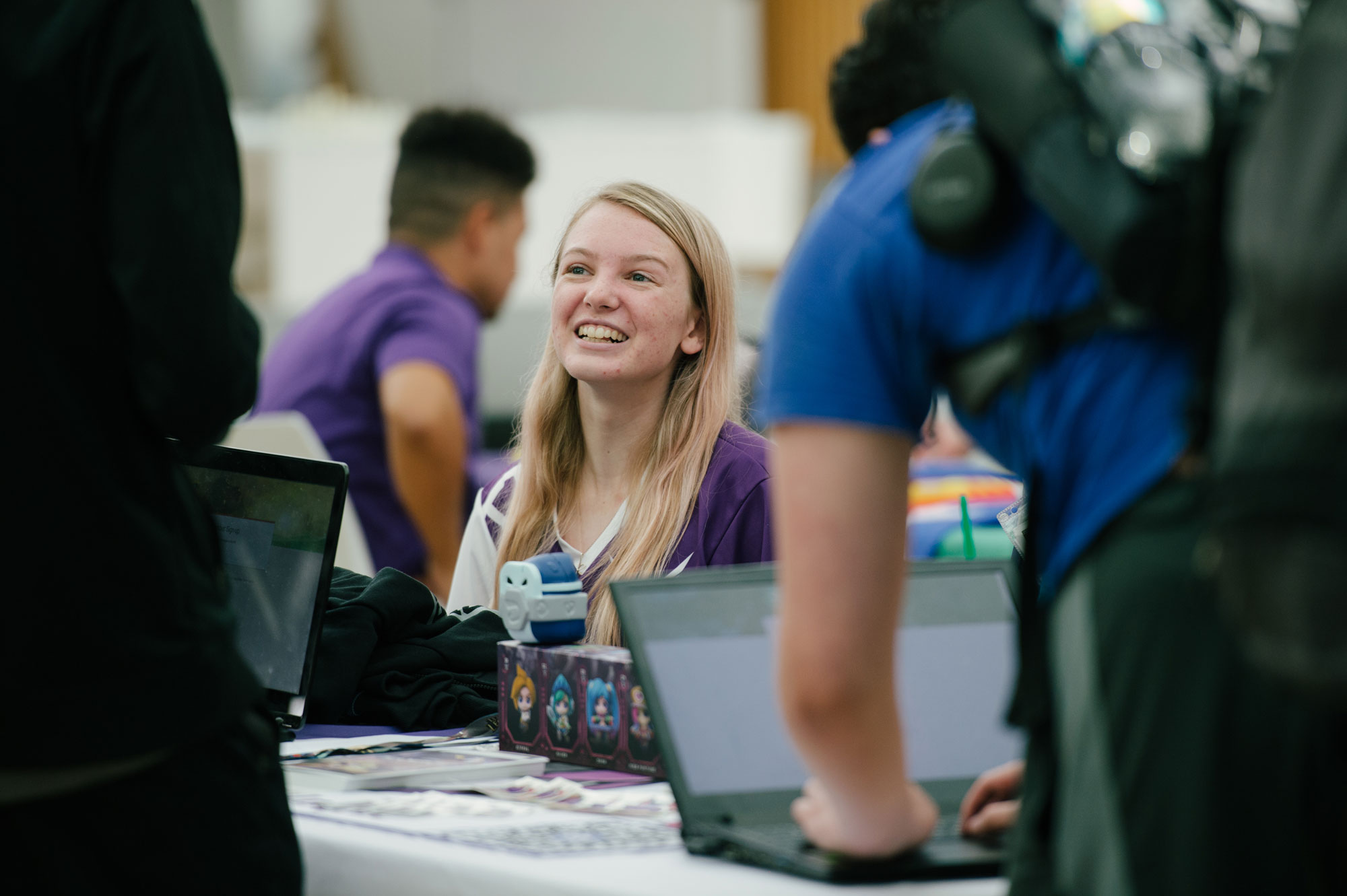 All clubs and organizations are supported by the Student Government Association (SGA) and the Office of Student Development.
Get Involved at Florida Poly
Joining in campus activities is a great way to build ties to the University, learn teamwork and leadership skills and meet new people who can become friends for a lifetime.
Campus Clubs and Organizations
Students come to Florida Poly with a passion for STEM, but their individual interests vary. That's where student-led clubs and organizations shine.
Anime Club
Florida Poly's Anime club is a space for fans of Japanese Animation to congregate and enjoy the medium.
American Society of Mathanical Engineers (ASME)
ASME
's Florida Poly chapter
is a professional organization that
enables student to collaborate,
share knowledge, and develop skills across different
engineering
disciplines.
The
club's mission is
to serve diverse global communities by advancing, disseminating
,
and applying engineering knowledge for improving the quality of life; and communicating the excitement of engineering.
Artivity Club
The
Artivity
Club seeks to encourage and support artistic expression and growth among Florida Poly students.
Phoenix Archers
Both novice and experienced archers gather to develop their archery skills and find camaraderie while shooting for the bullseye.
The club provides a safe space to learn how to shoot and even compete in the sport.
ASTRO
T
he ASTRO Club aims to provide a medium in which students can apply the theoretical knowledge learned in class to physical projects related to space.
Baptist Collegiate Ministry (BCM)
T
his community of students offers fellowship while seeking to know God and making him known.
Campus Activities Board (CAB)
Campus clubs and activities are organized and developed by CAB. These may include s
ocial events, educational programs, recreational opportunities, and service activities
. If there's
something going on around Florida Poly, CAB is there to lend a hand.
Diversity Club
The Diversity Club
dedicated to creating opportunities for individuals to relate and learn about different cultures and backgrounds.
Florida Poly Mutants
The University's Ultimate Frisbee team is serious about having fun and building friendships. With weekly practices and a welcoming spirit, the Florida Poly Mutants offer a perfect opportunity for students to work out and have a great time.
Firebird Association
The Firebird Association's goal is to provide tools, services, and funding to student ideas and projects.
The Force Institute
The Force Institute, Lakeland Chapter takes the wonder of the Star Wars universe and mixes a blend of traditional martial arts based on hand-to-hand combat and Japanese sword techniques.
The Hammock Club
The mission of The Hammock Club is to promote a physically and mentally healthy lifestyle through hammocking, camping, and outdoor activities.
Institute of Electrical and Electronics Engineers (IEEE)
Florida Poly's IEEE branch is geared towards empowering all students through professional development, workshop, and academic research.
InterVarsity Christian Fellowship
From on-campus small group Bible discussions to epic conferences there's something for everyone at InterVarsity Christian Fellowship at Florida Poly.
Latin American Student Association (LASA)
Our mission is to educate and express Hispanic culture with our fellow students on campus and we accomplish this by hosting social events throughout the semester.
Math Club
The Math Club at Florida Poly seeks to promote a healthy environment for students to embrace higher-level mathematics and
develop an appreciation for mathematics in STEM-related careers.
Media Club
Members of the Media Club work to provide students with the equipment
to discover and expl
ore
current and emerging forms of media, including video production, game development, and audio production.
Music Association
The mission of the Music Association is to teach and foster collaboration and performance skills through music and musicianship.
We host concerts, teach musical composition, and bring music to the everyday campus life.
National Society for Black Engineers (NSBE)
NSBE is a coalition of passionate STEM men and women whose devotion "to increasing the number of culturally responsible Black Engineers who excel academically, succeed professionally and positively impact the community" knows no bounds!
Nerf-Tech
Members of Nerf-Tech seek to foster a sense of community by promoting teamwork, leadership, good sportsmanship, and active lifestyle through Nerf-related events. The group's epic
,
weeklong Humans vs Zombies event is the highlight of its planned activities.
Oceaneering
Students with a passion for all
things marine will feel at home in the Oceaneering club. The club works to provide students with collaborative engineering opportunities using marine technology and international competition. The club also plans outdoor
student
activities such a
s snorkeling, scuba diving, and boating.
Phoenix Archers
Both novice and experienced archers gather to develop their archery skills and find camaraderie while shooting for the bullseye.
The club provides a safe space to learn how to shoot and even compete in the sport.
Phoenix Cultural Cuisine
Phoenix Cultural Cuisine aims to expose students to foods and recipes from various cultures from our international community.
Phoenix League
We are a community dedicated to League of Legends, the most popular competitive esport in the world.
e enjoy coming together as a club, playing in fun biweekly club meetings, as well as hosting viewing parties for the biggest events in League.
Phoenix Swim Club
Florida Poly'sPhoenix Swim Club offers a competitive and inviting space for the countless swimmers to get together and practice their skills as a release and break from college life.
Programming Club
Florida Poly's Programming Club is a place where people with an appreciation of programming and any level of skill can go and learn and have fun.
Purple Fire Robotics
Students focus on building
Combat, VEX
,
and
other robotics
and entering them in competitions around the region and across the nation. The Purple Fire Robotics team
welcomes students of all skill levels to join
.
Rhythm Game Club
The Rhythm Game Club hosts regular gaming events for the student body who are rythm gaming ethusiasts and fans.
Rise Up SVP (Sexual Violence Prevention)
Rise Up at Florida Poly is a club of people dedicated to creating a culture at Florida Poly that actively stands against sexual assault, abusive relationships, and other important topics.
Rotaract Club
Rotaract Club provides an opportunity for students to enhance their knowledge and skills that will assist them in personal development, to address the physical and social needs of their communities, and to promote better relations between all people worldwide through a framework of friendship and service.
Smash Club
Students interested in the "Smash" videogame titles are welcome to join and
learn the games. The Smash club plays and organizes members to reach better gameplay and have fun while playing Smash.
Society of Women Engineers (SWE)
SWE's
mission is to stimulate women to achieve their full potential in careers as engineers and leaders, expand the image of the engineering profession as a positive force in improving the quality of life, and demonstrate the value of diversity.
Students Helping Achieve Philanthropic Excellence (SHAPE)
The Florida Poly SHAPE chapter
works to encourage members to achieve personal and professional success through philanthropic, leadership, career, and civic opportunities.
SPIE
SPIE welcomes anyone interested in optics, lasers, and optoelectronics. This international society is driven by project-oriented researchers looking to discover new technologies involving electromagnetic radiation.
Tabletop Club
Students with an interest in tabletop games are welcome to join the club in its weekly gaming events. With an open room for board and card games, the club helps members find groups and learn new games while providing a forum for game masters.
TCGTech
At Florida Poly's TCGTech club, we promote a friendly environment where students can hang out and play various Trading Card Games (TCGs).
TEA @ Florida Poly
TEA is all about
connecting students who are passionate about themed entertainment with industry professionals and providing opportunities for independent design projects and attend unique industry events and conferences.