About
The Florida Polytechnic University Office of Government Relations serves as the official liaison between the University and state and federal offices. Its mission is to build relationships, advocate for the university, and promote its accomplishments before the governing bodies.
Florida Poly Day
Initiatives
Florida Poly at the State Capitol
On Feb. 6, 2019, Florida Poly representatives will travel to Tallahassee to participate in State University System of Florida (SUS) Day at the Capitol. Created as an independent university in 2012, Florida Poly is the newest of the 12 institutions in the SUS. It is the state's only public polytechnic university and focuses solely on STEM education.
Capitol Update
Each month the office sends a Capitol Update to elected officials across Florida. To be added to the email list, contact Kathryn Mizereck.
2019 Legislative Priorities
Government Relations advocates for a number of initiatives that will allow Florida Poly to be a leader in a high-tech, high-skill, high-wage economy. The university's legislative priorities include funding to support (1) the Applied Research Center, (2) advanced mobility research, (3) enhanced graduation pathways, (4) graduate program growth, and (5) outreach to underserved populations.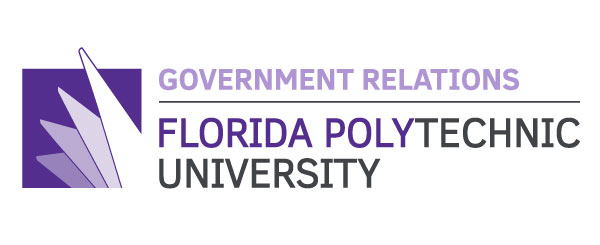 Location
State
Kathryn Mizereck
Assistant Vice President of Government Relations
850-509-2726
Contact
Federal
Rick Maxey
Assistant Vice President, Board Operations and Economic Development
863-874-8481