About
The goal of the Department of Human Resources is to attract, develop, and retain qualified university personnel in accordance with local, state, and federal regulations. The Human Resources department aims to provide all the necessary human resources support necessary to promote excellence in employee, performance, productivity, and skill set.
Welcome To Florida Poly
Policies
The Team
Direct Deposit
Change of Address
Emergency Contact Information
Federal Withholdings
View Payslips
Add a Completed Degree/Certificate
Families First Coronavirus Response Act (FFCRA)
The Families First Coronavirus Response Act (FFCRA) has been adopted to protect employees who are unable to work because they are:
subject to a federal, state or local quarantine or isolation order related to COVID-19;
advised by a health care provider to self-quarantine related to COVID-19;
experiencing COVID-19 symptoms and are seeking a medical diagnosis;
caring for an individual who is under quarantine or isolation because of COVID-19;
caring for a child whose school or place of care is closed (or child care provider is unavailable) for reasons related to COVID-19;
experiencing any other substantially-similar condition specified by the Secretary of Health and Human Services, in consultation with the Secretaries of Labor and Treasury.
Employees who are dealing with any of the circumstances now or at any time before the end of the calendar year should contact Human Resources. HR can assist by determining eligibility for the protections, explaining them in more detail, and providing information on how to obtain the benefits offered. The Department of Labor has also published some FAQ's that include helpful information on the new law.
Employee Verification Forms
Please submit all current and previous employment verification requests, including a signed authorization, to Human Resources by email and/or fax 863-874-8720.
Employee Accommodations – Americans with Disabilities Act (ADA)
Florida Poly is committed to equal opportunity in all aspects of employment. These forms are intended to assist in determining whether, and to what extent, a reasonable accommodation is necessary and available for an employee with a disability to perform the essential functions of their job safely and effectively. Learn more about accessibility at Florida Poly.
Employee Accommodation Request Form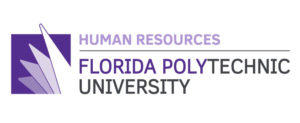 Location
4700 Research Way
Lakeland, FL 33805
Contact
Phone: 863-874-8425
Fax: 863-874-8720