The Florida Poly Registrar's Office is open; however, we will be serving students remotely until further notice. Please monitor our COVID-19 Resource page for updates. Staff will be available during regular business hours (Monday through Friday from 8:00 a.m. to 5:00 p.m.). Review the How Do I…. section below and quick links on the left-hand side of our webpage to find answers to our most commonly asked questions. For all other questions, contact the Registrar's Office by emailing registrar@floridapoly.edu or calling 863-874-8540. When emailing, please use your student email account only and include your full name, Student ID, a detailed message so we may better assist you, and a phone number in case we need to call you.
Summer 2020 Course and Textbook Information
About
The Office of the University Registrar is responsible for collecting, maintaining and safeguarding the enrollment and academic records for Florida Polytechnic University students.
Our Services
The Office of the University Registrar provides services in academic records, registration, classroom scheduling, degree certification, transfer evaluation, and residency confirmation. Our staff can assist you at our office located in the Innovation, Science, and Technology Building, room 2052. Office hours are Monday through Friday from 8 a.m. to 5 p.m. Contact the Registrar's office by email or call 863-874-8540.
How Do I….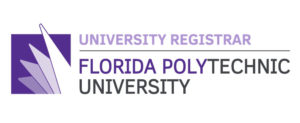 Location
Innovation, Science, and Technology Building, room 2052
4700 Research Way
Lakeland, FL 33805