About
Student Business Services serves Florida Polytechnic University students by maintaining accurate financial records and communicating with students about their accounts. Student Business Services is responsible for tuition and fee assessment/refunds, processing payments, and the collection of past due accounts. In addition to providing Bursar-related services to students, our office also assists other departments, parents, vendors, and external customers with billing, receipt/collection, disbursements, refunds, and general information. Student Business Services is located in the Wellness Center.
Contact Student Business Services
Monday – Friday 8 a.m. to 5 p.m.
Email or 863-874-8406
Arlene Gallagher
Student Business Services Manager
Julie Mattison
Student Business Services Coordinator
Rachel Douberly
Student Business Services Specialist
Services
Tuition & Fee Payments
Past Due Accounts
Fee Payment Deadlines
Cancellation/Reinstatment for Non-Payment
Disbursements & Financial Aid Refunds
Florida Prepaid Program
Vocational Rehabilitation
IRS Form 1098-T
Textbook Affordability (Book Vouchers)
How Do I...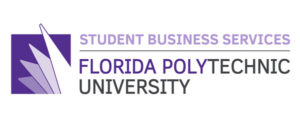 Location
Wellness Center, 4550 Polytechnic Circle, Lakeland, FL 33805