Maintaining a campus free of sex discrimination, including sexual misconduct and sexual harassment, is important for all students and employees.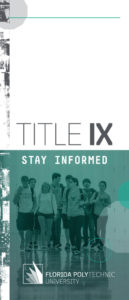 Title IX of the Education Amendments (1972) prohibits discrimination on the basis of sex in any educational program or activity that receives federal financial assistance.
"No person in the United States shall, on the basis of sex, be excluded from participation in, be denied the benefits of, or be subject to discrimination under any educational program or activity receiving Federal financial assistance."

– Title IX of the Educational Amendments of 1972 to the 1964 Civil Rights Act
The university is working toward fostering a climate free from sexual misconduct through training, education, prevention programs, and through policies and procedures that encourage
prompt reporting, prohibit retaliation, and promote timely, fair and impartial investigation and resolution of sexual misconduct cases in a manner that eliminates the sexual misconduct, prevents its recurrence and addresses its effects.
The university's Sexual Harassment Policy is consistent with federal law in prohibiting discrimination on the basis of sex, gender, gender identity, or sexual orientation.
Submitting a Report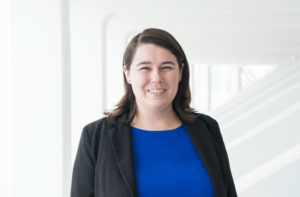 The Title IX coordinator is responsible for monitoring compliance with regulations and is responsible for receiving complaints of sexual harassment, including sexual assault, sexual violence, relationship (domestic/dating) violence, stalking or other sexual misconduct incidents.
Reports of sexual misconduct should be reported to the Title IX coordinator who coordinates Florida Poly's compliance with Title IX, and responds to reports of sexual misconduct by providing outreach, resources, and investigations.
Michelle Disson
Title IX coordinator
863-874-8484
titleixcoordinator@floridapoly.edu
Online Reporting Form
What is Sexual Misconduct?
Sexual misconduct is an umbrella term that includes:
Sexual harassment: Unwelcomed verbal or physical sexual advances that interfere with work or school
Sexual assault: Any nonconsensual sexual contact, including but not limited to nonconsensual vaginal, anal or oral penetration
Sexual exploitation: Nonconsensual or abusive sexual behavior for one's own benefit or the benefit of another; including recording or distributing sexual photographs or videos without consent
Intimate partner violence: Verbal, emotional, financial, psychological, or sexual abuse of a current or former intimate partner (Dating, Domestic, Relationship Violence)
Stalking: A course of conduct that would cause someone to fear for their safety, including following, surveilling, or threatening a person or their property in person or online
What is consent?
Consent is a voluntary, affirmative, and active agreement to a sexual activity.  Consent must be gained for every act and can be withdrawn at any time.
Active: Must be mutually understood affirmative words or actions.  Consent can NOT be implied through silence or previous history.
Coherent: If someone is incapacitated from alcohol or drugs, asleep, or otherwise mentally impaired, they are NOT able to consent to sexual activity.
Willing: Must be freely given, it can NOT be granted under psychological, emotional, or physical force, manipulation, persuasion or threats.
Ongoing: Voluntary and affirmative agreement for every act, every time. Past consent does not apply and consent can be withdrawn at any time.
If you've been sexually assaulted
Individuals who have experienced sexual misconduct should take steps to seek medical attention and preserve evidence that may aid in any administrative action and/or criminal prosecution that may results.
Seek medical attention, as soon as possible even if one does not think one will report the assault:
Receive treatment for any physical injuries
Be screened for sexually transmitted infections or diseases/ pregnancy/ date rape drugs and/or obtain emergency contraception
Examples of items that may serve as evidence include:
Any recorded media such as voicemails, emails, text messages, social media posts/messaging, and any other notes, writing, correspondence that may be relevant
Clothing worn by both parties may be needed as evidence and should be preserved in its original state
Do not disturb the scene of any incident of sexual violence, police may want to photograph the scene upon arrival
Photograph of any injuries that are immediately apparent or that may appear days later
If any weapon was used or any object used, leave it in position and do not touch it until police arrive.
Pressing criminal charges an individual is encouraged to immediately be examined for a SAFE exam (Sexual Assault Forensic Exam). The SAFE exam is free and anonymous. The exam is focused on evidence collection. Evidence can be collected up to 120 hours after the assault occurred, but the sooner it is done the more likely that useful evidence can be recovered.  Prior to a SAFE exam:
Do NOT bathe, shower, or douche
Do NOT change your clothes
Do NOT disturb anything at the scene
An individual should be aware that because police reports are public records under state law, the University Police Department cannot hold reports of a crime in confidence.
What to do if someone makes a disclosure?
You may learn of an incident of sexual harassment, sexual misconduct, intimate partner violence (dating/domestic) or stalking.  Your response is very important and may determine whether the person who has experienced this chooses to tell anyone else or seek professional assistance.
Do:
Ensure the person is safe and if needed receives medical attention (e.g. SAFE Exam).
Explain options for reporting.
Provide information on confidential reporting:
Listen, but do not investigate.
Do Not:
Conduct your own investigation. Even the best intentions may exacerbate a situation or compromise an investigation.
Dictate what a person should do.
Blame the person.
Be the person's only support.
The Title IX coordinator is also available to answer any questions that you may have regarding your rights and responsibilities.
Disclosures Made to Responsible Employee
With the exception of the confidential resources listed below, ALL Florida Poly employees, including resident and teaching assistants, are "Responsible Employees" and have a legal responsibility to notify the Title IX coordinator of any disclosure made by a student.
Employees are also encouraged, though not required by law, to report any disclosures of sexual misconduct made by a fellow employee.
Next Steps:
Listen and believe.
Explain and be clear about your role and responsibility to report the information shared if the disclosure was made by a student, plus your ability to help.
Do NOT promise confidentiality, but explain that you will only share the information with the Title IX coordinator, as required by law.
Notify the Title IX coordinator of the allegation within 48 hours of the report
The university has confidential resources that are NOT required to report to the Title IX coordinator.
Confidential Resources:
Ombudsman
BayCare student assistance program
E4 Health–Employee Assistance Program
Peace River Center
What Happens After a Report has been submitted?
The Title IX coordinator will reach out to the individual affected by the misconduct and provide resources, information, and request a meeting. This meeting will go over resources, options of reporting and investigating, confidentiality, and medical attention if needed.
Facilitate interim measures when needed and appropriate (including but not limited to: academic assistance, withdrawal, No Contact Orders, housing assistance, working assistance, safe ride/safe walk)
Take immediate and appropriate steps to investigate or otherwise determine what occurred.
Note: the reporter may not receive updated information after the report is made to maintain confidentiality.
Interim Measures: Measures that are reasonably available, where the university may take remedial or protective measures once a report of sexual misconduct is made and throughout the duration of any investigation.  Interim measures provided to students may vary from those provided to employees. A person does not need to go through a university investigation to receive some of these measures.  Interim Measures are meant for an interim period and if longer services are needed the Title IX coordinator will refer to the appropriate office.
Examples of Interim Measure include, but not limited to:
Providing counseling and health services information
Academic adjustments
Housing arrangements
No Contact Order with individuals involved
Employment arrangements
Escort services
Investigative and Reporting Options: The person who has experienced the misconduct has the option (in most cases) to have the University investigate or not.
University Administrative Process includes interviews with all parties and witnesses. There is a formal and informal resolution process available.  The Title IX coordinator will go over all options available when an in-person meeting occurs.  The standard used for these processes is a preponderance of the evidence
Police Department is another reporting option for people that want to pursue a criminal complaint. This may include interviews and court proceedings.  The standard used is beyond a reasonable doubt.
Mandatory Training
Florida Poly students and employees are required to complete Title IX training.
Students
Each year, all new students are required to attend Title IX training. The training is held in-person in the Innovation, Science and Technology Building. Students sign up for their training session during New Student Orientation.
Employees
To ensure all employees are aware of and understand their responsibility to report any student disclosure of sexual misconduct to the university Title IX coordinator, Florida Poly is providing mandatory training on Title IX and how to report disclosures. This training fulfills the Federal Requirement for Sexual Harassment, Assault and Violence Prevention training.
The training includes information about:
The impact of Title IX and the Educational Amendments of 1972 on colleges and universities, their employees, and their students.
Becoming familiar with the responsibilities of campus employees as mandated reporters under Title IX.
Developing a shared language around terms related to domestic violence, dating violence, sexual assault, stalking and consent.
Becoming familiar with Florida Poly's statement prohibiting domestic violence, dating violence, sexual assault, stalking and consent.
The online training module is self-paced and takes about 40 minutes to complete. All responses to quizzes and questionnaires in the course are confidential.
Resources
University
BayCare's Student Assistance Program
1-800-878-5470
BayCare is a free self-referral and confidential services available to students, to help with issues that interfere with the successful management of the educational process.  Services are available 24 hours a day, seven days a week by phone or online. For more information click here.
Employee Assistance Program
1-844-208-7067
E4 Health is a free self-referral and confidential services available to all faculty and staff, and members of their household, to help with personal and professional problems that interfere with the successful management of work and family responsibilities. Services include confidential counseling, legal services, financial services, identify theft services, work-life referral services, online resources including access to on-demand seminars, and more. Services are available 24 hours a day, 7 days a week by phone or online. For more information click here.
Title IX Coordinator
863-874-8484
Police Department
863-874-8472
For more information click here.
Community
Peace River Center
600 El Paseo, Lakeland, Florida, 33805| 863-413-2708 office | 863-413-2700-24/7 crisis line
Website
Lakeland Police Department
228 S. Massachusetts Ave., Lakeland, Florida, 33801 | 863-834-6000
Website
Polk County Sheriff's Office
1891 Kim Keene Blvd., Winter Haven, Florida, 33880 | 863-298-6200 (non-emergency) or 911
Website
Lakeland Regional Medical Center
1324 Lakeland Hills Blvd., Lakeland, Florida, 33805 | 863-687-1100
Website
National
Rape, Abuse and Incest National Network (RAINN)
1-800-656-4673
Website
National Domestic Violence Hotline
1-800-799-7233
Website
National Suicide Prevention Lifeline
1-800-273-8255
Website
Related Links