Department of
Engineering Physics
Carousel placeholder image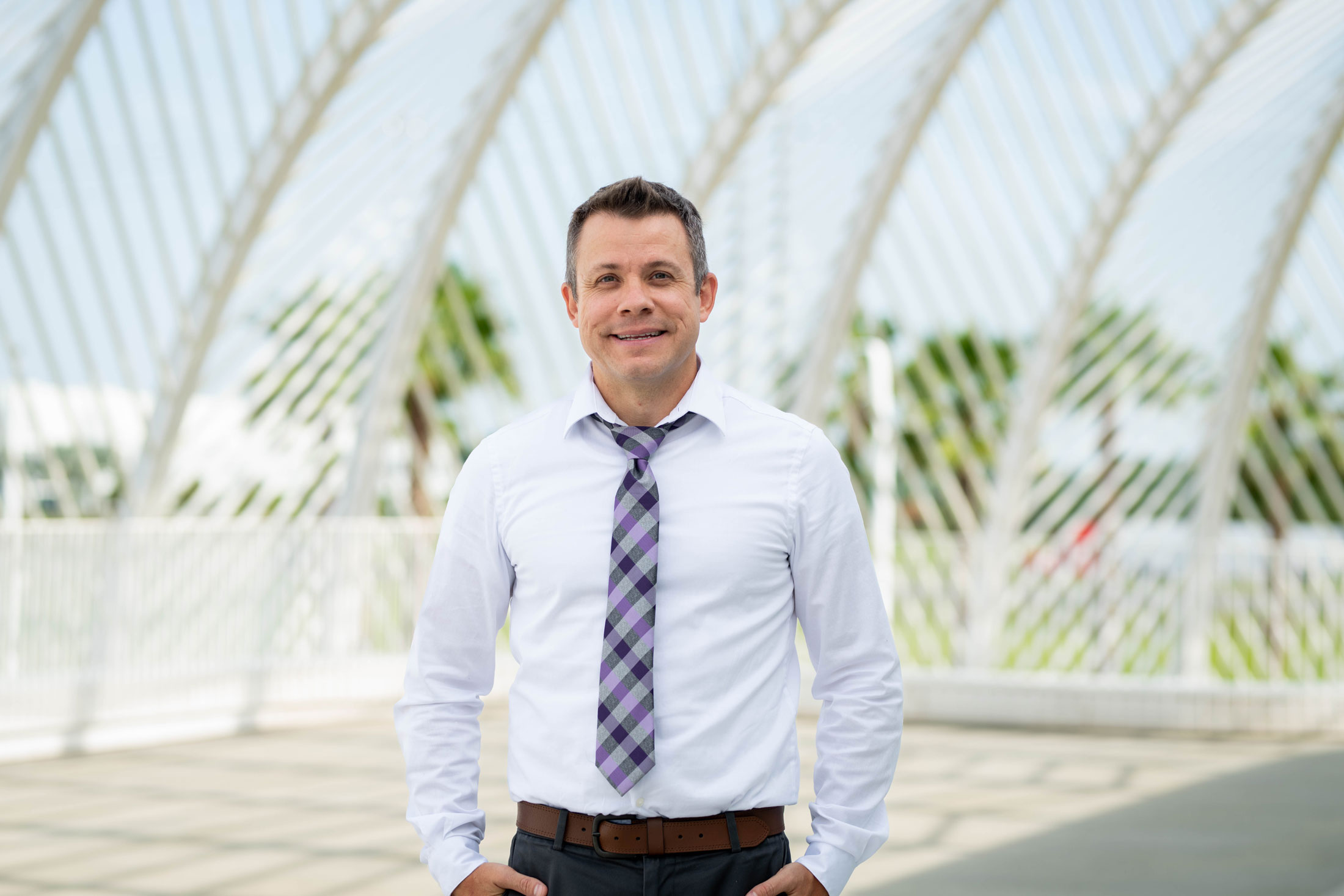 Jul 18, 2023
New chair to shape future of engineering physics at Florida Poly
LAKELAND, Fla. - As the new chair of Florida Polytechnic University's Engineering Physics Department, Dr. Ian Bentley said he plans to redesign the physics curriculum and work with his department to take the first-year physics program to a new level.
Read More
Program and Student Outcomes
Our rigorous Engineering Physics curriculum allows Florida Poly graduates to:
#1
Identify, formulate, and solve complex engineering problems by applying principles of engineering, science, and mathematics.
#2
Apply engineering design to produce solutions that meet specified needs with consideration of public health, safety, and welfare, as well as global, cultural, social, environmental, and economic factors.
#3
Communicate effectively with a range of audiences.
#4
Recognize ethical and professional responsibilities in engineering situations and make informed judgments, which must consider the impact of engineering solutions in global, economic, environmental, and societal contexts.
#5
Function effectively on a team whose members together provide leadership, create a collaborative and inclusive environment, establish goals, plan tasks, and meet objectives.
#6
Develop and conduct appropriate experimentation, analyze and interpret data, and use engineering judgment to draw conclusions.
#7
Acquire and apply new knowledge as needed, using appropriate learning strategies.
Supportive Environment
Many elements of Florida Poly life come together to create a rich and successful student experience.
Facilities and Resources
The department includes a number of facilities used by faculty members and research staff to conduct scientific research with the involvement of undergraduate students.
Some of the most important include:
Chemical Vapor Deposition – MTI Corporation GSL 1600X, for the fabrication of atomically-thin, un-patterned 2-dimensional semiconductors;
Nano 3D Printer – Dimatix – Fuji Film, for the printing of atomically-thin, patterned 2-dimensional semiconductors;
Spin Coating Unit –WS-650SZ-6NPP-A1/AR1/IND, for deposition of thin films by sol-gel and polymeric films;
Planetary Four-station Ball Miller with Reactive Gas Handling System – Retsch PM 440, MA-Type, for the synthesis of nanoparticles, oxide dispersant alloys, doping with catalysts, solid state synthesis of nanostructures;
Hydrothermal Reactor – PARR Instruments, for the synthesis of magnetic nanoparticles, bio-algae production for energy storage, leachate treatment and other materials;
Centrifuge – 4000 RPM, Thermo Scientific, Sorvall ST40R, for filtration, washing, purification of nanostructures, quantum-dots, Core-shell nanoparticles;
Desktop Pellet Press – Across International, for pelletizing or densifying the nanoparticles for mechanical testing or microstructural imaging;
Muffle Furnace – Thermolyne, for calcination, annealing and synthesis of photoluminescent materials at high temperatures;
Microwave Furnace – CEM Innovators in Microwave Technology, for rapid synthesis of materials and systems for different applications of energy storage devices, photoluminescent materials;
Tube Furnace – Carbolyte – with Gas Handling, for annealing, calcination, carbonation, heating under purge gas;
Ozonizer – PSD Pro Series Digital UV-Ozone System, for UV-Ozone treatment of thin films and polymer encapsulated thermochromic dyes and other reactive products development;
High Speed Stirrer – OMNI International, GLH 850, for de-agglomeration of 2D-nanostrucutres, synthesis of encapsulated thermochromic dyes, and vigorous stirring and agitation for chemical mixing and homogeneous product for coating;
UV - Vis Spectrophotometer – Agilent Cary-60, for UV-Vis absorption or transmission spectra of liquids, thin films and colloidal samples;
TGA/DSC 1 – Thermal Gravimetric Analysis and Differential Scanning Calorimeter – Mettler Toledo, for thermal characterization of materials;
Solar Simulator – Sun 2000, ABET Technologies, for photo-voltaic characterization and testing;
Temperature-Humidity Chamber – Test Equity, Model 123H, for calorimetric measurements and controlled reactions;
Low-field Nuclear Magnetic Resonance - Field Forensics, Model CVZ 1000, for the determination of the structures of molecules;
pH Meter – Thermo Scientific, for pH measurement of wastewater, leachate, intermediate chemical/sol-gel processed liquid samples;
Calorimeter – CIE L*a*b* - OCE Instruments, Model PCE CSM-4, for color coordinate characteristics, chromodynamics, lightness index of the samples and thermochromic property measurements;
Microscope LR 452 – Fisher Scientific Model 334620, for optical inspection of samples;
High Pressure and High Temperature Absorption and Desorption Unit – PCT Pro E&E (Sievert's type) - Setaram Inc., for Porosity analysis, PCT Isotherms, Sorption kinetics and Cycle life analysis;
Chemical digestor – Hach DRS 200 and Chemical Oxygen Demand Spectrophotometer, - Hach DR3900, for determination of Chemical Oxygen Demand (COD) by the Reactor Digestion Method.