Residence Halls
Florida Poly is your home away from home, so it's important to us that you are comfortable, safe and happy. Our two residence halls achieve this and more.
Both buildings are just steps away from the main classrooms and share similar amenities. This includes study lounges, computer centers, an entertainment room with billiards and ping pong, gaming areas and more. All rooms are fully furnished and have an in-suite washer and dryer and high-speed internet access. In addition to electronic access and security cameras, the residence halls have a resident assistant on each floor and Residence Hall II has an on-site director of student living.
On-campus housing at Florida Poly is owned and operated by Vestcor Communities.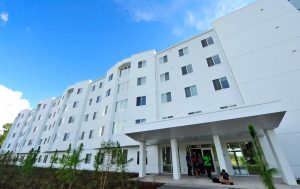 Residence Hall I
From high-speed, wireless Internet access to a fitness facility and game room, the 90,000-square-foot Residence Hall I is designed with the modern student in mind. Comfortable, secure and fully furnished, the three- and four-bedroom suites have the latest technology and accommodations to make learning and living outside the classroom comfortable and easy. There are two bathrooms per four-person suite.
Residence Hall II
Similar to Residence Hall I, the newest residence hall boasts high-speed, wireless internet access, game rooms and common study areas on all five floors of the 135,000-square-foot building. The majority of Residence Hall II is made up of "Semi Suites," two double bedrooms furnished with two twin beds, a desk and chair, sharing a common bathroom. It was designed with a more traditional residence hall feel and features twice as much communal space as Residence Hall I, encouraging students to leave their rooms and create their own social hub. Residence Hall II also has the added advantage of Vestcor Living-Learning Communities, created in partnership with the University.
Click here for details on costs and reserving living accommodations for on-campus housing.
Dining Options
All-You-Care-To-Eat Dining Hall
Campus dining offers a balanced variety of tasty options, including pizza, burgers, salads and deli subs, plus decadent desserts and a pantry serving all of your breakfast favorites.
Burger 863
Lakeland just found its most savory burger. This new dining venue offers a premium "build your own burger" destination complete with creative ingredients that will thrill your taste buds. Burger 863 also offers additional grill favorites like saucy chicken tenders, chicken sandwiches, onion rings and sweet potato fries.
Mondo Subs
Bold character meets irresistible taste. Choose your favorite toppings to create a unique sandwich masterpiece or enjoy one of Mondo's delicious signature subs.
Mosaic Café in the Innovation, Science and Technology Building
A perfect fit for busy class schedules, the Mosaic Café offers a wide array of popular snacks, premium on-the-go sandwiches, salads and parfaits, as well as an exciting variety of Starbucks beverages to tackle your caffeine cravings.
Coming Soon to the Wellness Center
Einstein Bros. Bagels
Florida Poly Kitchen & Outtakes Convenience Store
Meal Plans
The Florida Poly Meal Plan offers the best dining values on campus as well as variety, convenience, nutritional balance and the opportunity to dine with your friends when you want. The meal plan also has the popular "unlimited seconds" locations in the Wellness Center Food Court.
Select your meal plan by following the instructions and link found below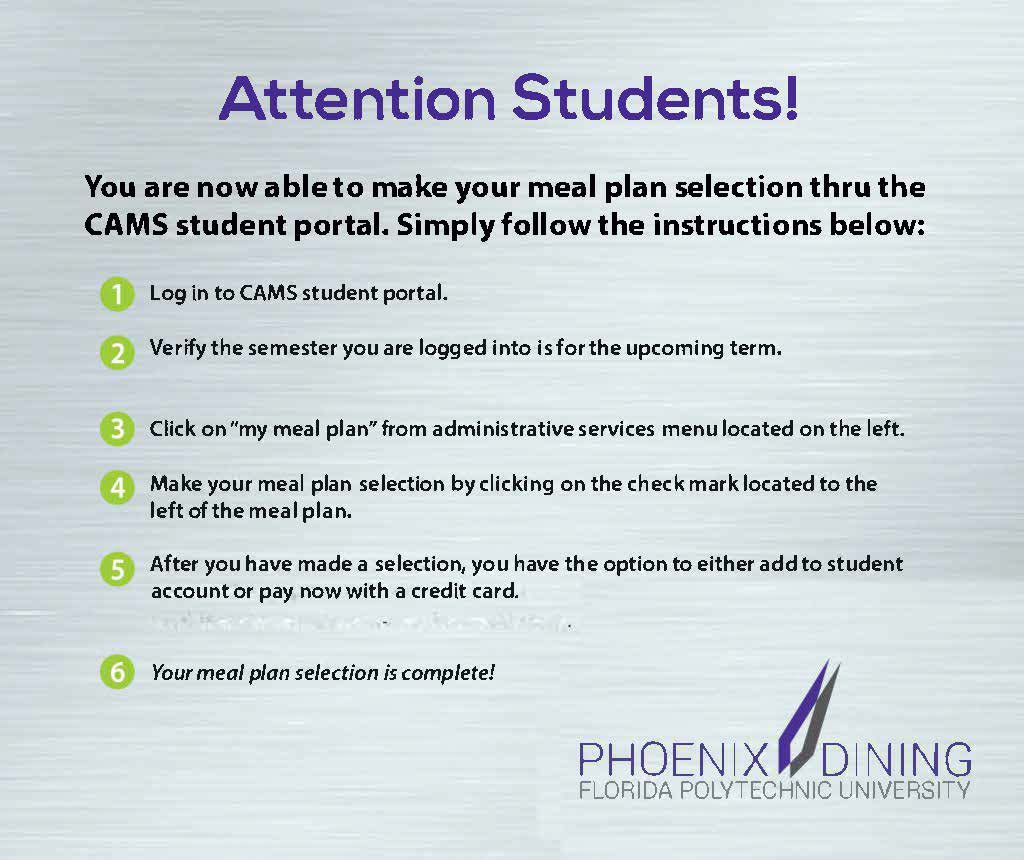 Any student who lives in a residence hall must select a resident meal plan per University policy.
*Upperclassmen may select from the 14-meal plan, 10-meal plan and 125 block plan.
Resident students who are required to participate in a meal plan and do not select one are automatically assigned the 10-meal plan.

Meal Plan FAQs
Get answers to frequently asked questions about the meal plans and dining services at Florida Polytechnic University.