Master of Data Science
Program Highlights
The M.S. in Data Science program helps students identify and formulate key business challenges, collect and manage data from a variety of sources, select effective analytical techniques to identify solutions, and communicate results in a clear and creative way, harnessing the power of data in decision making. Students interested in the master's in data science may choose from two different pathways:
One-Year Accelerated, Coursework Only Pathway: Students may complete their full 30 credit hour master's degree in one academic year, or three total semesters – Fall, Spring, and Summer.
Two-Year Thesis Pathway: With a heavy emphasis on research in your chosen area of study, the two-year thesis pathway of our graduate program is designed for students with an area of interest that can benefit from extensive study both inside the classroom and out.
Education Meets Innovation
Students in the program will learn to identify and formulate key business challenges, collect and manage data from a variety of sources, select effective analytical techniques to identify solutions, and communicate results in a clear and creative way, harnessing the power of data in decision making. The program focuses on mastering modern data analytics tools and emerging techniques in data science.
Florida Poly gave me opportunities that I don't think I would've been able to get anywhere else.
Orel Yoshia '22
Data Science Careers
Data scientists are in high demand in a wide range of industries, including information technology, finance, healthcare, insurance, energy, transportation, manufacturing, and telecommunications.
Job Growth
Fortune notes that data science has been one of the fastest-growing employment fields, with demand for data scientists growing 650% from 2012 to 2017 alone according to LinkedIn. Demand is expected to remain that way; from 2020 to 2030, the job outlook within the field is projected to grow 22%, according to the U.S. Bureau of Labor Statistics.
Career Paths
Graduates of data science have worked in a variety of different industries, including major software companies, the Department of Defense, finance and insurance organizations, transportation, logistics and distribution industries, marketing and media, and large retail corporations.
Data Science Stats
At Florida Poly we're educating the next generation of STEM leaders.
Research Facilities
The M.S. in Data Science program shares faculty and resources with electrical and computer engineering programs, exposing you to an interdisciplinary learning and research environment that mirrors industry.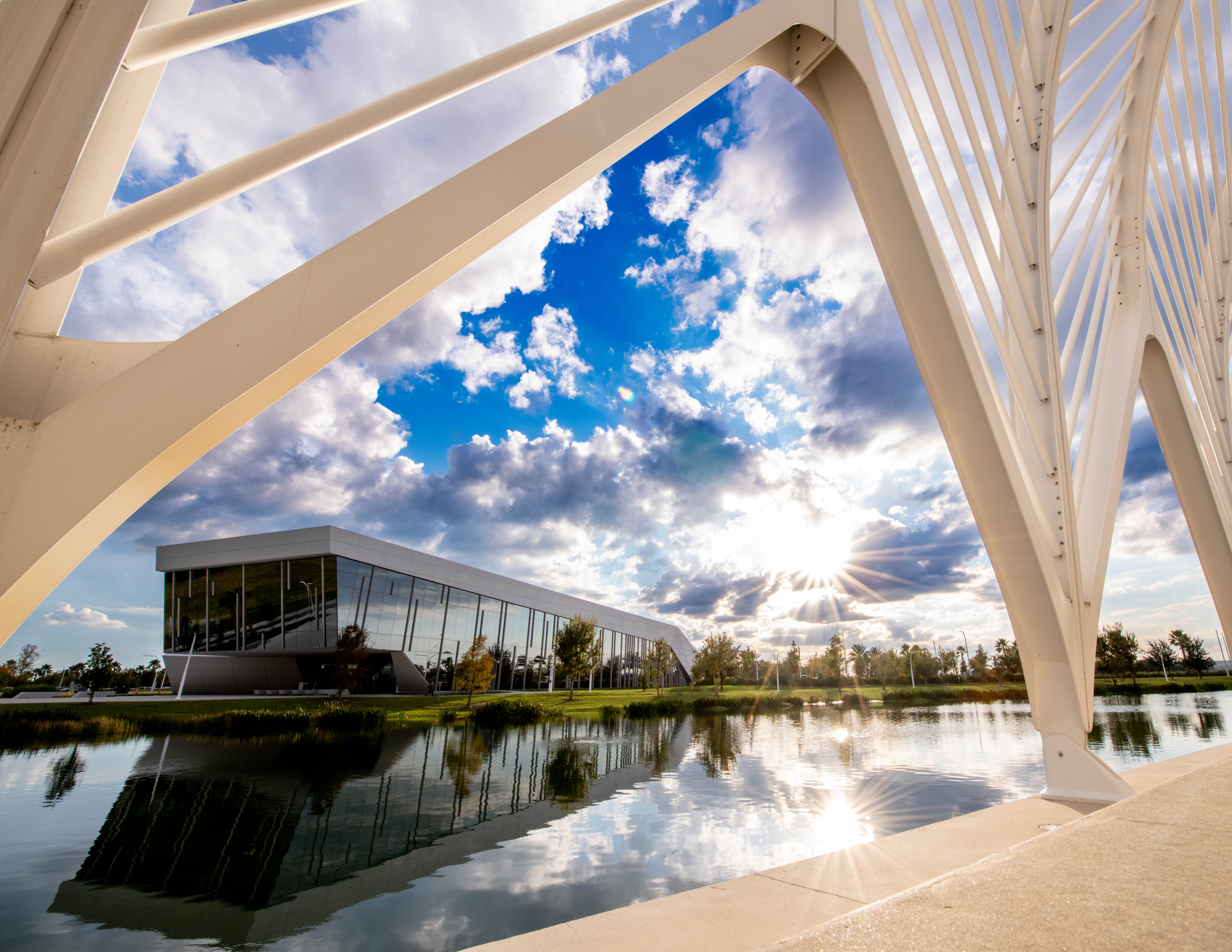 Applied Research Center
Florida Poly's 90,000-square-foot Applied Research Center (ARC) was created as a research hub for the Central Florida region to become a magnet for high-tech development around the school. The Applied Research Center houses research and teaching laboratories, student design spaces, conference rooms, and faculty offices. The building also provides study areas for graduate students, and a small amount of administrative space.
SunTrax
SunTrax is a large-scale, cutting-edge facility dedicated to the research, development, and testing of emerging transportation technologies in safe and controlled environments. Many of the opportunities are related to tolling, ITS, and automated and connected vehicles. Additionally, the entire site is a connected environment for testing Vehicle-to-Infrastructure (V2I) and Vehicle-to-Vehicle (V2V) communications.
Program Details and Admissions Requirements
The M.S. in Data Science is offered with two pathways: a one-year, course only option culminating in a project-seminar and a two-year, thesis-based option.
Data science at Florida Poly integrates coursework in machine learning and advanced computation and programming, utilizing a faculty with strong computer and computation science backgrounds. The program is designed to provide students with any STEM background, including quality social scientists, the breadth of tools to support their careers or career aspirations.
One-Year, Coursework-Only Pathway:
A baccalaureate degree in a field related to your intended graduate major.
A minimum 3.0 cumulative GPA in degree-specific courses (2.75 for FPU students / alumni).
Transcripts from each postsecondary institution attended (*Waived for FPU students / alumni – the university has access to your transcripts).

International applicants: If your postsecondary institution(s) was located outside of the US, please provide a course by course evaluation of your transcripts for US equivalency, with GPA calculation, by an evaluator such as WES, Josef Silny, or AES.

A Statement of Purpose (a brief summary of your interest in the degree, as well as how it may impact your academic and professional goals).
Two letters of recommendation from faculty or professional supervisor (*Letters of rec are waived for FPU students / alumni).
International applicants: Please provide proof of English literacy by meeting the requirements listed here.
*Meeting minimum qualifications does not guarantee admission to the program. Additional documentation may be required at the discretion of the Admission Committee.
Two Year Thesis Pathway
Students seeking consideration to the two year thesis pathway should meet the same minimum requirements listed above for the one-year, coursework-only pathway in addition to the following:
An interview with the Faculty Chair of the department to which you're seeking admission (or their designees).
A statement outlining any previous research, completed or ongoing projects, publications, etc.
Additional documentation at the discretion of the Admission Committee.
Upon completion of the for the Master of Science in Data Science, students are expected to demonstrate the following outcomes:
Demonstrate mastery in analyzing complex problems and applying knowledge of data science to formulate solutions.
Communicate data science information clearly and effectively through presentations and technical writings to both expert and non-expert audiences.
Demonstrate critical evaluation of recent research literature.
Identify a novel relevant research problem in a chosen data science research field, perform the literature survey for the problem, create a plan to solve the problem, carry on the plan, and defend the research.
Recognize appropriate practices in the field of data science and their ethical implications.
The M.S. in Data Science is a 30 credit-hour program. Among its courses are:
COP 5727-Advanced Database Systems Design

COP 5090-Scientific Computation and Programming

CAP 5771-Data Mining & Text Mining

IDS 5970 Thesis 1 or Data Science Program Elective

QMB 5565-Quantitative Empirical Research Methods

CAP 5775-Data Warehousing

ESI 5315-Optimization and Simulation


CAP 5634-Advanced Artificial Intelligence

CAP 5735-Data Visualization and Reproducible Research

CAP 5765 -Computational Data Analysis


CAP 4786-Topics in Big Data Analytics

4853-Time Series Analysis for Business, Data Science, and Economics
Make Your Passion a Career
We're here to give you the resources to land your dream internship, work alongside faculty in groundbreaking research, and to develop leadership skills to stand out in the workplace.
Internships are an important part of setting up you up for success after college and are a requirement for you to graduate.
Conduct research along side faculty that is improving lives and changing businesses, with impact ranging from local Lakeland community to the outer-reaches of space.
We understand the importance of feeling prepared, and we are committed to your success here and beyond. That's why we have resources to support you in your continued career development.
Want to be a Phoenix? Get in touch with Admissions.