Master of Science
Engineering
Program Highlights
The M.S. in Engineering program at Florida Poly attracts working professionals who seek an advanced engineering education. Rather than culminate in a research experience and a thesis, the Masters of Engineering curriculum prepares students with the necessary skills for advancing their careers in industries involved in emerging technologies, product development, and program management with specializations in mechanical engineering, electrical engineering, and computer engineering.
Concentrations in Engineering Masters Program
Engineering Careers
Engineers can earn a master's degree in general engineering to broaden their knowledge of engineering management and analysis. Upon graduation, students may be more competitive candidates for a wide range of engineering careers in project management, manufacturing logistics, or technical consulting.
Job Growth
Professionals who step up to earn a Masters of Engineering make about $10,000 more per year than their peers with bachelor's degrees.
Engineers, in general, were projected to see a 4% increase in employment over the U.S. Bureau of Labor Statistics' (BLS) reporting period of 2014-2024. The career outlook of specific engineers, such as those mentioned above, ranged from 1%-7% for the same time.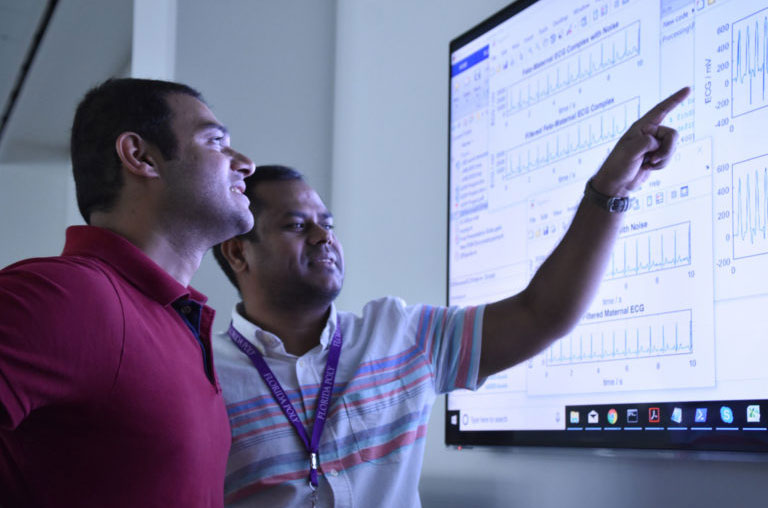 Salary Ranges
As with the career projections, the median salaries ranged for engineers. For example, electrical engineers earned a median income of $93,010, industrial engineers made a median wage of $83,470 and materials engineers had a median salary of $91,310, based on 2015 figures from the BLS.
Engineering Stats
At Florida Poly we're educating the next generation of STEM leaders.
Research Facilities
The M.S. in Computer Science program shares faculty and resources with electrical and computer engineering programs, exposing you to an interdisciplinary learning and research environment that mirrors industry.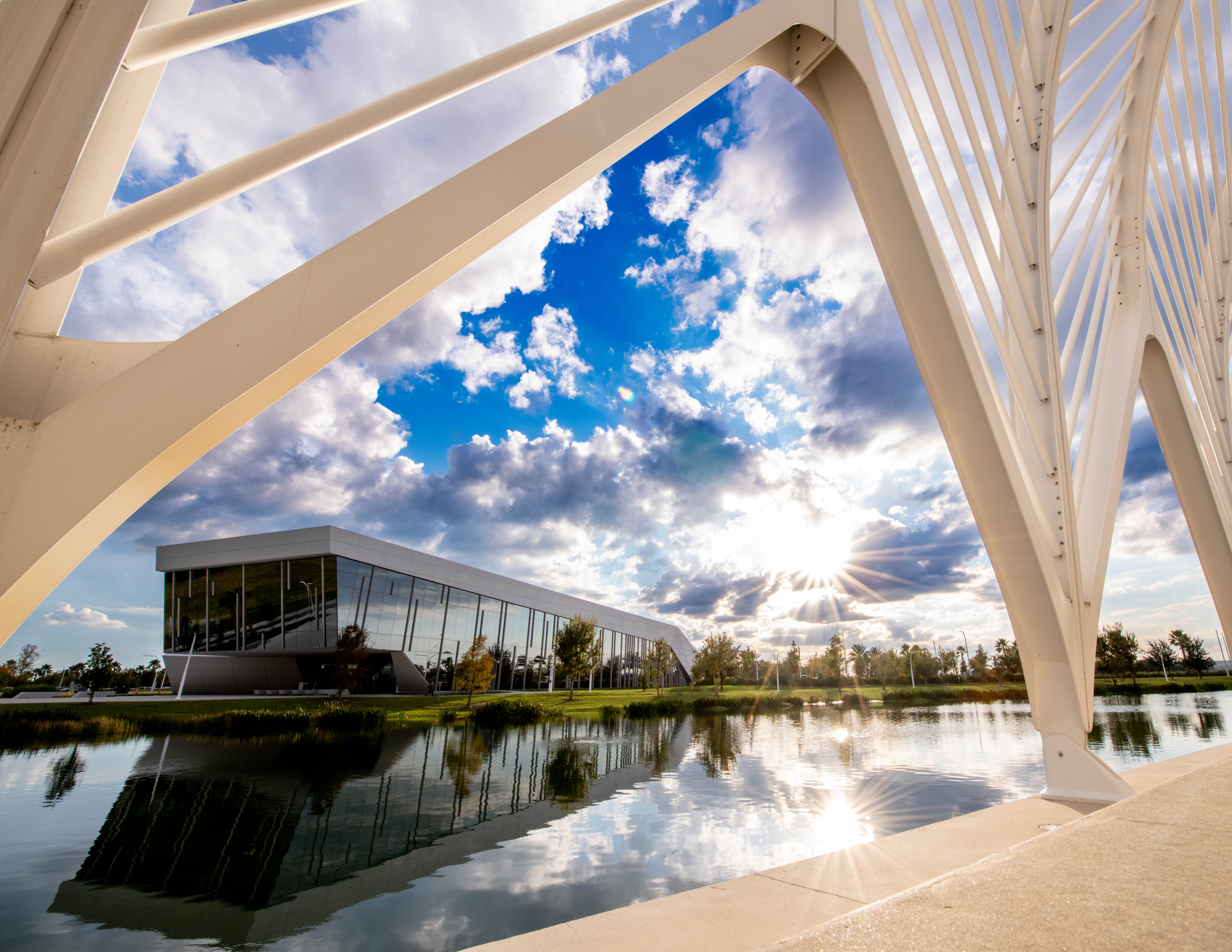 Applied Research Center
Florida Poly's 90,000-square-foot Applied Research Center (ARC) was created as a research hub for the Central Florida region to become a magnet for high-tech development around the school. The Applied Research Center houses research and teaching laboratories, student design spaces, conference rooms, and faculty offices. The building also provides study areas for graduate students, and a small amount of administrative space.
SunTrax
SunTrax is a large-scale, cutting-edge facility dedicated to the research, development, and testing of emerging transportation technologies in safe and controlled environments. Many of the opportunities are related to tolling, ITS, and automated and connected vehicles. Additionally, the entire site is a connected environment for testing Vehicle-to-Infrastructure (V2I) and Vehicle-to-Vehicle (V2V) communications.
Program Details and Admissions Requirements
Your Master of Science in Engineering requires 30 credits — including 18 credits of core degree requirements, including these six (3 credit) courses: Scientific Computation and Programming, Advanced Database Systems Design Credits, Computer Networks Credits, Computation Theory Credits, Advanced Operating Systems Concepts and Advanced Algorithm Design and Analysis.
Admission to our graduate program is a selective process, and the committee will conduct a comprehensive review to assess each applicant's promise for academic success at Florida Poly. Once the above materials have been submitted, your application will be reviewed by the Florida Poly Graduate Admission Committee.
Send us your official college transcripts from all of the institutions you've attended. If your cumulative college GPA is below a 3.25, please also submit official GRE scores. If your cumulative college GPA is a 3.25 or higher, the Graduate Admission Committee may waive the GRE requirement.
Submit two letters of recommendation.
Submit a Statement of Purpose. This should be a brief summary of your research interests and goals for the program.
Please send all documents to:
Florida Polytechnic University
Office of Admissions
4700 Research Way
Lakeland, FL 33805
Upon completion of the Master of Science in Engineering Degree, Florida Polytechnic University students will be able to:
Apply knowledge of design IT principles in a defined industry problem.
Conduct research and apply knowledge based on these research skills.
Apply knowledge of managerial skills to coordinate and execute an industry project.
Demonstrate understanding of applied analysis of user requirements, research skills, managerial skills and IT based knowledge.
Analyze and properly use current computing techniques, methods and theories in an industry scenario.
Make Your Passion a Career
We're here to give you the resources to land your dream internship, work alongside faculty in groundbreaking research, and to develop leadership skills to stand out in the workplace.
Internships are an important part of setting up you up for success after college and are a requirement for you to graduate.
Conduct research along side faculty that is improving lives and changing businesses, with impact ranging from local Lakeland community to the outer-reaches of space.
We understand the importance of feeling prepared, and we are committed to your success here and beyond. That's why we have resources to support you in your continued career development.
Want to be a Phoenix? Get in touch with Admissions.