Aslihan Vuruskan
Assistant Professor - 9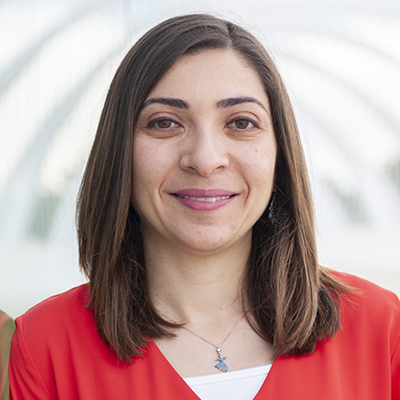 Dr. Aslihan Vuruskan is an assistant professor of mechanical engineering at Florida Polytechnic University. Prior to joining Florida Poly, she was a graduate research and teaching assistant in the Department of Mechanical and Aerospace Engineering at Missouri University of Science and Technology (Missouri S&T).
Her research activities focus on robust aerodynamic shape optimization, computational fluid dynamics (CFD), uncertainty quantification (UQ), aerodynamics, fluid mechanics, and numerical methods. The objective of her research is to combine efficient uncertainty quantification methods and aerodynamic shape optimization to improve the performance of aerospace systems. Her research motivation is also to reduce the computational time and cost in the optimization process to improve the efficiency of robust systems.
Vuruskan was internationally recognized as a recipient of prestigious Amelia Earhart Fellowship in 2017. AE Fellowship is awarded annually to 35 women all around the world pursing a Ph.D. in the field of aerospace-related sciences or aerospace-related engineering with a superior academic record. Vuruskan received the AIAA Young Professional Award given by St. Louis Section of AIAA in 2019.
Currently, she is serving as a representative of Florida Poly on the NASA Florida Space Grant Consortium Advisory Board.
AIAA Young Professionals Award, St. Louis Section of American Institute of Aeronautics and Astronautics (AIAA), 2019
Amelia Earhart Fellowship, Zonta International Foundation, 2017
Graduate Research Fellowship in the Department of Mechanical and Aerospace Engineering, Missouri University of Science and Technology, 2015-2019
Graduate Teaching Fellowship in the Department of Mechanical and Aerospace Engineering, Missouri University of Science and Technology, 2016-2019
Graduate Fellowship, Istanbul Technical University, 2014
Graduate Scholarship, The Scientific and Technological Research Council of Turkey (TUBITAK), 2013-2014
Ph.D. in Aerospace Engineering, Missouri University of Science and Technology, 2019
M.S. in Aeronautics and Astronautics Engineering, Istanbul Technical University, 2014
B.S. in Mechanical Engineering, Istanbul Technical University, 2013
B.S. in Aeronautical Engineering, Istanbul Technical University, 2012
Robust aerodynamic shape optimization
Computational fluid dynamics
Aerodynamics
Numerical methods
Uncertainty quantification
Representative, NASA Florida Space Grant Consortium Advisory Board
Professional Member, American Institute of Aeronautics and Astronautics (AIAA)
Reviewer for Aerospace Science and Technology
Reviewer for Aircraft Engineering and Aerospace Technology
Vuruskan A. and Hosder S. (2021). Impact of Turbulence Models on Robust Aerodynamic Shape Optimization of 3-D Wing Geometries.

2021 AIAA SciTech Forum,

AIAA Paper 2021-0339. DOI:

10.2514/6.2021-0339
Vuruskan A. and Hosder S. (2019). Impact of Turbulence Models and Shape Parameterization on Robust Aerodynamic Shape Optimization.

Journal of Aircraft,

56(3) pp. 1099-1115. DOI:

10.2514/1.C035039
Vuruskan A. and Hosder S. (2018). Investigation of the Impact of Turbulence Models on Robust Aerodynamic Shape Optimization.

56th AIAA Aerospace Sciences Meeting,

2018 AIAA SciTech Forum, AIAA Paper 2018-0553, Kissimmee, FL. DOI:

10.2514/6.2018-0553
Vuruskan A. and Hosder S. (2017). Investigation of the Effectiveness of Selected Shape Parameterization Techniques for Robust Aerodynamic Optimization.

35th AIAA Applied Aerodynamics Conference, AIAA Aviation Forum, AIAA Paper 2017-4082, Denver, CO. DOI:

10.2514/6.2017-4082
Yuksek B., Vuruskan A., Ozdemir U., Yukselen M. A., and Inalhan G. (2016). Transition Flight Modelling of a Fixed-Wing VTOL UAV.

Journal of Intelligent & Robotic Systems, 84, pp. 83-105. DOI: 10.1007/s10846-015-0325-9
Vuruskan A., Yuksek B., Ozdemir U., Yukselen M. A., and Inalhan G. (2014). Dynamic Modeling of a Fixed-Wing VTOL UAV.

2014 International Conference on Unmanned Aircraft Systems (ICUAS), IEEE, Orlando, FL. DOI:

10.1109/ICUAS.2014.6842289

Ozdemir U., Aktas Y. O., Vuruskan A., Dereli Y., A. F. Tarhan, K. Demirbag, A. Erdem, G. D. Kalaycioglu, I. Ozkol and G. Inalhan (2014). Design of a Commercial Hybrid VTOL UAV System.

Journal of Intelligent & Robotic Systems

, 74, pp. 371-393. DOI: 10.1007/s10846-013-9900-0