Sesha Srinivasan
Assistant Professor (Innovation & Technology)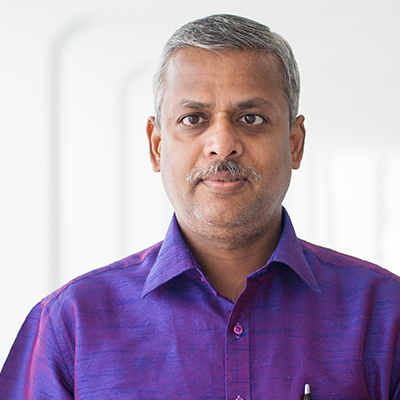 Dr. Sesha Srinivasan joined the Florida Poly faculty in 2014. Prior to that, he spent five years as a tenure-track assistant professor of physics at Tuskegee University. Srinivasan has more than a decade of research experience in the interdisciplinary areas of solid state and condensed matter physics, inorganic chemistry, chemical, and materials science engineering. His doctorate focused on the development of various rare-earth, transition metals and intermetallic alloys, composites, nanoparticles, and complex hydrides for reversible hydrogen storage applications. He and his post-doctoral advisor have collaborated extensively with scientists around the world for the hydrogen storage on lightweight complex hydrides, which was funded by the U.S. Department of Energy (DOE) and the World Energy Network (WE-NET), Japan.
His career has included two years at the University of Hawaii followed six years at the University of South Florida where he was a research scientist at the Clean Energy Research Center (CERC) under the leadership of professors Elias Stefanakos and Yogi Goswami. He has also served as an associate director of the Florida Energy Systems Consortium (FESC) where he coordinated a number of research projects on clean energy and environment, which were funded by a $9 million grant from the Florida Office of Energy.
Srinivasan has been awarded several research grants worth more than $1 million from both federal (DOE, National Science Foundation, Office of Naval Research) and private (BP-Oil Spill, QuantumSphere Inc.) funding sources. He was recently awarded two U.S. patents on hydrogen storage nanomaterials development, and methodologies, and two U.S. patents are pending. He has published six book chapters and review articles, more than 100 journal publications, and many more peer-reviewed conference proceedings.
Best Paper Award Certificate given by the Applied Sciences Journal Publications at the Renewable Energy and Sustainability Conference at Florida Polytechnic University, August 2017
Research Excellency Award by Faculty Assembly of Florida Polytechnic University, 2015
Academic Enrichment Faculty Liaison Award by Tuskegee University Center for Academic Excellence and Innovative Learning, Tuskegee University, 2014
Ph.D. in Physics, Banaras Hindu University, India, 2000

M.S. in Physics, Bharathidasan University, India, 1993

B.S. in Physics, Bharathidasan University, India, 1991

Higher diploma certificate in software engineering, APTECH Computer Education, India, 1996
Hydrogen energy storage via metal hydrides, complex hydrides, and sorbents
Photocatalysis using TiO2

type semiconducting oxides for water remediation
Synthesis and characterization of nanomaterials, composites, and alloys
Thermal energy storage via inexpensive calcites and dolomites characterization
Landfill leachate characterization and remediation using advanced oxidation
Member, Undergraduate Curriculum Committee, Florida Polytechnic University
Chair, Faculty Search Committee for Chemistry at Florida Polytechnic University
Faculty Advisor, Society of Physics Students, Florida Poly chapter
Faculty Liaison and Awards Committee chair, Florida Academy of Sciences
Faculty Liaison and Steering Committee member, Florida Energy Systems Consortium (FESC)
Sesha S. Srinivasan, Scott L. Wallen, Jephte Douyon, Synergistic Chemical Oxidative and Photocatalytic Enhancer System (SCOPES) for the Wastewater Remediation, Florida Polytechnic University,

Provisional Disclosure, SH Reference

12,

May 2018.
Sesha Srinivasan, Michael Niemann, D.Yogi Goswami, and Elias K. Stefanakos,

Method of Generating Hydrogen-storing hydride complexes,

US Patent # 8,440,100, May 14, 2013.
Sesha Srinivasan,

Michael Niemann, D.Yogi Goswami, and Elias K. Stefanakos, Hydrogen Storing Hydride Complexes, USF, FL,

US Patent # 8,440,100,

2013;

8,153,020, 2012.
Sesha S. Srinivasan, Project Based Curriculum for Millennial Learners at Florida Polytechnic University, Journal of Engineering Education Transformations, Volume 31, No. 3, ISSN 2349-2473, eISSN 2394-1707, January 2018.
Dervis Emre Demirocak, Sesha S. Srinivasan and Elias K. Stefanakos,

A Review on Nanocomposite Materials for Rechargeable Li-ion Batteries, Appl. Sci. 2017, 7(7), 731.
Sesha S. Srinivasan, Nanostructured Materials for Next-Generation Energy Storage and Conversion, Edited by Ying-Pin Chen, Sajid Bashir and Jingbo Louise Liu; ISBN: 978-3-662-53512-7; Chapter 8, Pages: 225-255, 2017, DOI: 10.1007/978-662-53514-1.
Srinivasan, S.S.; Demirocak, D.E.; Goswami, Y.; Stefanakos, E.

Investigation of Catalytic Effects and Compositional Variations in Desorption Characteristics of LiNH2-nanoMgH2. Appl. Sci. 7, 701, 2017.
Sesha Srinivasan, Arunachalanadar M. Kannan, Nikhil Kothurkar, Yehia Khalil, Sarada Kuravi, "Nanomaterials for Energy and Environmental Applications", Editorial section,

Nanomaterials,

Hindawi Publications, Article ID 979026, 2 pages, January 2016.
David Baah, Tobias Donnell, Sesha Srinivasan, Tamara Floyd-Smith, "Stop flow lithography synthesis and characterization of structured microparticles",

Nanomaterials,

Volume 2014, Article ID 142929, 9 Pages, 2014.
Robert I. MacCuspie, Harvey Hyman, Chris Yaymyshyn, Sesha Srinivasan, Jaspreet Dhau, Christina Drake, "A framework for identifying performance targets for sustainable nanomaterials",

Sustainable Materials and Technologies,

1-2, (2014) 17-25.