Florida Poly Mobile
Throw away clunky catalogs and clear a few of the billion tabs you have open in your laptop s browser. The Florida Poly Mobile app allows users to do everything from checking real-time shuttle schedules to search the university directory and accessing their Florida Poly email.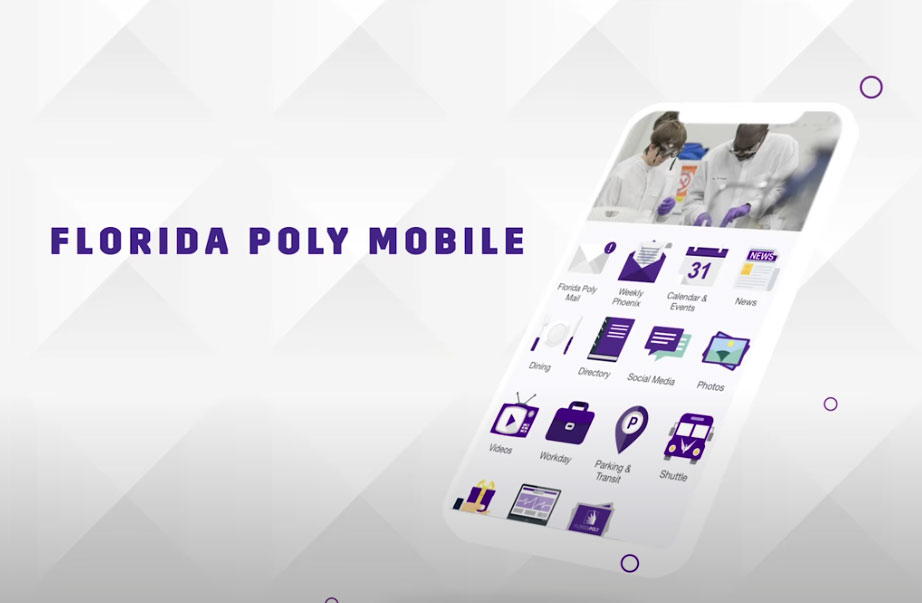 The app includes a number of features useful for students, faculty, staff, and visitors and is the go-to app for all things Florida Poly.
Students and employees can use their university NetID and password to login and access personalized information.
The app includes:
Maps; Ever wonder where your classes are? Where to find parking? Us too.
Real-time shuttle tracking: Why waste time at a bus stop? Check real-time schedules, and make your bus in perfect time.
News; Stay up to date with what s happening around campus.
Calendar; Stay in touch with upcoming events.
Email; Check your Florida Poly email account.
Directory; Search for employees.
Dining; View on-campus dining options, hours, and dining hall menus.
Health; Schedules and information for the Wellness Center.
Emergency; Access important emergency information.
Library; View library catalogs, available resources, and more.
Quicklinks to university systems, including CAMS, Canvas, Workday, and the Pulse
The app is available for free from iTunes and Google Play, for iOS and Android mobile devices.