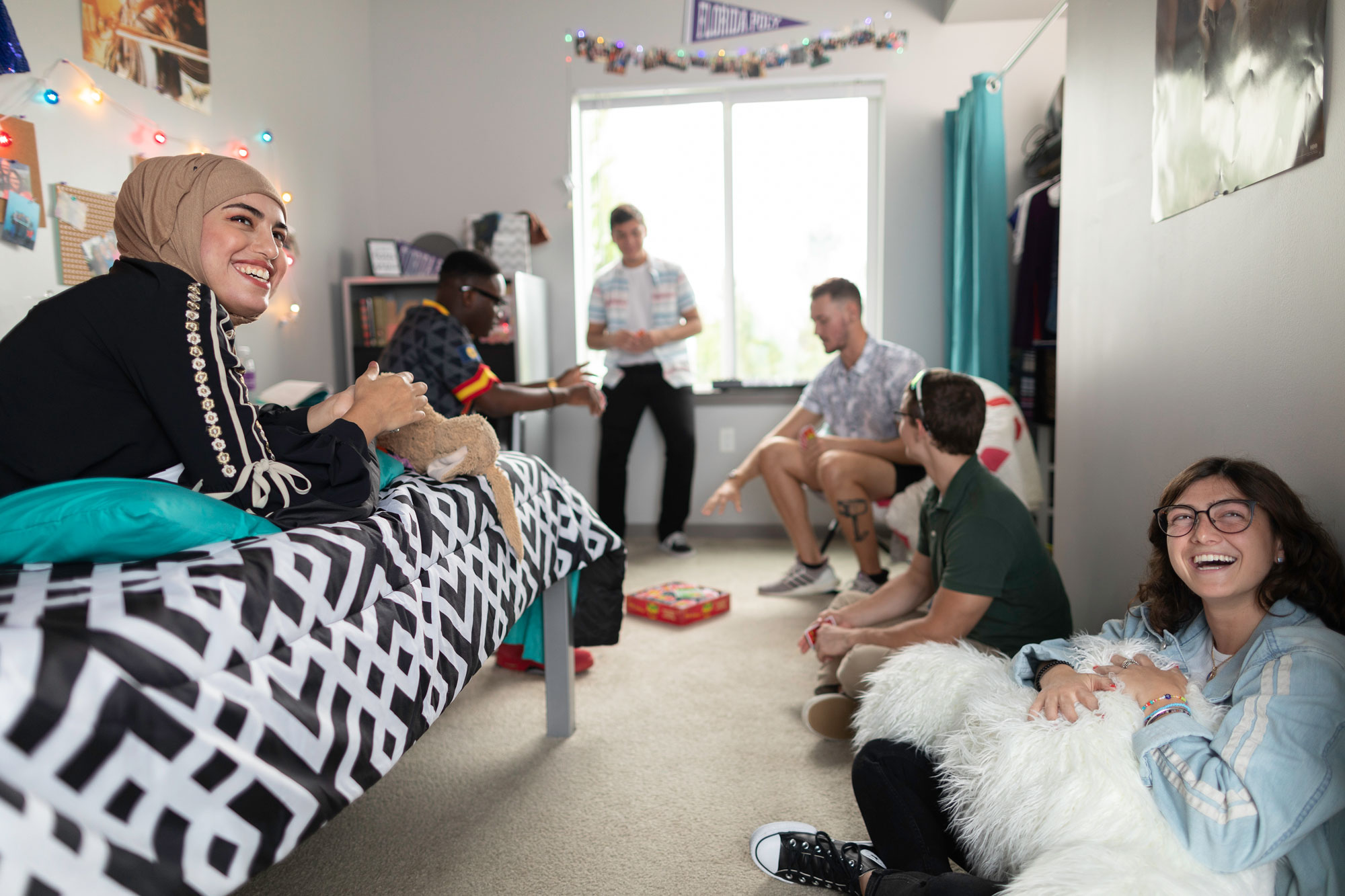 Residential Life Handbook
The Phoenix life is just more than academics. It's about having new experiences and discovering new educational and social opportunities.
Living on campus will help you make the most of your Florida Poly experience. As a part of the Division of Student Affairs, the Department of Residential Life plays an integral role in our students' education and development. We support Florida Polytechnic University's mission by providing services, policies, and programs that enhance academic and social experiences in a safe, friendly, and challenging residential community. We feel that campus living combines the essential elements for a successful college experience. All residents are stewards of our residential communities and are encouraged to take responsibility for their success. There's a growing sense of shared community in our residence halls, a sense of living, learning, respect of each other, and of commitment to the community. We would like you to be a part of that!
Email or call 863-874-8789 to contact or schedule an appointment with Residential Life. The Department of Residential Life is located in Residence Hall 2
Mission Statement
Florida Poly's Department of Residential Life partners with students to create a living-learning environment that encourages and fosters student learning, development, and personal growth. We are committed to providing intentional learning by facilitating a safe, inclusive, and academically focused environment.
Vision Statement
The vision of the Department of Residential Life is to offer students a living-learning environment that supports and promotes leadership, collaboration, innovation, adaptability, and development.
Social Justice Education
The Department of Residential Life is dedicated to cultivating an inclusive community that embraces and fosters understanding, appreciation, and self-awareness of all races, religions, national origins, socio-economic classes, gender identities and expressions, sexual orientations, physical and learning abilities, ages, and veteran statuses. We are committed to playing an important role in the educational experience by providing students and staff with diverse educational and social opportunities so that they may become more justice-minded and educated members of society to address the needs of the world's growing population. As an institution that is devoted to STEM education, we call upon our communities to cultivate a passion for social justice and diversity and to develop the skill and knowledge set needed to take action for change within our global society.
Residential Life Staff
Residential Life is very proud to have assembled a staff of talented and committed students and professionals to develop and maintain a great campus environment for you.
Oversees all functionalities and operations of the Department of Residential Life including, but not limited to, student staff recruitment and selection, educational and community programming and events, resident support and outreach, student conduct, and serving as a liaison between Florida Poly and Student Living (Coastal Ridge Real Estate).
Are paraprofessional student staff members that live and work in the residence halls while attending school full time. They are responsible for the day-to-day operations of the halls to which they are assigned, including providing support services directly to students, supervising resident assistants (RAs), and overseeing all educational, social, and operational activities.
Are full-time students who live in the residence halls and are responsible for a particular community of residents. They provide support, act as a resource for students, coordinate social and education programs, and enforce Florida Poly and Student Living policies within the campus community.
Are student staff members who operate the Residential Life front desk. They are responsible for greeting visitors, checking out building equipment and items (carts/bins, etc.), assisting with lockouts, assisting with resident and/or visitor needs, and generally maintaining order in the lobby of the building.