Emerging leader finds her voice at Florida Poly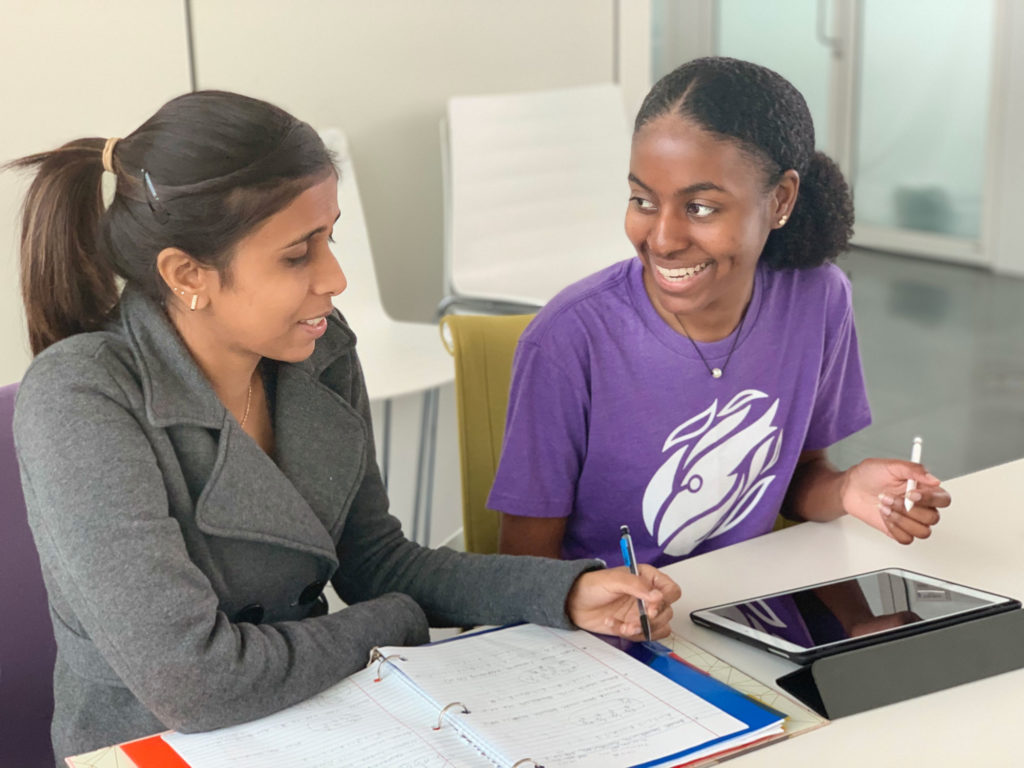 Editor's Note: This story is part of a series of feature stories that highlight diversity on Florida Poly's campus and celebrate Black History Month.
Senior Bria Smith arrived at Florida Polytechnic University from her native Bahamas in 2016 knowing she wanted to build her future by studying computers, and nothing would get in her way.
"I learned computers pretty quickly when I was like 5 years old," said Smith, who is majoring in computer science with a concentration in cybersecurity. "I grew up watching my dad tinker with computers – he even built his computer from scratch and let me help. I really enjoyed it."
Through a junior achievement program at her high school in Nassau, Smith had the opportunity to travel to Florida and tour the Florida Poly campus. She said she immediately knew she had found the place to develop her STEM dreams.
"The school is small and I really liked that. I came from a small high school and never wanted to go to a huge university," Smith said. "I don't think I would do well in a big setting."
Once Smith began her coursework, she realized quickly it was not going to be easy. She had always been a top student with a love and talent for math – perfect for a rigorous STEM (science, technology, engineering, and math) curriculum, but her lack of knowledge in other critical areas made her doubt her aspirations.
"At one point, I thought maybe computer science was not for me because of programming. It was so hard and I was so frustrated during my first class," she said.
However, through hard work it all started to make sense. "I would call my dad every time I would do things well, super excited and proud of myself."
Through her journey at Florida Poly, Smith also learned that to be successful she needed to improve her communication skills and be more comfortable reaching out to others. Smith describes herself as "super shy," but says she was determined to get out of her comfort zone, overcome her fears, and find her voice.
She joined several clubs, ultimately becoming secretary of the Diversity Club and a senator for the Florida Poly chapter of the National Society of Black Engineers (NSBE). She also attended public speaking workshops, became a research assistant, and an orientation leader.
"That's me trying hard to put myself out there and get more involved," Smith said. "Back home I'd probably still be shy, but here at Florida Poly I've also had opportunities to go to conferences, career fairs, reach out and talk to companies.
"I feel a lot more confident in myself now."
Her new-found confidence is reflected in the way she approaches every challenge. As a research assistant, Smith works closely with Dr. Oguzhan Topsakal, assistant professor of computer science, to create software to help surgeons in the planning phase of rhinoplasty. She also hopes to have a few research papers under her name. "I believe it will happen before I graduate."
With just a few months left at Florida Poly, Smith is not intimidated by the fact that after she graduates in May 2020, she'll become one of few black women professionals working in STEM fields.
"I've never felt like a minority here at the school because I'm black or because I'm a woman. But I do know these are usually male-dominated fields, so they don't think you can do certain things," said Smith, who would like to work in digital forensics.
"Then you prove to them that you definitely can. We can do any job we want to do."
Contact:
Lydia Guzman
Director of Communications
863-874-8557