Alum entrepreneur shares $1m success story with Florida Poly community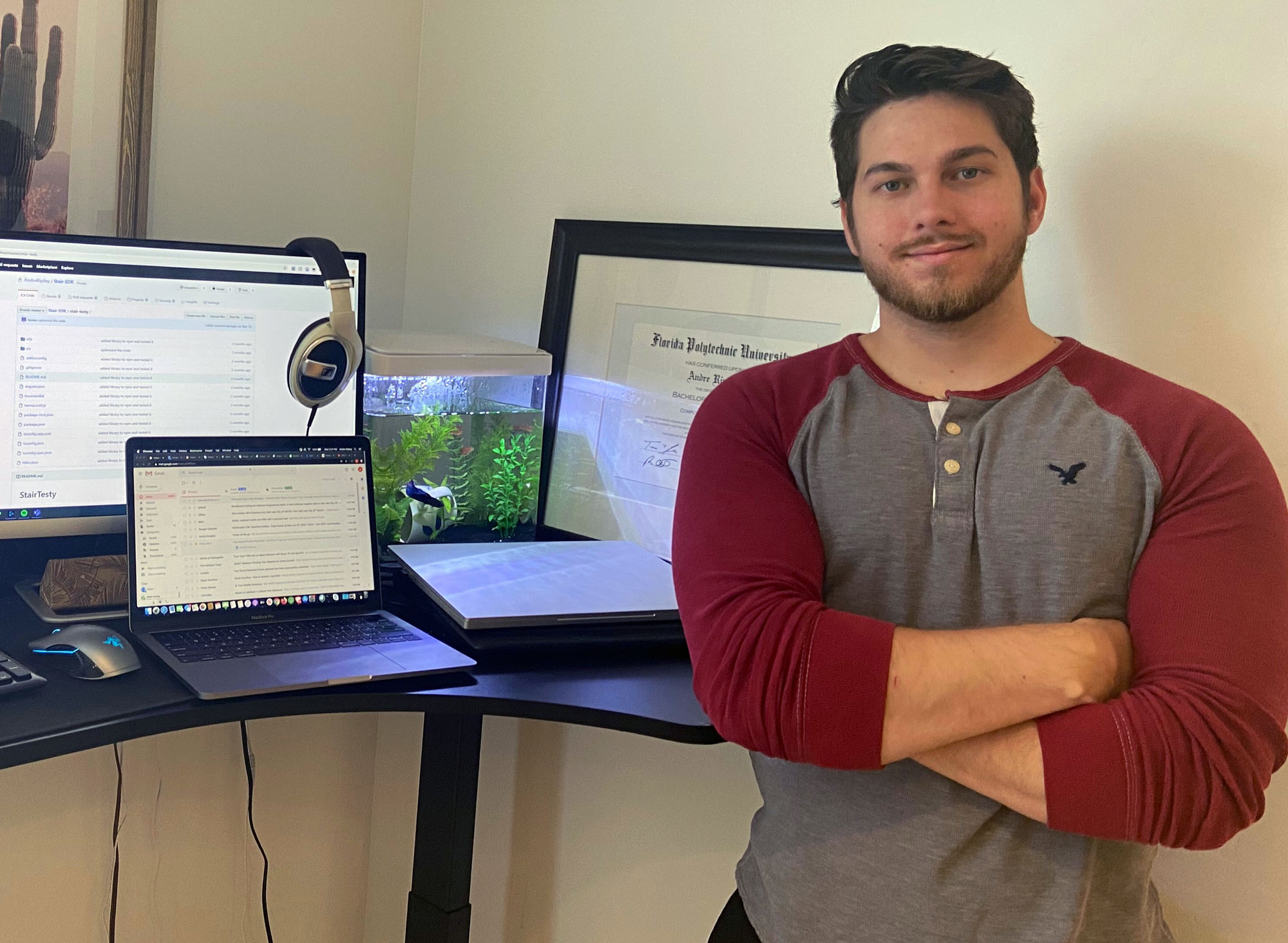 Although Andre Ripley '19 only graduated from Florida Polytechnic University a year ago, he has already launched three growing companies and landed a $1 million annual partnership with Facebook.
Ripley credits work ethic and entrepreneurial passion for his success, and he shared his story with the Florida Poly community during a virtual speaker session on June 17.
"You have to be able to manage your time very well," said Ripley, a computer engineering graduate. "After your full-time job, you work on your own thing on nights and weekends. There's not a lot of breaks, but if you love coding and creating things, it's fun."
Virtualities, a company Ripley co-founded, was awarded a $120,000 partnership in January with Facebook and Oculus VR to develop and run virtual reality gaming tournaments for the Pistol Whip VR game. The success of that venture led to a $1 million deal with Facebook this spring to expand their VR tournament offerings.
However, after the COVID-19 pandemic shut down many services and suppliers, the start of the $1 million partnership was delayed until November.
"This was a good and bad thing. It's bad because we're not getting the $1 million now, but it's good because I get to chill out for a while and expand on areas I didn't know I had a passion for," Ripley said from his home in Salt Lake City, Utah. "And that leads me to a big pivot – I started Stair."
While working with friends on an idea to create a product that rounds up youth pre-paid debit card spending into a college savings account, the team realized the back-end technology needed to make it work wasn't available. They soon shifted their focus to creating that instead.
As they delved into financial technology, they learned a big area of opportunity existed in developing a way to easily collect and compile data on thousands of companies that is released quarterly by the U.S. Securities and Exchange Commission. This would eliminate the need for many hundreds of people to do it by hand.
With at least one multi-million-dollar company now interested in that technology, the team of tech-minded friends at Stair is hopeful it will surpass the success of Virtualities.
"If you don't try, you're guaranteed not to go anywhere," said Ripley, who originally is from the U.S. Virgin Islands.
He said he hopes current Florida Poly students can learn from his accomplishments and experience.
"Every idea I've come across was a solution to a problem I stumbled upon," Ripley said. "Anything can be really good if there's a market for it and at the end of the day, it's about making money and you get to do it at your own pace.
"Florida Poly gave me a great start toward my life, and I encourage everyone to take advantage of the entrepreneurship program – it just makes everything else easier."
Contact:
Lydia Guzman
Director of Communications
863-874-8557