Student life returns with all eyes on COVID-19 prevention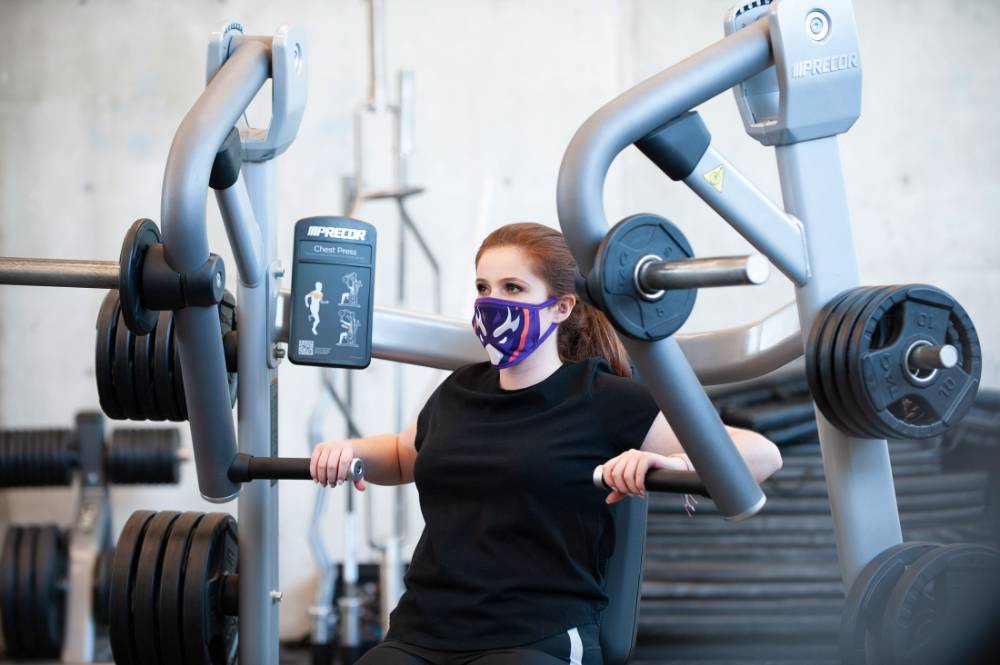 As students arrive on campus for the start of the fall semester, they will be able to enjoy Florida Polytechnic University's campus facilities and services – with a few changes to help minimize the spread of COVID-19.
Florida Poly's recreation, dining, and housing facilities have all undergone intensive review and each has implemented changes that promote physical distancing and personal hygiene while prioritizing student life.
"We want them to have a residential life, but it is two-fold – I'm going to depend on them for my health and they need to depend on me for their health," said Tonya Chestnut, Florida Poly's director of student development. "We all have to wear a mask and abide by CDC guidelines, and in doing so we are all supporting a strong campus experience."
Students must complete a Get Inclusive COVID-19 Back to Campus Training program, which includes the Campus Commitment. The training program provides students with an overview of up-to-date safety information and precautions, including hygiene, social distancing, and measures aimed at reducing transmission. A link to the training was emailed to students.
Fitness and recreation
The Student Development Center is open and ready to help students achieve their personal fitness goals. The SDC aims to provide a physical outlet for all students and features a full suite of gym equipment. Reservations for one-hour timeslots are required. Outdoor fitness classes will also contribute to the activity options available on campus.
A maximum of 12 people will be allowed in the gym area at one time, down from the regular capacity of 56. Gym hours will be 8 a.m. to 9 p.m., Monday through Friday and noon to 5 p.m. on Saturday and Sunday.
The gym will maintain 30 minutes between workout appointments to clean and sanitize all equipment. Patrons also are asked to use provided wipes to wipe down equipment after use to help keep the environment safe, and hand sanitizer is available to promote good personal hygiene.
Masks must be worn within the gym area and at all times on the weight floor. Increased cleaning and disinfecting will also take place in these areas, with particular attention paid to equipment in the gym.
Student housing
Move-in days begin Aug. 16 and residents will be greeted with changes to the residence halls that support all students in following the Campus Commitment.
Temperature scanners have been placed at building entrances to help students determine whether they have a fever, and hand sanitizer stations are located on every floor, as well as signage reminding students to practice good personal hygiene and physical distancing. The daily health self-assessment is another key tool for the campus community and everyone is asked to complete it each day before leaving their home or residence hall room.
"We have put in guidelines and rules in regard to what's open, what's not, and what students can expect," said Paul Carey, Florida Poly's assistant director of residential life and student experience.
Cleaning and disinfecting protocols have been increased within common areas, with particular attention paid to frequently touched surfaces like door handles and horizontal surfaces. Students are receiving guidance on how to clean their personal living space.
Common areas like kitchens and lounges will continue to be operational. The residence hall swimming pool will be open during regular Student Living business hours from 9 a.m. to 6 p.m.
Resident assistants have been trained to support students with the Campus Commitment, and in making choices that support a healthy residential environment.
Dining services
The Wellness Center dining facilities reopen on Sunday, Aug. 16. As in all other areas of campus, changes have been made by dining program manager Chartwells Higher Education Dining Services to promote physical distancing and reduce the spread of COVID-19.
While those at the Dining Center will still enjoy an all-you-care-to-eat experience, it will no longer be self-service. Food stations will be staffed by an attendant who will serve the food to avoid contact with communal serving utensils. Students will be handed their cups and utensils for the same reason.
Tables and chairs will be spread apart to allow for distanced dining and outdoor seating at the Oak Grove. Those who choose to eat outside are reminded that they will not be permitted to re-enter the Dining Center for more food after they exit the building.
Inside the facility, clear shields have been installed at high-contact areas and all high-touch surfaces will be sanitized every 30 minutes and disinfected at least every 24 hours. An online reservation system will soon be available to help Phoenixes plan their mealtimes.
Read the dining FAQ for more information.
Keep up with the latest COVID-19 news and information on Florida Poly's COVID-19 webpage and in the Florida Poly Mobile App. As the pandemic situation continues to evolve, the actions outlined above may change.
Contact:
Lydia Guzman
Director of Communications
863-874-8557