Grit and resilience fuel senior's determination to succeed and give back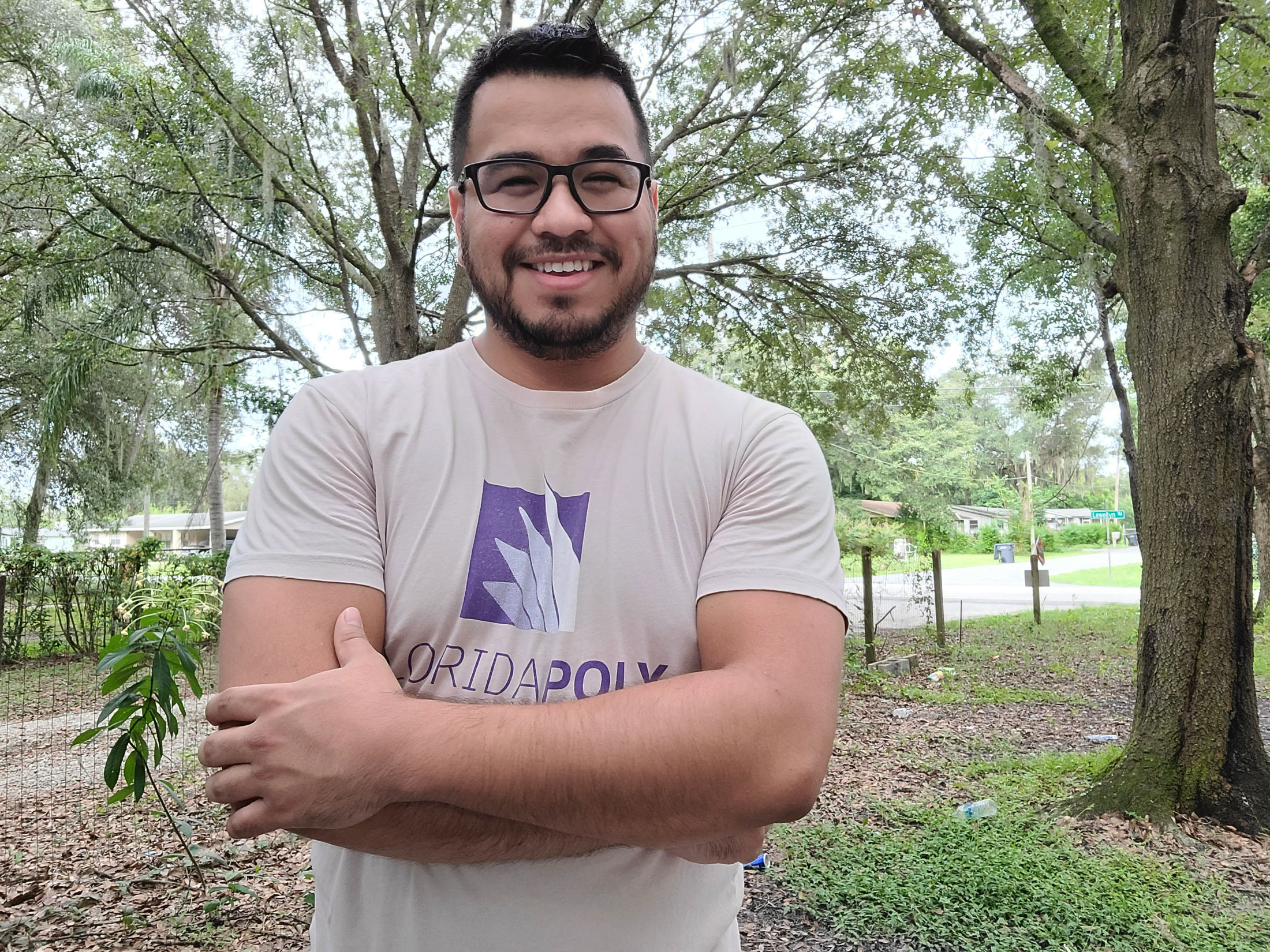 Editor's Note: This story is part of a series of feature stories that highlight diversity on Florida Poly's campus and celebrate National Hispanic Heritage Month.
Vicente Ramos was only 3 when his parents decided to leave everything behind in Mexico in pursuit of better opportunities in the United States. Now, almost 30 years later, he is less than a year away from earning a high-demand degree in computer science from Florida Polytechnic University. His future is bright.
"My parents are proud," Ramos said. "Whenever they talk about me, they like to brag a bit."
Ramos, who grew up in Gainesville, Georgia, said becoming the first in his entire family to go to college has not come without pressure.
"I feel it, especially in the finals and midterms. I don't want to fail them," he said.
But being the first has also given him the grit and resilience to work hard, so that one day he can give back to his parents. Ramos said that is his biggest aspiration.
"I remember growing up and my parents always working 12-hour days every day of the week, even the weekends," said Ramos, whose parents have worked in a chicken plant for decades. "I don't want them to keep doing that for the rest of their life. I want to help them."
Ramos' journey to Florida Poly was unexpected. He became fascinated with computers at age 10, and graduated high school wanting to be a game animator. After working as a computer salesperson to save money for college, he moved to Florida to attend the Art Institute in Tampa, only to realize he didn't find that career appealing.
A degree in information technology from Polk State College seemed like a better fit, but the financial burden of attending a private school left him broke.
"I went to work at a call center to save money again for a year so I could continue to study," Ramos said.
After saving enough, Ramos went back to the classroom to finish his associate degree at Polk State College. But before graduating, his family was going through some hardships, and they needed him.
"I moved back to Georgia to work and help my parents," he said. "I put my degree on hold again for another year."
Once back in Florida, Ramos was determined to earn his AA. He quickly realized, though, it wasn't enough to fulfill his aspirations. Every job he liked required either years of experience or a 4-year degree. He heard about Florida Poly while at Polk State, and decided a bachelor's degree in computer science was his way to go.
By 2017, Ramos was at Florida Poly pursuing a degree in computer science with a concentration in cybersecurity. He also works full time as an administrative assistant for a private company while he progresses toward his 2021 graduation.
Although Ramos said his journey has been tough at times, he said it's been highlighted by rewarding moments along the way.
"Don't give up, even if you don't have the means of reaching your goal," he said. "If you truly want to reach a goal, you will find a way to do it because you can only move forward, and because we're engineers."
Contact:
Lydia Guzman
Director of Communications
863-874-8557