2020 Florida Poly look back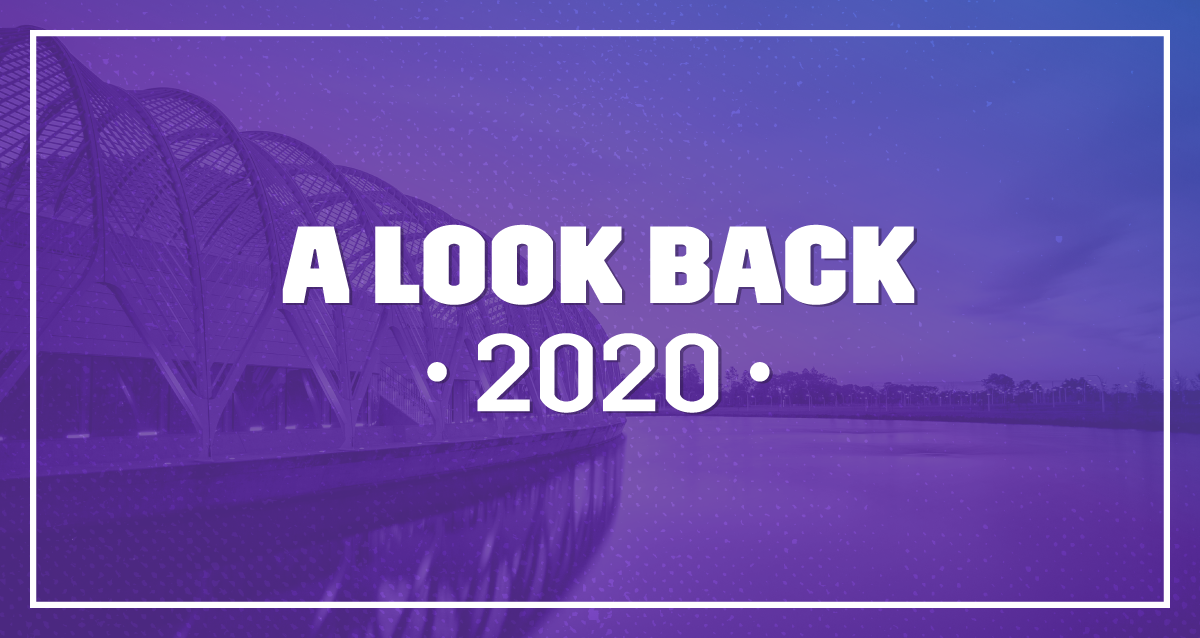 In the face of a pandemic that challenged the way the world operates, Florida Polytechnic University worked throughout 2020 to support students, improve academic opportunities, and help the surrounding community. Among the events that stood out in an unprecedented year were national recognitions, new programs, and advances in innovation.
Florida Poly earns national rankings and recognitions
The University received several prominent rankings and recognitions at the state and national level. These included:
Florida Poly's first appearance in the prestigious U.S. News and World Report's national rankings as a top 75 engineering college without a doctorate degree. It ranked in the top 40 of those that are public.
Ranking second in the nation for delivering quality, affordable mechanical engineering education by Affordable Schools.
Ranking No. 3 in the State University System for top performance at a low cost and No. 14 in the nation for best career outcomes for students, just behind Harvard University, in WalletHub's 2021's Best College & University Rankings.
Recognition as one of the top five tech universities in the South by Deep South Magazine, alongside Georgia Tech and the University of South Carolina.
Read the Florida Poly News articles: U.S. News and World Report, Affordable Schools, WalletHub, and Deep South Magazine.
University steps up to help amid the pandemic
As the world grappled with the COVID-19 pandemic, Florida Poly stepped forward to assist the Lakeland, Florida, community. Among the campus' efforts was 3D printing components for thousands of protective face shields, which were later assembled at the AdventHealth's Nicholson Center and distributed at the provider's locations throughout Central Florida. The University, in partnership with State Rep. Colleen Burton, also donated 10,000 face masks to local nonprofit organizations. Additionally, the Student Government Association created the Phund-a-Phoenix emergency fund to help students affected by the pandemic. Read the Florida Poly news articles: face shields, face masks, and Phund-a-Phoenix.
Nation's first pipeline to elite U.S. Navy officer program created
The Florida Poly Nuclear Propulsion Pipeline Program was established to financially and academically support and prepare students to apply for the U.S. Navy Nuclear Propulsion Officer Candidate (NUPOC) Program. Students who successfully complete the NUPOC Program can embark on careers as nuclear propulsion officers in the Navy. The Florida Poly program is the first of its kind in the nation. Read the Florida Poly news article.
Florida Poly Band takes flight
Musically minded students gained a fun outlet for their creativity in Fall 2020 with the establishment of the Florida Poly Band. At about 40 members strong, the eclectic group of musicians has been adding an energetic beat to events such as Phoenix Family Day. Read the Florida Poly news article.
Innovative virtual program supports high school STEM students
A new University initiative provides Florida high school students with support from a virtual network of trained learning assistants. These university student tutors work to help high schoolers stay on track in their studies, specifically in calculus and other STEM disciplines. Read the Florida Poly news article.
Rashid named among top 2% of world's scientists
Dr. Muhammad Rashid, chair of the Department of Electrical and Computer Engineering, recently was included among the top 2% of scientists in a global list compiled by Stanford University. He was also ranked in the top 1% in his field of electronics and electrical engineering. Read the Florida Poly news article.
Florida Poly traditions persist and thrive in a virtual environment
Many University traditions shifted to a virtual environment in 2020 in an effort to minimize the spread of COVID-19 on campus. With a dedication to technology and a commitment to innovation, the shift to a virtual setting saw many successful signature events, including the biannual Game Expo, Career Fair, Phoenix Family Day, and Capstone Design Showcase. Read the Florida Poly news articles: Game Expo, Capstone Design Showcase, Phoenix Family Day, Career Fair.
University creates Florida's first undergraduate Health Systems Engineering concentration
The new Health Systems Engineering (HSE) concentration for data science and business analytics students positions graduates to pursue careers in one of the nation's largest industries. Students majoring in computer science or electrical, mechanical, or computer engineering can pursue an HSE certificate. The HSE concentration is the first of its kind in the state. Read the Florida Poly news article.
Alum scores $1m Facebook deal
Andre Ripley '19, an entrepreneur who has launched three successful companies, entered into a $1 million annual partnership with Facebook to develop and run virtual reality gaming tournaments. The deal follows an initial $120,000 partnership with Facebook and Oculus VR in January 2020. Ripley is a Florida Poly computer engineering graduate. Read the Florida Poly news article.
Fall 2020 incoming class grew despite pandemic challenges
The Fall 2020 semester saw nearly 500 new students begin their studies at Florida Poly, an increase of about 20% over Fall 2019. The growth in new students occurred in a year when many institutions saw dips in their enrollment. The average high school GPA, as well as SAT and ACT scores, also saw a significant increase. Read the Florida Poly news article.
Four prominent Floridians join the University's Board of Trustees
Florida's Board of Governors appointed four distinguished and diverse members to the Florida Poly Board of Trustees in November. Technology executive Lyn Stanfield, transportation systems leader Beth Kigel, STEM diversity champion Dr. Laine Powell, and prominent physician Dr. Narendra Kini joined the board. Each has big plans to boost the University's profile and successes. Read the Florida Poly news article.
University partners with Florida Funders to boost state's startup industry
Florida Polytechnic University partnered with Florida Funders, a hybrid of a venture capital fund and an angel investor network, to provide the next generation of students with meaningful connections in the technology startup industry. The partnership fosters the potential career placements of students within Florida Funders' startup community and creates an avenue for that community to collaborate with Florida Poly through the Capstone Design Program. Read the Florida Poly news article.
Purple Fire Robotics takes first statewide win
The Purple Fire Robotics Club earned its first win in a statewide combat tournament in 2020. The win at the Robot Battles Tournament in February showed off the team's technical prowess and innovative robotics design capabilities. Read the Florida Poly news article.
New Office of Diversity and Inclusion launches to support minorities
The University elevated its commitment to supporting students and employees of all races, ethnicities, genders, faiths, sexual orientations, and cultural backgrounds at the start of the Fall 2020 semester by establishing the Office of Diversity and Inclusion. The new office works to build programs and processes to support diversity efforts at all levels. Read the Florida Poly news article.
IEEE-HKN becomes first academic honor society at Florida Poly
The University's first academic honor society was launched in September with the establishment of the Mu Omega Chapter of the Institute of Electrical and Electronics Engineers Eta Kappa Nu (IEEE-HKN) academic honor society. Engineering and computer science students selected to the honor society broaden their experience and networking skills while giving back to the community. Read the Florida Poly news article.
Contact:
Lydia Guzman
Director of Communications
863-874-8557