Phoenix committed to education and giving back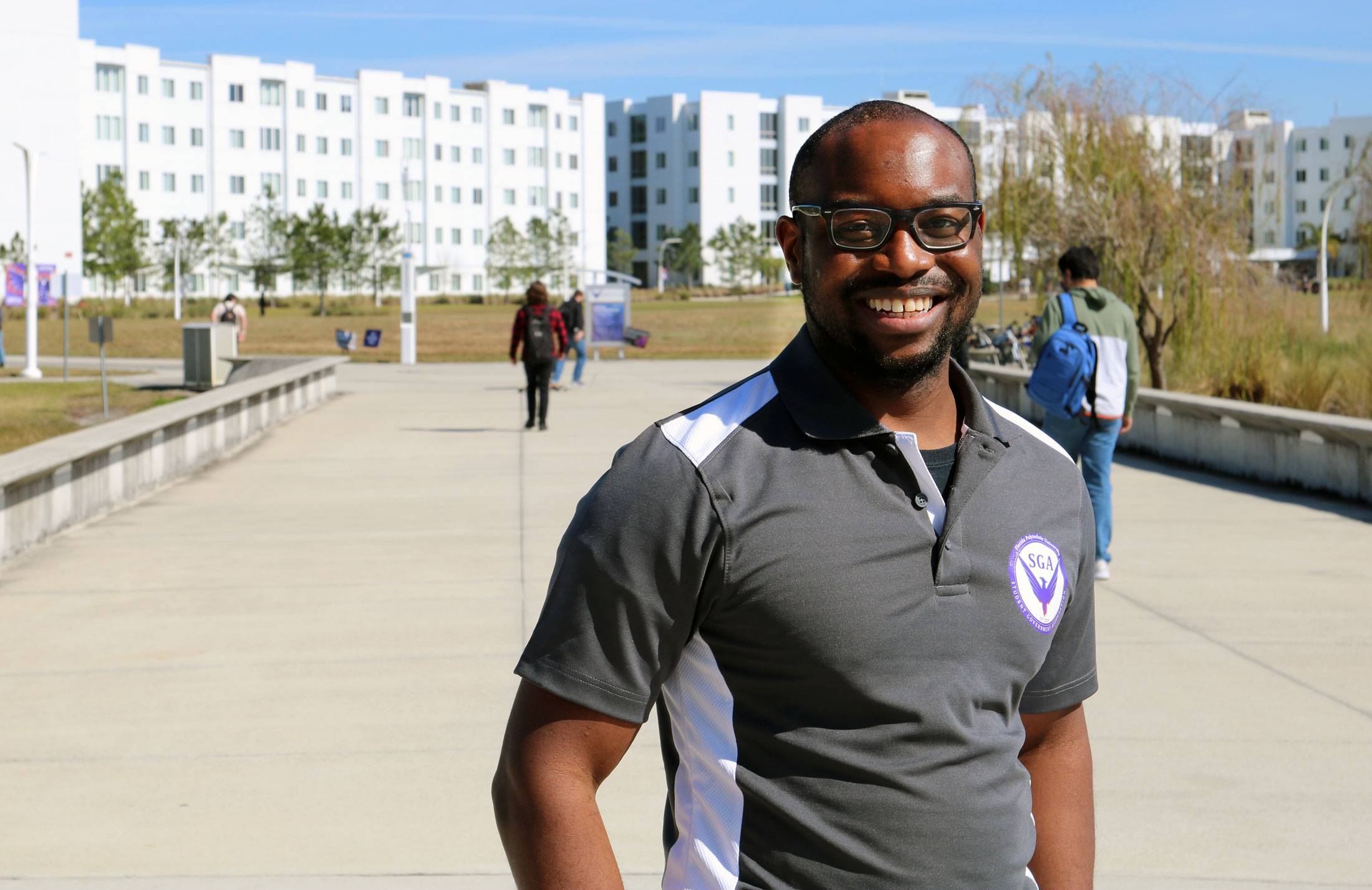 Editor's note: This story is part of a series of feature stories that highlight diversity on Florida Poly's campus and celebrate Black History Month.
When Cedriss Saint-Louis receives his master's degree in computer science this spring, he will be taking a major step toward fulfilling his personal goals and living up to his family's ambitions.
"Growing up, we're told the biggest thing we can do to make our community and parents proud is to get an education," said Saint-Louis, who emigrated to the US from Haiti when he was 11. "Since early on, I was told to go to school and ­­get as much education as I could."
After earning his master's degree, Saint-Louis hopes to pursue a Ph.D. in artificial intelligence and cybersecurity and join a team of researchers dedicated to keeping devices safe from hackers.
Ultimately, he would like to work on improving cybersecurity in the cars of the future. This interest helped him become one of the first recipients of the Frank T. Martin Single Year Scholarship established through the American Public Transportation Foundation, which supports African American students pursuing a degree in engineering, transportation, computer science, or data analytics.
Equipped with an associate degree from Polk State College, a bachelor's degree in computer engineering from Florida State University, and a master's degree from Florida Poly, Saint-Louis is hopeful he can make his mark in the field of computer science.
He said the education he has received at Florida Poly has fueled his ambitions.
"The faculty are amazing. They are willing to work with you even outside of their office hours," said Saint-Louis, senator technology representative for the Florida Poly Student Government Association­­. "Education is a big part of our culture. Life, in general, is a big lesson – you never really stop learning."
Arriving at the University in 2019, Saint-Louis said he felt supported by organizations like the National Society of Black Engineers (NSBE) at Florida Poly, which helped him solidify his academic direction while providing an encouraging community.
"NSBE works to get as many people involved in the engineering field, specifically in the Black community due to low enrollment. Additionally, NSBE helped me reinforce some key values such as pursuing a higher education," said Saint-Louis, a graduate of Winter Haven Senior High School in Winter Haven, Florida.
As he looks ahead, Saint-Louis said he hopes to one day be able to give back to organizations and individuals who have supported him along the way. He would like to contribute to the Southern Foundation Scholarship, which provides rent-free housing to deserving students who excel academically. He said he would also like to open a computer learning center in Haiti to help citizens gain critical technical skills.
"I want to help build more schools and opportunities in the US, in other countries, and around the world wherever there is a lack of education," Saint-Louis said. "Denzel Washington says it best, 'At the end of the day, it's not about what you have or even what you've accomplished … it's about who you've lifted up, who you've made better. It's about what you've given back.'"
Contact:
Lydia Guzman
Director of Communications
863-874-8557