Strong campus involvement drives student to success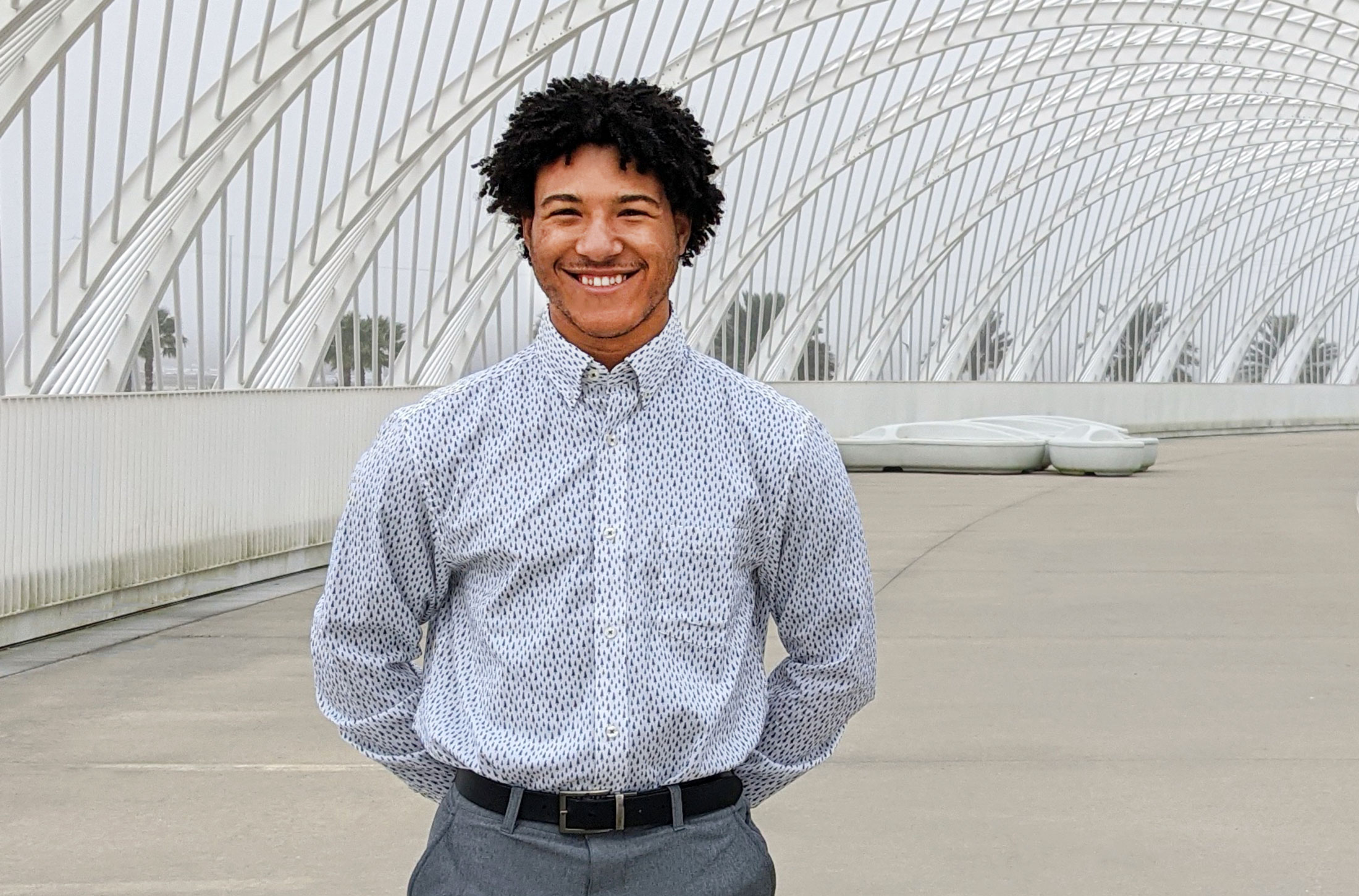 As Florida Polytechnic University senior Antonio Hendricks aspires toward a future in innovative technologies and engineering, particularly surgical robotics, he grabs hold of every educational opportunity that comes his way. He is active on campus and strives to improve the University experience for his fellow students.
Hendricks arrived at Florida Poly in 2018 and quickly found his footing in and out of the classroom. He said he was inspired by Dr. Jared Bunn to dive into his required math classes, completing them all during his freshman year and then tutoring for the math department ever since.
"I really like helping other students, whether it's academically or getting more involved on campus," he said. "Tutoring also allows me to review my math skills – it's very helpful to see how different professors would give lectures on similar topics or how a professor may use different phrasing in a different semester, or to see how common some mistakes are so I don't make them anymore."
In addition to tutoring, the computer engineering major serves as both engineering representative and Senate Pro Tempore in the Florida Poly Student Government Association. He also is vice president of the Florida Poly student chapter of the Institute of Electrical and Electronics Engineers (IEEE), and vice president of the Force Institute, the Jedi-inspired martial arts group on campus.
Hendricks said he has always been interested in engineering, noting that he recognized the need for improvements in technology as it relates to global inefficiencies and injustices as early as elementary school. He furthered his passion for engineering while a student at Middleton and Brandon High Schools in the Tampa Bay area, where he took multiple science, technology, engineering, and math (STEM) courses.
Middleton High School was established for Black students in the 1930s during the nation's segregation era. Today, it focuses on STEM, trades, and business with an aim of inspiring the community and embracing student competitions while advancing student success.
"Middleton Magnet has a mindset that I'd like to see explored here at Florida Poly," Hendricks said.
His Brandon High School alma mater enrolled its first Black students in 1966.
"It wasn't until 2001 when mandated busing ended that Hillsborough County earned unitary status (having removed remaining vestiges of segregation), though I believe the country still has a long way to go to dismantle unjust socioeconomic systems and reach the visions of Frederick Douglass and dreams of Dr. Martin Luther King Jr.," Hendricks said. "The civil rights era wasn't long ago and shouldn't be considered over."
Armed with an ever-broadening societal and political awareness and a desire to build on his engineering and technology background, Hendricks said Florida Poly offered him a unique platform to make a difference on campus while earning an education at the only STEM-focused public university in the state.
"I aim to make a significant impact on this young University," he said. "To have an audience with administration and students alike, to discuss vision and path for a just and exceptional experience, is the defining reason I chose Florida Poly over UF or another large university."
His path forward now appears clearer than ever.
"Florida Poly has been the perfect place for me to learn and grow with so many professors who have supported me along the way," Hendricks said. "In 30 years, I can stand in the middle of campus and say I was here at the beginning and look at where it is now!"
Editor's note: This story is part of a series of feature stories that highlight diversity on Florida Poly's campus and celebrate Black History Month.
Contact:
Lydia Guzman
Director of Communications
863-874-8557