Trustee inspired to improve equity among all students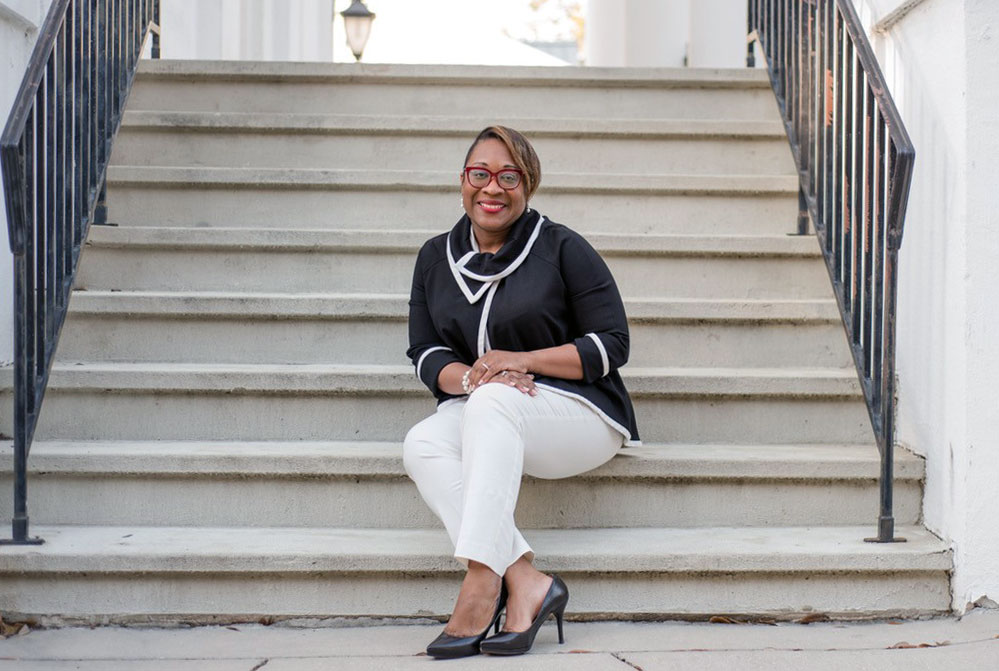 Honoring the experiences of those who came before her, Florida Polytechnic University Trustee Lyn Stanfield is driven to make an impact for underrepresented groups. From her service in the community to her role as an Inclusion and Diversity leader at Apple, Stanfield feels strongly that she has "a charge to keep."
"I have a piece of art depicting a group of slaves in my home as a constant reminder of my past. As a Black woman, I am constantly reminded of what we've overcome while recognizing that there is still much more to accomplish," said Stanfield, whose lineage includes slaves who worked on a southern Georgia plantation six generations ago.
"The sacrifices of those that came before me laid the foundation for the opportunities I have today. For some, the idea and images of slavery and sharecropping or limited educational opportunities are ancient history. My great-great grandmother – who only received a third-grade education before having to work the farm – was the smartest woman I've ever known," Stanfield said. "She helped pave the way so that my grandmother could have more opportunity. My grandmother didn't graduate from high school until she was married with seven children in her 40s. Later in life, she took advantage of educational opportunities and went on to serve as a special education teacher for more than 20 years. And my mother – who was a part of the generation of Black students that integrated public schools in Tallahassee - helped pave the way for me and countless others. These women inspire me to use my voice and my talents to be a change agent."
Prior to her current role, Stanfield spent the majority of her career in Apple's Strategic Initiatives Group, working with education leaders and advocating for sound education policy. She has served on many educational boards, including the Florida College System's Board of Directors, the Tallahassee Community College District Board of Trustees, Florida's Digital Divide Council, and the Florida Education Foundation Board. Stanfield, from Tallahassee, Florida, recently was appointed to the Florida Poly Board of Trustees and brings her commitment to diversity, equity, and education to fuel her work at the University.
"Florida Poly has the opportunity to be a significant economic generator in the state," she said. "We are also uniquely positioned to ensure our school is representative of our state."
Accomplishing this will involve examining the elements that drive more diverse enrollment, she said, as well as building on existing relationships with K-12 schools to provide students with exposure to science, technology, engineering, and math (STEM).
"This will help ensure a robust and diverse pipeline. As students have an opportunity to make a choice as to their post-secondary educational career options, Florida Poly should be situated where we're a top contender," Stanfield said. "I want to ensure that we take the amazing foundation that's been set for Florida Poly and strive to continue to build and strengthen what this University can become not only for the state of Florida, but for the nation."
Stanfield's lifelong calling to achieve better equity wherever possible reached new heights 20 years ago when she joined Apple and embraced the opportunity to use her voice as a strong advocate for education and equity.
"I spent the majority of my life advocating for education professionally. I now have the opportunity to be a part of a team that creates new opportunities for underrepresented communities in tech, including carrying some of the company's largest and strongest education programs," she said.
"One of my favorite authors – James Baldwin – is quoted, 'The place in which I'll fit will not exist until I make it.' Sometimes we have to create that space. That's my charge. Change agent and space maker. As I think about that team of slaves prominently displayed in my home and the sacrifices they made, along with the many sacrifices of my elders, I challenge myself each day to find and remove the barriers that limit the opportunity for others to achieve their dreams."
Editor's note: This story is part of a series of feature stories that highlight diversity on Florida Poly's campus and celebrate Black History Month.
Contact:
Lydia Guzman
Director of Communications
863-874-8557