Phoenix driven to cultivate a high-wattage future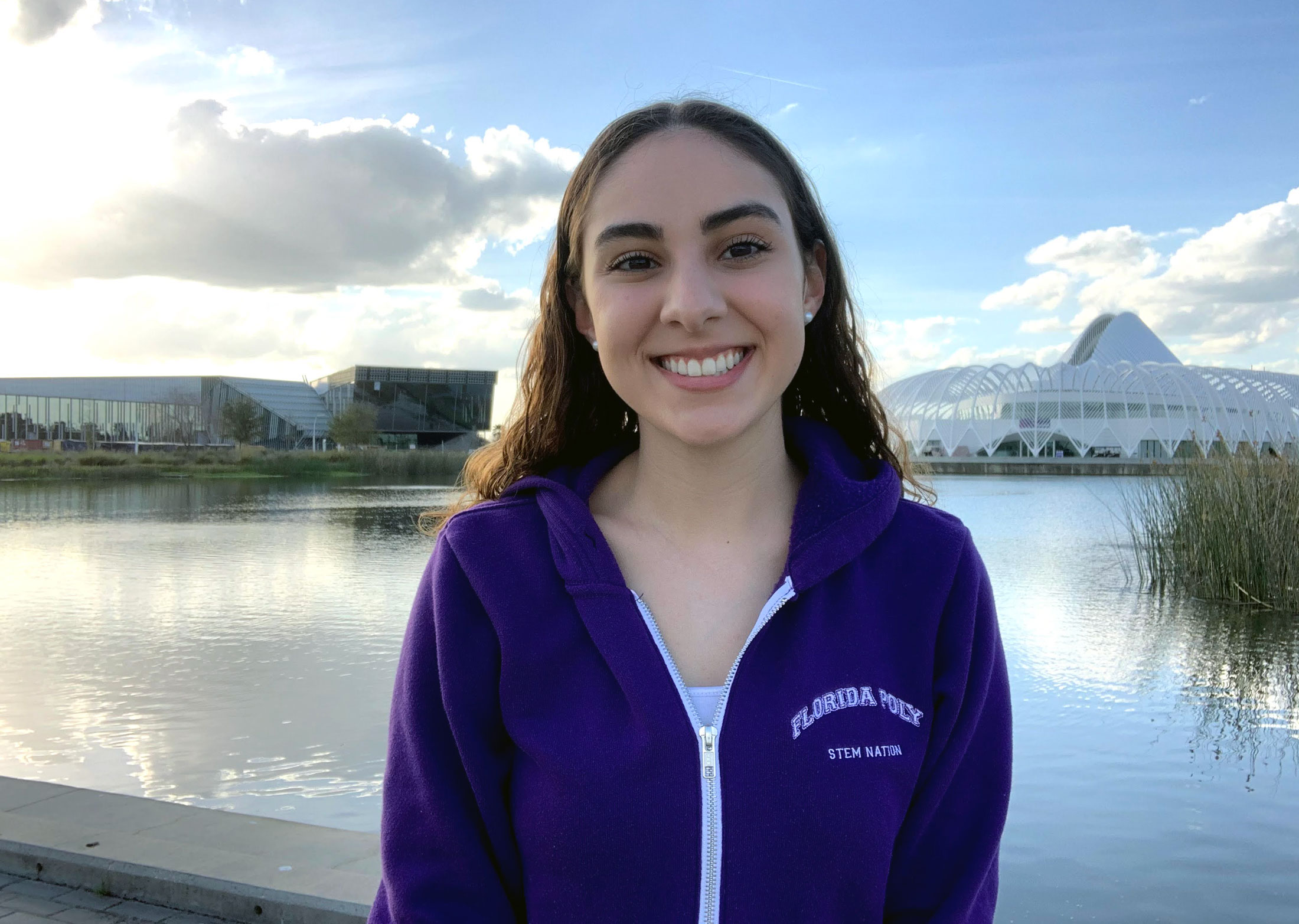 Growing up, Florida Polytechnic University junior Lillian Frometa was fascinated by her electrician father's projects around their Miami home.
"My dad is always working on hands-on projects," she said. "When he would do electrical projects like powering our tool shed with a bunch of solar panels, I would watch him, and he would teach me a little bit."
This family-inspired interest paired well with Frometa's natural love of "tinkering" and an aptitude for math, leading her to pursue a bachelor's degree in electrical engineering. Today, Frometa continues to bond with her dad over their shared love of the subject.
"While I work on my own personal projects now, I talk to him and do research with him," she said. "It brings us together in ways I never thought would happen."
Frometa is hopeful her Florida Poly degree carries her to a career in power electronics or a related field. She leverages every possible opportunity, including her selection as a Presidential Ambassador, to improve her professional marketability and career skills.
"Being a Presidential Ambassador has given me a lot more confidence in public speaking and being able to approach a person of authority and have a normal conversation with them – it's something I never thought I would do," Frometa said of the program that provides talented students with leadership experience and allows them to serve as official and formal hosts at various events. "They push you to be better leaders and teach you how to carry yourself as a professional."
This summer, she plans to put her skills to work in a virtual internship with NextEra Energy, where she will be working in areas such as smart grids and emergency response. Frometa said her classroom work and experience with faculty members have set the stage for a successful internship experience.
"The professors here are so open and engaging. Just yesterday I emailed a professor because I needed help with an assignment and he was like, 'I'm available right now. Let's log on,'" Frometa said. "I cannot imagine getting an experience like that with any other university."
This receptiveness has helped her feel at ease while pursuing a degree in her male-dominated field.
"It makes it less intimidating to go to class or approach a professor, knowing they are so willing to help their students," she said. "In high school when I took physics and calculus, I was the only girl in a room of guys, so even though I am one of two or three girls in most of my classes now, I don't think it's that much of a challenge.
"If anything, it makes the girls closer – us girls have to stick together."
Frometa said being a woman in electrical engineering presents her with a world of opportunities as she moves into her career.
"A lot of companies want to expand their population and have a more diverse workplace," she said. "I feel like it shouldn't be intimidating at all for women. We can do anything we put our minds to."
Editor's note: This story is part of a series of feature stories that highlight diversity on Florida Poly's campus and celebrate Women's History Month.
Contact:
Lydia Guzman
Director of Communications
863-874-8557