Bolstered by women, Department of Mechanical Engineering defies national trends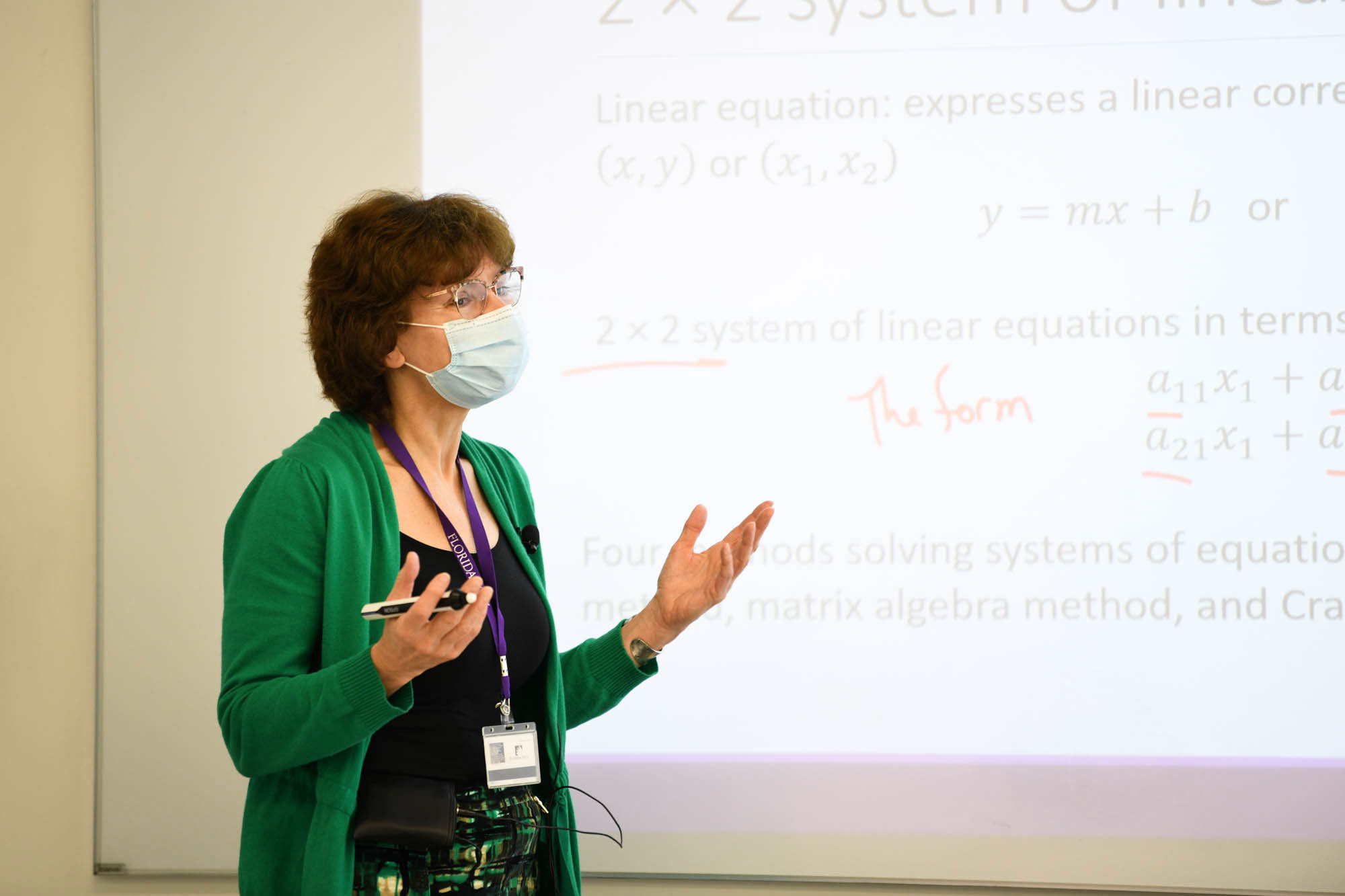 When female students begin pursing a mechanical engineering degree at Florida Polytechnic University, they can quickly see the world of opportunities available to women in the male-dominated field.
With a female department chair and a large percentage of the female faculty members in the department, students don't have to look far to find female role models who have enjoyed successful careers in academia and industry.
According to the Society of Women Engineers, only 13% of engineers are women and only 17% of tenured/tenure-track faculty in engineering are women. At Florida Poly, women make up 36% of the mechanical engineering faculty.
"I think the diversity in personalities, gender, backgrounds, and nationalities really offers students the ability to see different types of people in the role of a mechanical engineer," said Dr. Mary Vollaro, chair of the University's Department of Mechanical Engineering. "Having a very diverse faculty allows students to see themselves in one of our faculty members."
Vollaro said when female students experience this, many of their preconceived ideas about what it means to be a woman in engineering melt away.
"We're able to get to know our students and really help them mature," she said. "I'm really happy to be part of that and to create a great environment for the department."
Professors in the department said they appreciate working in such a diverse setting.
"I appreciate this balance," said Dr. Sanna Siddiqui, whose expertise includes metal additive manufacturing. "There's a lot of open discussion and different thoughts and ideas when you have people with different backgrounds and experience levels."
Siddiqui said the wide diversity in the department, which also includes people from different ethnic, cultural, professional, and geographic backgrounds, is helpful to students.
"It serves to reinforce the concept that they can achieve anything when they see someone like themselves achieve a successful career," she said.
The remaining women working alongside her in the department are Dr. Aslihan Vuruskan, an assistant professor with research interests including aerodynamics; Dr. Zahra Sadeghizadeh, an assistant professor with research interests including thermofluids and propulsion; and Dr. Lisa Kames, the newest assistant professor in the department.
Kames said she was excited to join the energetic team.
"I didn't have any female professors in mechanical engineering, and I believe that by having strong female role models and by leading by example, our students will see successful women in the field and know that it can happen for them, too," Kames said.
Vollaro said she hopes all students, and female students in particular, are able to find these role models and support as the University and the Department of Mechanical Engineering continue to grow and evolve.
"Like all schools, Florida Poly becomes what you make it," Vollaro said. "Come in and apply yourself and you will have an amazing experience that will last you for your entire life."
Editor's note: This story is part of a series of feature stories that highlight diversity on Florida Poly's campus and celebrate Women's History Month.
Contact:
Lydia Guzman
Director of Communications
863-874-8557