Q&A: Charisma Clarke builds a future with engineering know-how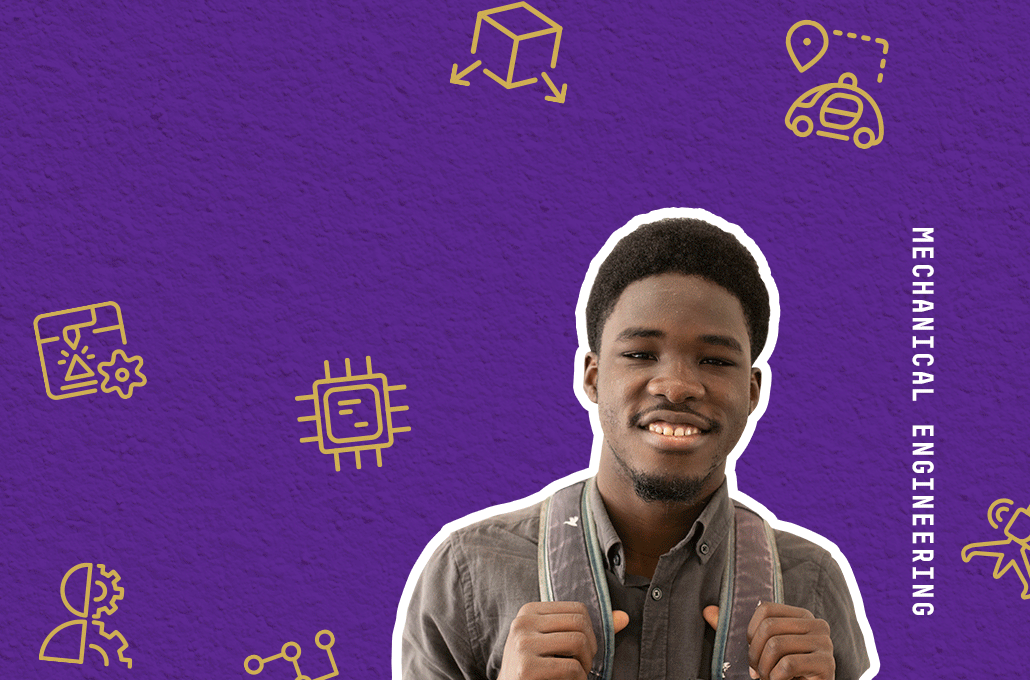 Charisma Clarke '21 graduates with a bachelor's degree in mechanical engineering this May. Originally from Nassau, Bahamas, Clarke has stepped up to leadership positions at Florida Polytechnic University, including serving as vice president for the University's chapter of the National Society of Black Engineers (NSBE). He also has been active in Baptist College Ministries (BCM) and looks forward to fulfilling his childhood dream of becoming an engineer.
Why did you choose your major?
I always knew I wanted to be an engineer, even when I was really young – I had more of an inkling toward math and science and knew it was a path I wanted to be on. My earliest memories of this interest were playing with Legos and construction sets. I've always enjoyed thinking about designing new machines and inventions, and I've always known I wanted to design and build.
What does earning your degree mean to you?
This represents a milestone. I think it also helps me fulfill some of the dreams of my parents that they never got to fulfill. My mom loves teaching, but she wanted to be an architect. My dad wanted to be an electrical engineer. He's an electrician and he loves it. Mechanical engineering is right in the middle. It's a milestone for me and I'm sure it will make them proud.
How well do you feel Florida Poly prepared you for life after graduation?
I definitely had to develop self-discipline, which is something I didn't need too much growing up. When you're young, your parents wake you up and take you to school, but coming here and having to get up and go to class and be responsible for completing assignments has prepared me for the next steps. My plan is to continue my studies. I've worked alongside several professors in the Mechanical Engineering Department as a research assistant, so I feel I can do well in graduate school because of those experiences.
What was your favorite course and why?
My favorite course would have to be mechanical lab design because it is a hands-on class. Throughout the class, we perform different labs and then use that knowledge to design our own lab. This allows us to apply what we've learned pretty much immediately.
Where did you complete your internship and what did you gain from the experience?
My internship was on campus under Dr. Edwar Romero-Ramirez. We worked with flexible TPU 3D printing filament to evaluate the mechanical properties based on different settings. Typically for metals and other rigid materials there is already mechanical data available about the properties based on how you manufacture it, but for flexible filaments there is not much data available on the mechanical properties based on different print settings. I gained confidence in my ability to manage myself and to problem solve. When I ran into challenges, I had to figure out a way to navigate those and find solutions to those problems.
What did you enjoy most about your time at Florida Poly?
After a long day or week of classes, being able to go on the court and play basketball with friends or hang out on the weekend and listen to music or play poker. It's important to have balance. We are not just students and our lives aren't only academics. It's important to focus on other aspects and have some leisure.
What was your greatest accomplishment at the University?
Overall, I've done fairly well academically. I've enjoyed being part of the leadership of NSBE and seeing how we can put programs together that I believe help develop students. In the last year, despite having to navigate through COVID, we had several great events like a panel about diversity talking about issues of culture and how we can navigate that as one Florida Poly community. We also had an international student seminar specifically about opportunities for international students and how we can better assist incoming and current international students to navigate school, find a job, and transition into graduate school.
What are your long-term career goals?
Long-term, I definitely would like to make a contribution back home. I'm not sure how that looks yet, but something along the lines of renewable energy and helping move toward more reliable forms of power. I want to use the skills I have in engineering to help develop my country.
What advice would you give an incoming freshman?
Don't try to do it all yourself. Definitely find a community of people that you trust, people who can support you while you're studying. You don't have to know all the answers, but it's important to know where to find the answers. That's helped me a lot, being able to ask when I was unsure about something.
Editor's note: This story is part of a series of Q&As with some of Florida Poly's Class of 2021 graduates.
Contact:
Lydia Guzmán
Director of Communications
863-874-8557