New members add tech-industry insight to Florida Poly Foundation Board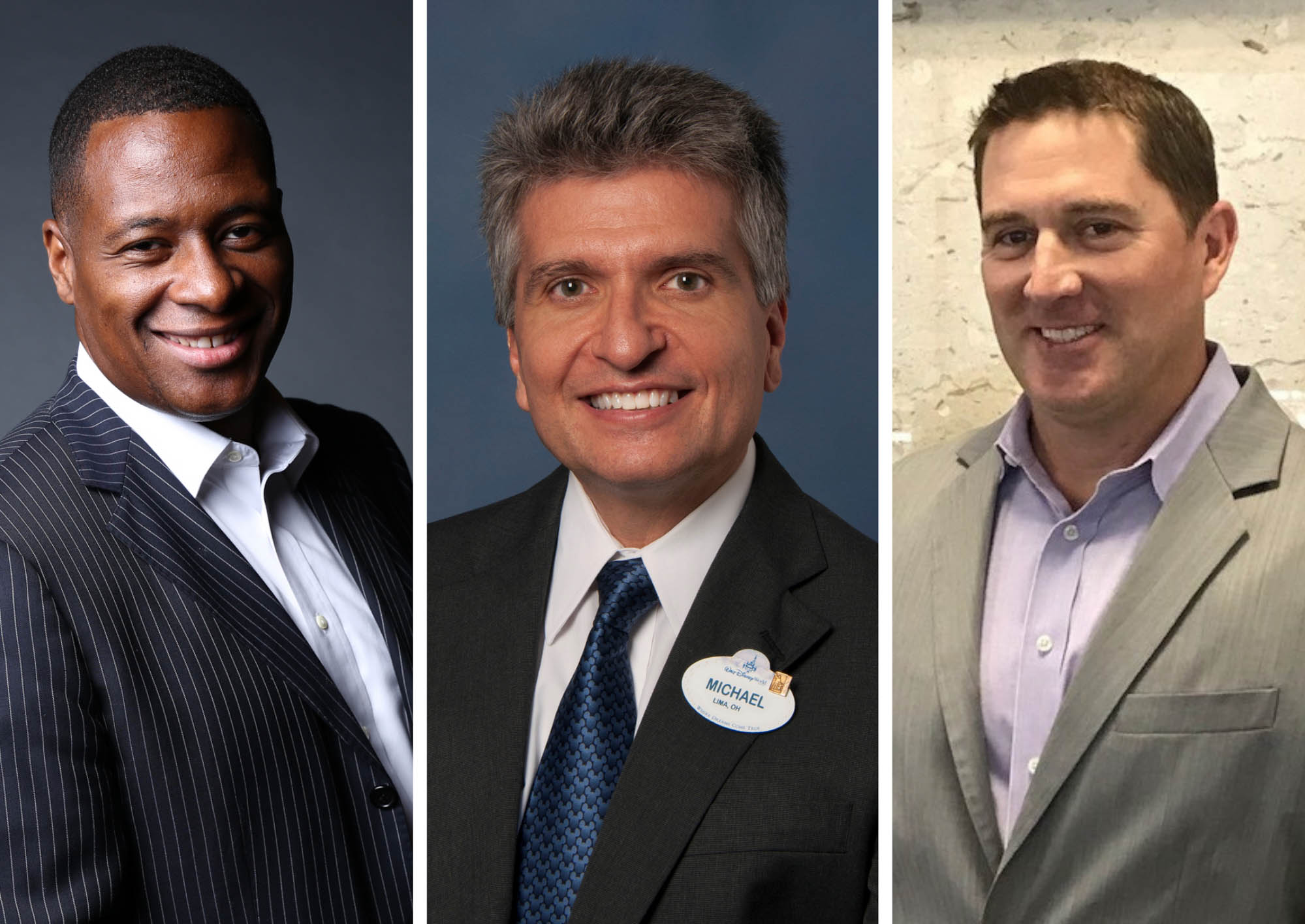 LAKELAND, Fla. – Three new members have been appointed to the Florida Polytechnic University Foundation Board. Michael Tschanz, Adrian Muhammad, and Ryan Whittemore contribute their expertise in engineering, technology, industry, and entrepreneurism to the Foundation's Board of Directors.
"We are very fortunate to welcome Adrian, Michael, and Ryan to the Foundation Board," said Kathy Bowman, Florida Poly's vice president of Advancement and CEO of the Florida Polytechnic University Foundation. "Their rich, diverse backgrounds and commitment to education will bring a significant boost to our work of highlighting and supporting the University."
Michael Tschanz is director of engineering technology and analysis at Disney Parks, Experience and Products' Global Engineering and Technology Department. He leads a multidisciplinary team that develops detailed mathematical and physics models for transportation, ride and Audio-Animatronic systems, custom software and network applications, and robotics.
"I am excited to be able to help further Florida Poly's mission and work to provide pathways for students to succeed in engineering and technology," said Tschanz, whose background includes designs of Disney theme park attractions such as Test Track and Mission: SPACE at EPCOT, Toy Story Mania! at Disney's Hollywood Studios, and Expedition Everest – Legend of the Forbidden Mountain at Disney's Animal Kingdom Theme Park. He also designed the velocity profiles at the worldwide locations of The Twilight Zone Tower of Terror.
"As the University flourishes, so does the future of technology in Central Florida," Tschanz added.
Adrian Muhammad is managing partner of Jackson | Shah & Company, headquartered in Orlando, Florida. Muhammad has more than 20 years of experience in technology, consulting, and business development, working with organizations ranging from start-ups to global, publicly traded companies. He hopes to advance the cause of consumer-driven markets, STEM education, and related nonprofit interests.
"Florida Poly's name should be mentioned among the best science and technology programs in the U.S. As a new member to the board, our principal goal is to better understand the current strategy for achieving this and identify meaningful, value-added ways to contribute to this trajectory," said Muhammad, from Windemere, Florida. "We believe center to this effort are increasing the number of meaningful corporate partnerships with companies whose competitive advantage is center to science and technology. Additionally, we believe increasing the profile and opportunities of an already successful entrepreneurship program will bode well for the long-term stability and growth of the University."
Ryan Whittemore is chief investment officer for Florida Funders, a hybrid of a venture capital fund and angel investor network. He oversees a team reviewing more than 2,000 deals annually across their managed funds, and the due diligence process that leads to about 20 investments each year.
"Our mission is evolving Florida from being known as the Sunshine State to the Startup State, and that requires three critical components: investment capital, entrepreneurs and talent, and the talent Florida Poly is producing is exceptional and critical to sustaining the tech ecosystem here in Florida" said Whittemore, whose background includes venture, private equity, legal, corporate operations, capital market portfolio management, and research analysis. "I am honored to work to help Florida Poly build a legacy that contributes to this vision."
In addition to Muhammad, Tschanz, and Whittemore's appointments, Alice Hunt, Lauren Schwenk, and Seretha Tisnley were reappointed to two-year terms on the board. Hunt also was reappointed to the position of Foundation Board chair and Jack Harrell III was reappointed vice chair.
Contact:
Lydia Guzmán
Director of Communications
863-874-8557