FedEx position sets the stage for alumna's long-term professional success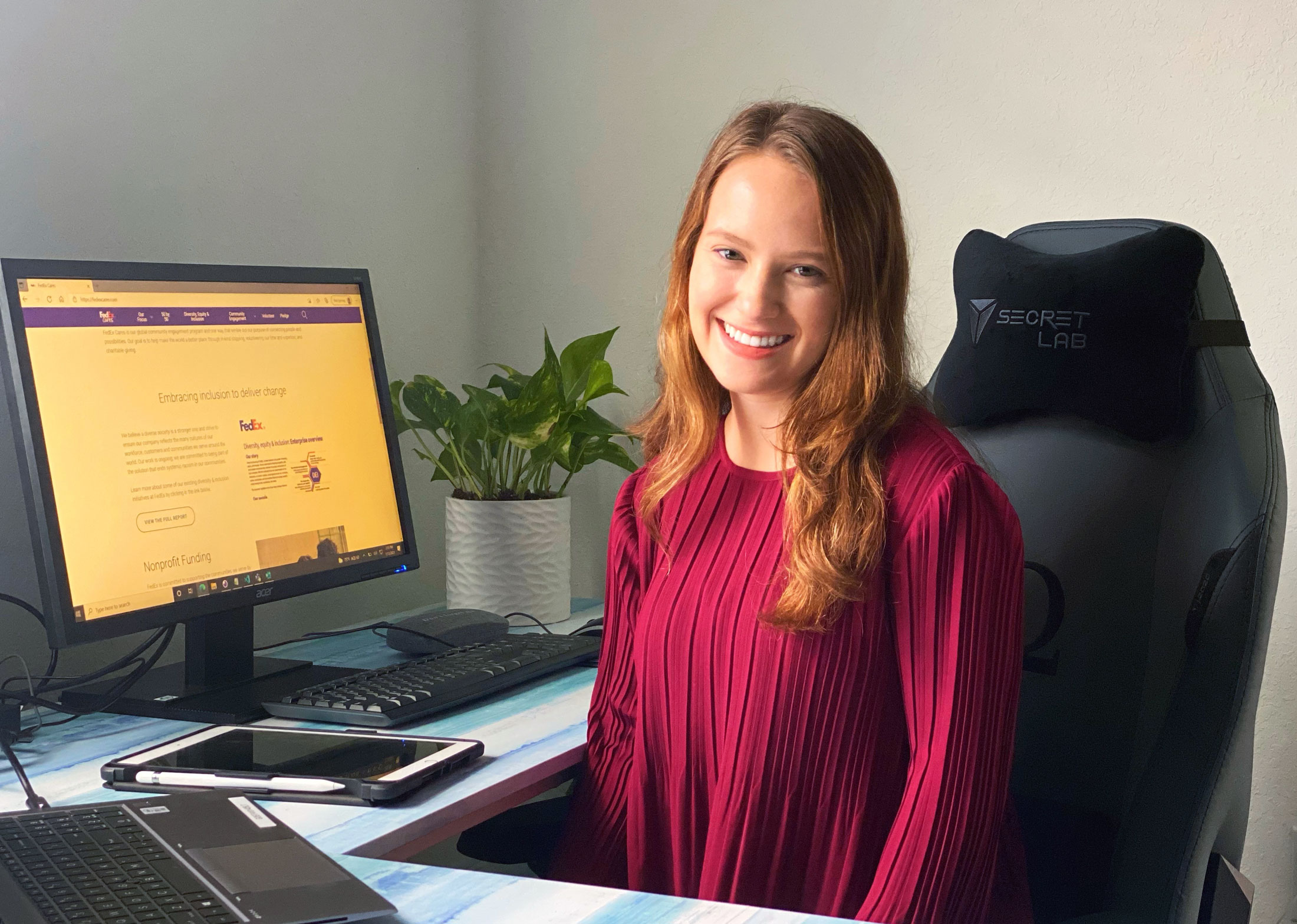 As Megan Morano '21 prepares for the start of her master's degree program in applied intelligence with a focus on homeland security at Georgetown University, she is spending her summer building a record of professional success in an internship-to-hire research and development position with delivery services giant FedEx.
"It is phenomenal," said Morano, who received her bachelor's degree in business analytics from Florida Polytechnic University in 2021. "I am luckily behind other Florida Poly students who did their internships in the spring and are hired. I get to have their same mentors and share my questions with those who came before me."
In her role at FedEx, Morano is currently focusing on programing, which she is hopeful will further strengthen the educational foundation she plans to build upon at Georgetown. She said the experience at FedEx has been very insightful so far.
"They are reframing my entire mindset," Morano said. "I had a moment where I realized that oh my gosh, you have to embrace errors in programming; it means you're trying and it's how you learn."
While her FedEx position is remote, Morano is working with colleagues located across the country. It's something that she said she felt ready to do.
"I think working with diverse teams at Florida Poly prepared me to know my personality type and to be able to recognize everyone else's on the teams I'm working with now," said Morano, who is from Clearwater, Florida.
Her experience as a Presidential Ambassador and the professional development education she received at Florida Poly also were instrumental in her current success, she said.
"I literally taught an entire group of interns here at FedEx about an elevator pitch," Morano said. "None of the interns in my group knew what it was, and I knew exactly what to say and do to have a proper elevator pitch."
During her time at Florida Poly, Morano was a teaching assistant for academic and professional skills, worked as a student associate for Florida Poly's Advancement Department, and was selected as the 2021 commencement speaker.
"If you had told me at 17 years old that I would have done all of this and have so much more ahead of me, I don't know if I would have believed you," she said.
Editor's note: This story has been updated to include Morano's hometown.
Contact:
Lydia Guzmán
Director of Communications
863-874-8557