Students find their niche at annual Club Row event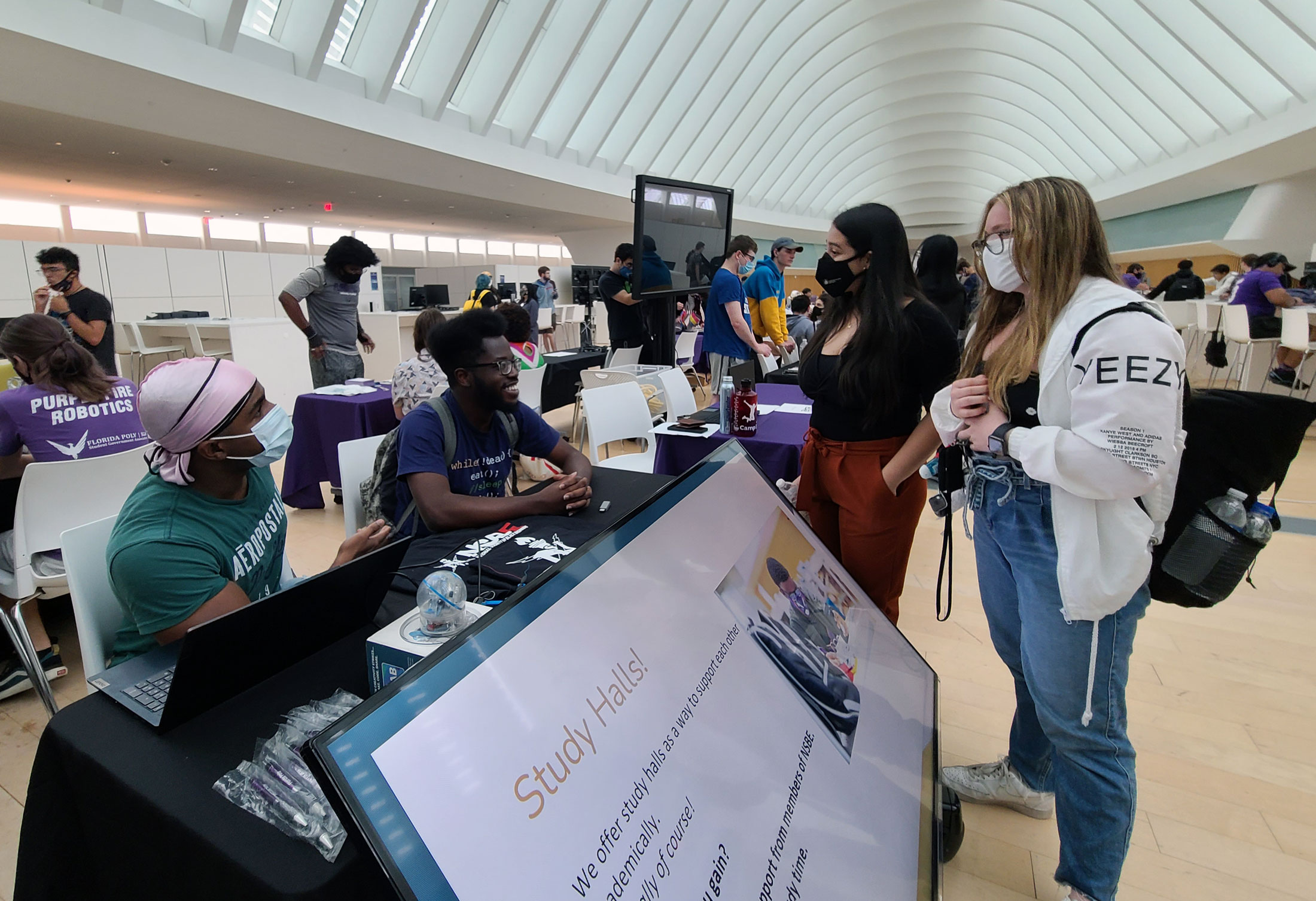 New and returning students explored opportunities to get involved, build connections, and make a difference during the annual Club Row event on Wednesday, Sept. 1, at Florida Polytechnic University.
The event, hosted by the Student Government Association, continues on Sept. 2 in the Saddle Creek Logistics Commons. It brings together dozens of clubs and organizations in a friendly setting and gives curious students a peek at what the groups have to offer.
"Events like Club Row make me feel more at home – I spend 10 of the 12 months of the year here and it's important for me to feel ingrained in the community," said business analytics junior Trinity Brinkley, treasurer of Rise Up SVP, an organization that works to promote healthy relationships and reduce sexual violence. "Students are interested, and they are liking that there's a club that stands for something so positive."
Brinkley, from Jacksonville, Florida, said Club Row provides a reliable surge in membership to all clubs each year.
Some of the groups participating in the two-day event included the Diversity Club, which promotes diversity and inclusion on campus; the Academic Excellence Club, which focuses on academic success and development; Florida Poly Mutants, a competitive Ultimate Frisbee team; and the Force Institute, which is dedicated to Star Wars fandom and personal development.
Jacob Paccione, a freshman computer science major, said he had already explored some club offerings on his own and attended the event to make sure he didn't miss anything.
"Especially when you're new to a school, getting involved in activities allows you to meet people and make friends you otherwise might not have," said Paccione, from Coral Springs, Florida. "Events like this work"
Angelina Di Fiore, president of the Florida Poly chapter of the Society of Women Engineers, said the first weeks of the academic year is a great time for students to find their niche and explore all the opportunities before them.
"I definitely think it's imporatnt to put yourself out there, especially if you're new to the area or new to the school," said Di Fiore, a junior environmental engineering major from Winter Garden, Florida. "My best advice to incoming freshmen and transfer students is to go to the first general meetings of all the clubs you like and from there you'll get a feel for the club and you can decide if it's a good fit for you."
Students can find more information about the clubs and organizations available on campus online at Phoenix Link.
Contact:
Lydia Guzmán
Director of Communications
863-874-8557