Family, thirst for knowledge drive Phoenix to succeed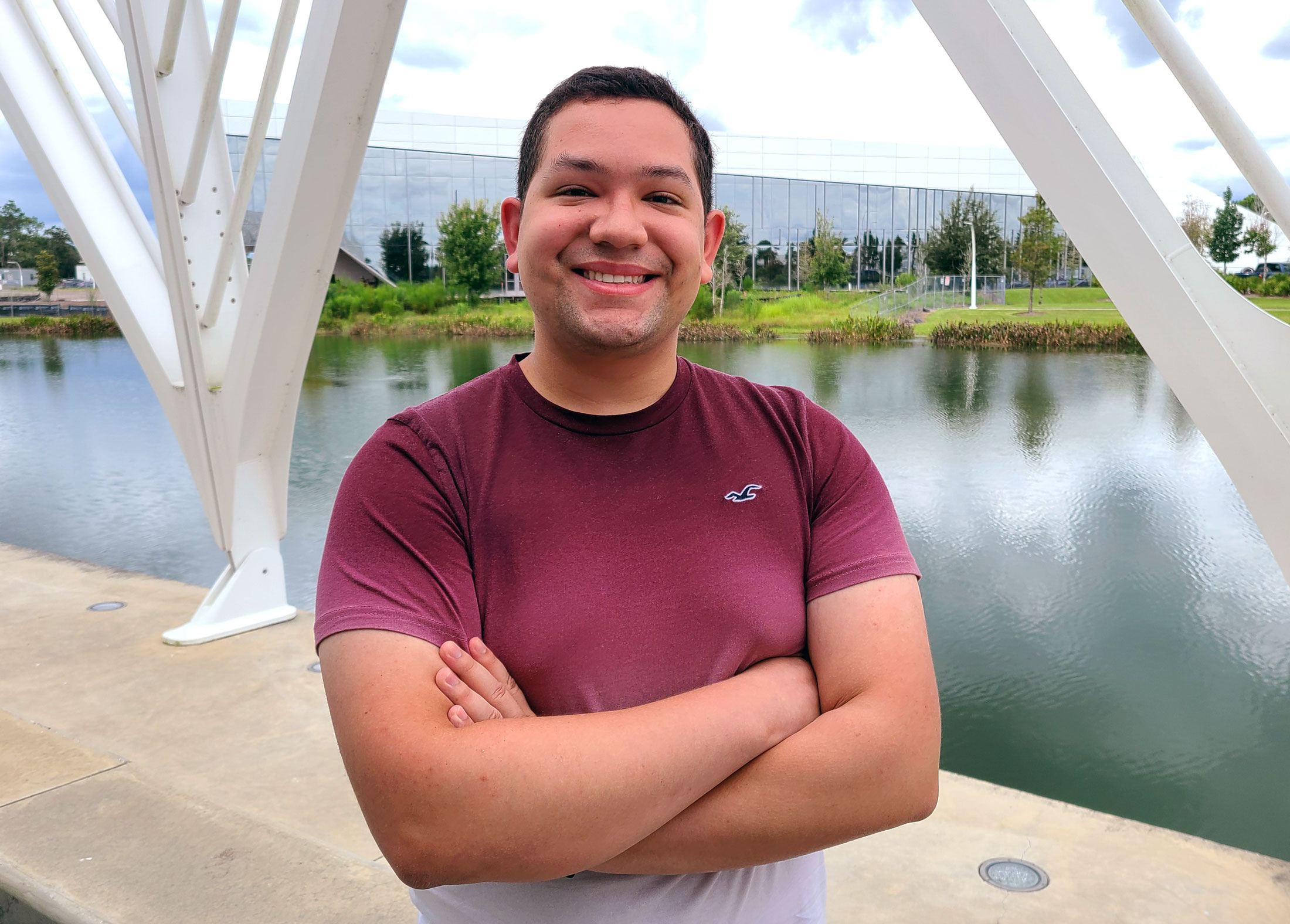 With a passion for helping people, a love of figuring out how things work, and a deep interest in medicine, Florida Polytechnic University sophomore Moisés Elías Muñoz Salazar hopes to one day design the world's next lifesaving medical device.
"As a kid, I saw myself as a doctor – my mom was a doctor in Venezuela," the mechanical engineering major said. "I later decided becoming a surgeon was not how I saw myself in the future, but I still wanted to help people."
Muñoz and his family moved to Florida from Puerto la Cruz, Venezuela, during his sophomore year of high school. Now living in Lakeland, Florida, his parents support the family with work in retail and construction. Muñoz is carving his own path and would like one day to pursue a career in biomedical engineering.
"My mom and dad knew the university in Venezuela was not going to have anything for me once I graduated, so we decided as a family to move to America," he said. "I know they sacrificed a lot and it hurts me to see them growing old doing something that they didn't plan on doing. So, I'm doing my best because I don't want their sacrifice to be in vain."
Muñoz graduated from Colonial High School in Orlando, Florida. He said Florida Poly's small environment and hands-on curriculum are playing a huge role in his success as a student thus far.
"I am learning the concepts and the theories and am able to apply them right away," he said. "I am starting to use SolidWorks to design and starting to build new things in the machine shop. I love it."
The daily discovery of new knowledge is inspiring, Muñoz said.
"Learning something different every day makes me realize there are so many things in this world we don't know," he said. "Learning something new every day is my motivation."
Muñoz hopes that eventually his hard work and dedication can help make a difference.
"I want to create a business or develop a product that will be beneficial and accessible to those that need it," he said. "The goal is to provide something for those that need it in Venezuela and the rest of the world, including the United States – the country that has given me so many opportunities."
I want to build a company or see if I can get a product that could be transported over there and help people in some way," he said.
In addition to his course work, Muñoz is working to share his heritage with the entire Florida Poly community. He is vice president of the Latin American Studies Association (LASA) on campus, and encourages all students to check it out and get involved.
"Many people think they need to be Hispanic to be part of the club, but they don't – we're trying to share the Hispanic/Latin culture with everyone," he said. "We're polishing all the details, but we have in mind events like dance nights, cooking events, game nights, and Spanish workshops."
Editor's Note: This story is part of a series of feature stories that highlight diversity on Florida Poly's campus and celebrate National Hispanic Heritage Month.
Contact:
Lydia Guzmán
Director of Communications
863-874-8557