Middle schoolers discover STEM possibilities at Florida Poly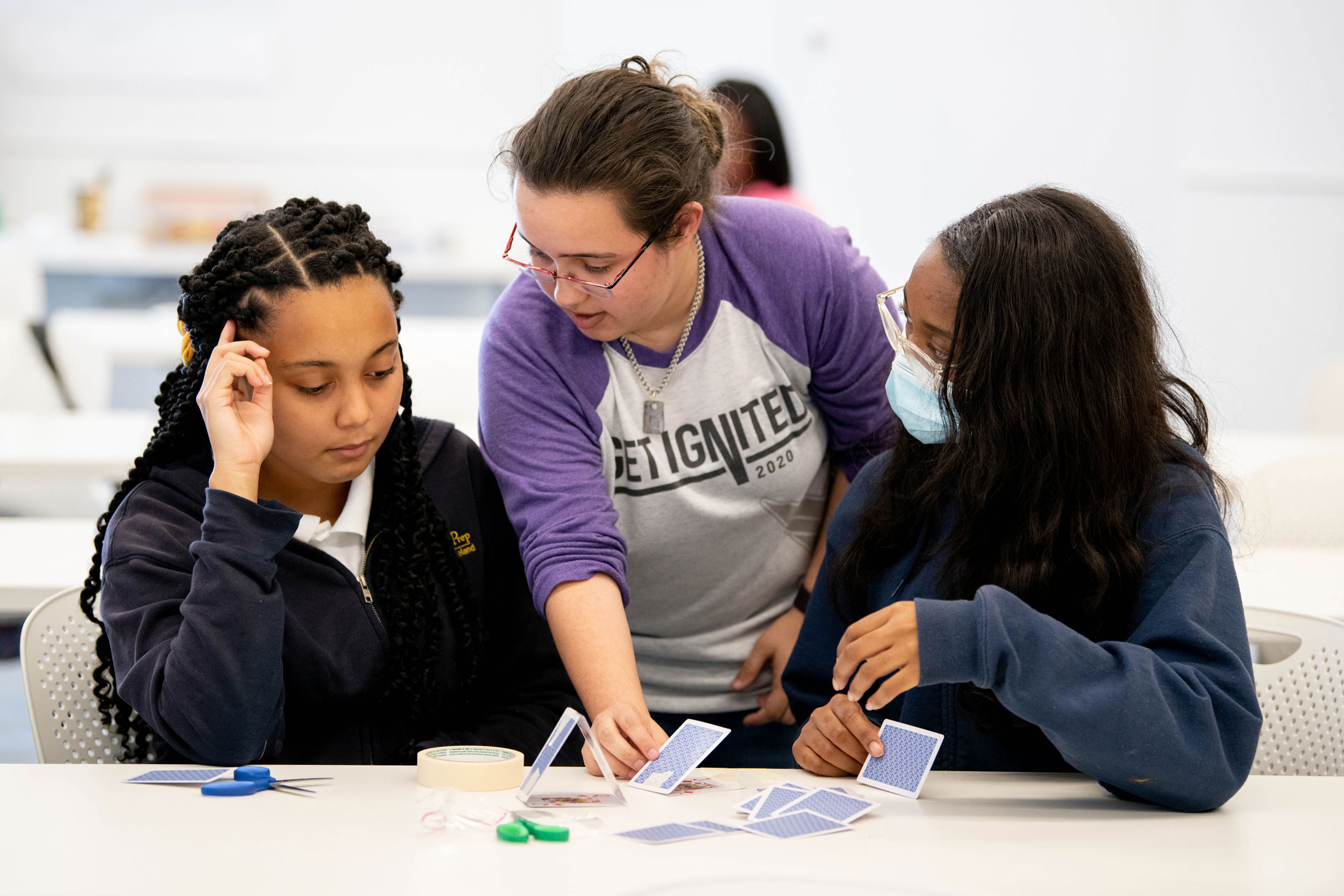 Addisen Cannoy, an eighth grader at Academy Prep Center of Lakeland, was excited to learn about the possibilities available to her one day as a student at Florida Polytechnic University.
Cannoy was among more than 50 middle school girls from Academy Prep Center who visited the Florida Poly campus on Friday, Feb. 11, as part of THRIVE's celebration of International Day of Women in Girls in Science.
"I love engineering – designing things with mechanical engineering and using all kinds of tools and I'm interested in working in aerospace one day, designing rocket ships and things to go into space," Cannoy said. "I like how everyone here has a different major they study, but they also all connect with each other even though they have different backgrounds.
The daylong program included guest speakers, a tour of campus, and fun hands-on STEM activities. The event was funded by a grant from the American Association of University Women.
"This event gives these young ladies an immersive experience where they see people like them, they recognize there are opportunities surrounding them, and they realize they are capable of doing the same thing," said event organizer Dr. Susan LeFrancois, assistant professor of data science and business analytics at Florida Poly. "Florida Poly wants to make sure any young lady thinking about pursuing a path in STEM knows they'd be supported, comfortable in this environment, and that there are many opportunities if they choose a career in STEM."
The University and Academy Prep Center of Lakeland have engaged in several other efforts to advance this vision throughout the school year, including Florida Poly professors talking to students about topics such as electrical engineering, and the University providing equipment and supportive curriculum as well as science fair support.
Monica Pollock, director of graduate support at Academy Prep Center of Lakeland, said events like the on-campus day are invaluable to the young students.
"This opens the eyes of girls who are very interested in math, science, and technology to see the diversity of STEM and what it offers," she said. "I think it helps girls feel more comfortable because we don't typically get a lot of women in the areas of math and science."
Florida Poly alumna Bria Smith '20, an associate data science analyst at Saddle Creek Logistics Services, was eager to share her own experiences with the students.
"I want them to know they don't have to be locked into one career; they have a choice," said Smith, who earned a degree in computer science with a concentration in cybersecurity. "I did computer science and I ended up in data science and I'm doing just fine. I want them to know they can do so many things with just one STEM degree."
Eighth-grader Chrisette Jones said she was grateful for the efforts of everyone throughout the day.
"This might be a potential college for me someday and I just wanted to take in the entire experience," she said.
Contact:
Lydia Guzmán
Director of Communications
863-874-8557