Female leaders lauded at annual Women in STEM Awards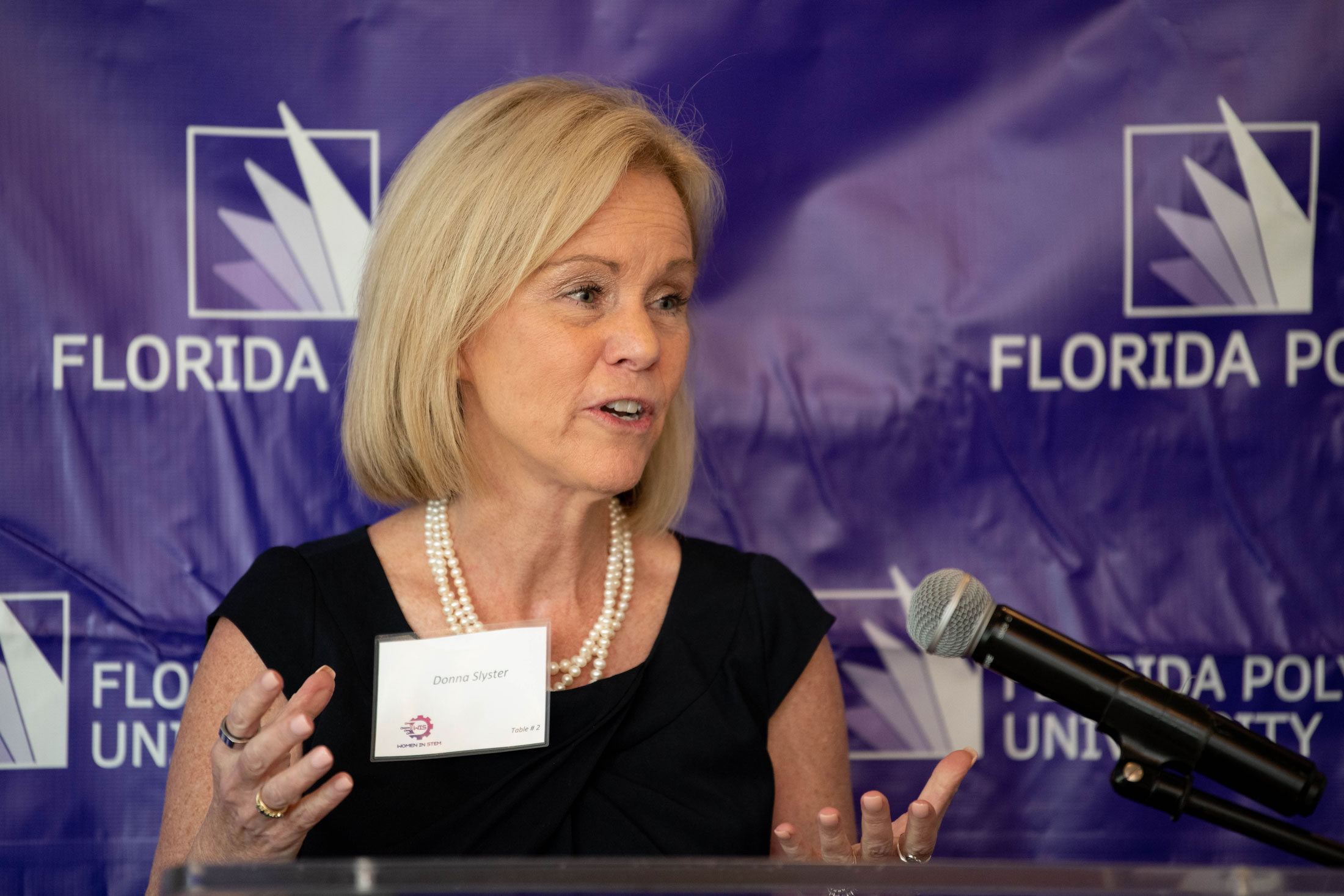 Three women who carved their place in male-dominated STEM fields such as engineering, data science, and technology were recognized at Florida Polytechnic University's annual Women in STEM Awards luncheon on Thursday, March 10.
Sharon Arroyo, Duke Energy's vice president of government and community relations, was the event's keynote speaker. She urged attendees to prioritize diversity efforts in the STEM careers and beyond.
"At Duke Energy, we are very committed to diversity and inclusion in the workplace," Arroyo said. "I've done a lot of different things in my 35-year career with Duke, and you really see the beauty of diversity, equity, and inclusion in a company when you realize that."
Donna Slyster, chief innovation officer at Saddle Creek Logistics Services, received the Women in STEM Leadership Award. She oversees information services and technology across the country and is a member of the Florida Poly Foundation Board of Directors.
"I see so many young faces here starting their STEM careers," Slyster said, referencing the several University students in attendance at the event. "When I look back on my career and where we were and the technology that existed, we're light years ahead, but there's still so much more to be done."
Slyster has worked to champion diversity efforts throughout her career.
"I'm very passionate about women in STEM," she said. "The potential for technology to be employed is out there and available for you to make a difference."
Isabel Zimmerman '21, received the Women in STEM Emerging Leader Award. She earned her bachelor's degree in data science from Florida Poly and is now a software engineer at RStudio PBC, a company that develops free, open-source software.
"I get to wake up and do what I think is fun every day and it's exciting to hear that people are inspired by me doing what I think is just fun," she said. "I am now on the team of people who wrote the textbooks I was learning from just a year ago."
Zimmerman said it's important for women in STEM fields to believe in themselves and persevere in their ambitions.
"Sometimes you might walk into a classroom and you're the only woman there and it can feel stressful or like you can't mess up because everyone is watching, but it's OK to mess up – it happens all the time," she said. "My best piece of advice is that you don't get what you don't ask for. You have to be a bit bold to get what you want, and that will get you further than expecting people to just notice you."
Dr. Mary Vollaro, University professor and chair of Florida Poly's Mechanical Engineering and Environmental Engineering Departments, received the Women in STEM Academic Award. Vollaro's career path saw her as a welding engineer and manufacturing engineer before she entered academia.
"I am honored and very humbled to be recognized for what I think I just do naturally every day as I try to work toward building the vision and mission of the University," she said. "I hope I have a positive impact on students as they come to Florida Poly and make their way through our curriculum."
Vollaro said she is proud of the diverse, accomplished faculty in her department, and she enjoys working with young academics and watching them grow and mature in their work. She said she hopes young women pursuing STEM degrees are able to leverage their education into an outstanding future.
"With a STEM education and your own personal goals, personality, and interests, you really can find such a wide range of career opportunities out there that will bring you a good living and a pretty interesting career," she said.
Contact:
Lydia Guzmán
Director of Communications
863-874-8557