Phoenix aspirations take flight at Kennedy Space Center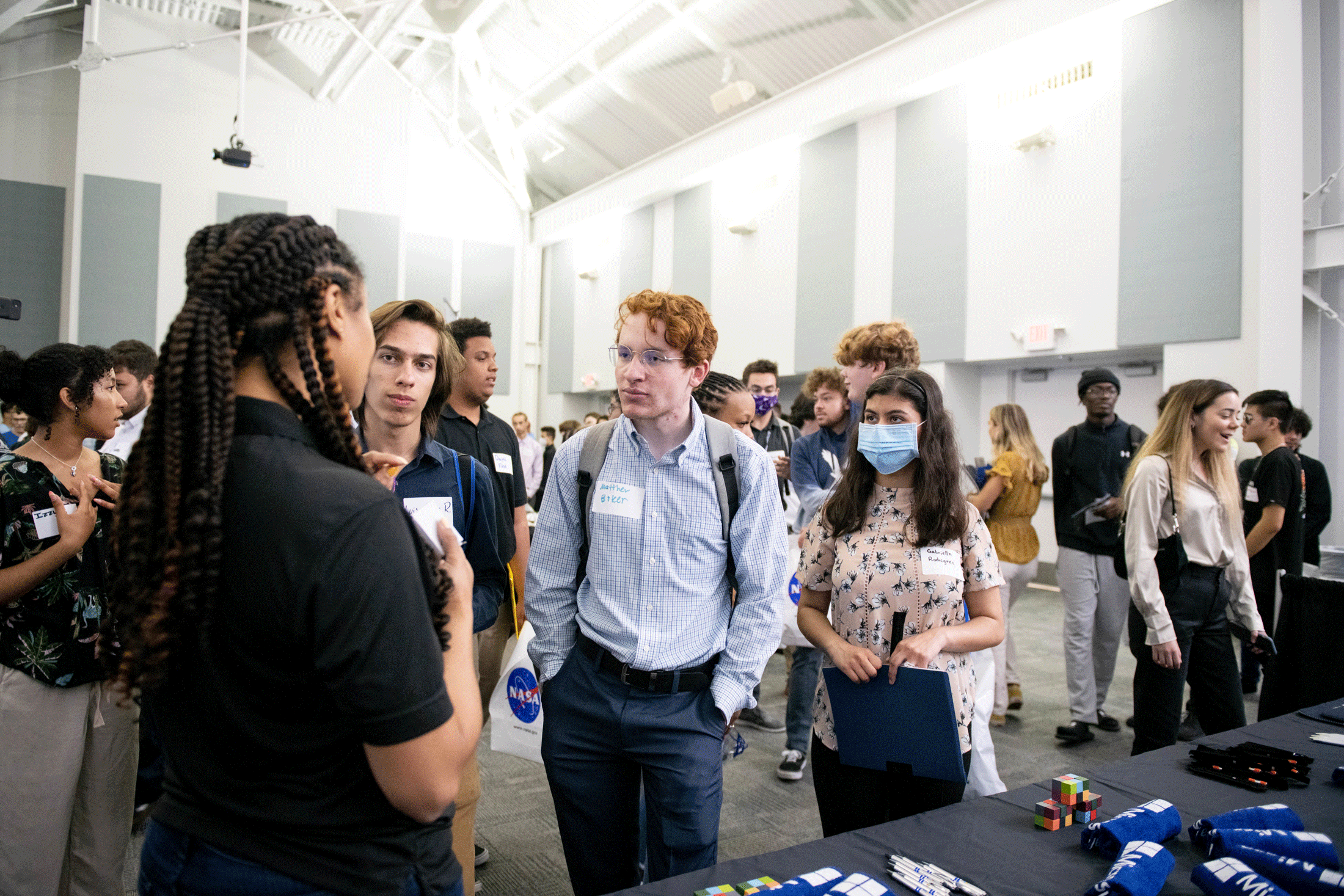 Nearly 100 Florida Polytechnic University students recently seized a unique opportunity to visit Kennedy Space Center to engage with aerospace leaders and explore high-tech employment opportunities.
The April 15 encounter was part of the Diversity in STEM panel and networking event hosted by the Astronauts Memorial Foundation, NASA Kennedy Space Center, Microsoft, and Brown STEM Girl. The day provided educational and networking opportunities for students interested in STEM, aeronautics, and aerospace. The group from Florida Poly was joined by contingencies of students from institutions throughout the region.
"First and foremost, it's exciting to come here to NASA, and when you add in networking and all these other activities, it gives us a lot of opportunities," said Dove Leatherwood, a sophomore majoring in business analytics at Florida Poly.
Among these were a panel discussion featuring young people pursuing careers in STEM, and an internship fair and networking event.
"This is an incredible opportunity for our talented students to get an up-close look at a potential career path at companies like Microsoft, Lockheed Martin, and Dell Technologies," said Pairris Jones, Florida Poly's associate director of career development. "Our students arrived at this amazing facility polished and ready to network with phenomenal partners to see what the future could hold."
Abren Peters arrived dressed to impress. With a snazzy blazer and a stack of neat resumes, the freshman majoring in mechanical engineering with a concentration in aerospace worked to get himself on the radar of some of tech's biggest companies.
"My ideal internship is Jacobs or Lockheed Martin – anything in the space industry or anything to better humanity," Peters said.
Matthew Knitter, a sophomore engineering physics major, has a lifelong fascination with space. He was eager to explore the facility and meet with potential employers as he satisfied his personal curiosity about space.
"I think this is fantastic and it's perfect for people who are into aerospace or similar fields," Knitter said. "I think there's great value in stepping into the unknown, and space is one of those big unknowns. And obviously space exploration and advancing technology is really cool – they're doing all sorts of insane engineering like landing fully reusable boosters, and it would be great to be part of that."
Contact:
Lydia Guzmán
Director of Communications
863-874-8557