Students ignite fall semester fun at Purple Fire Week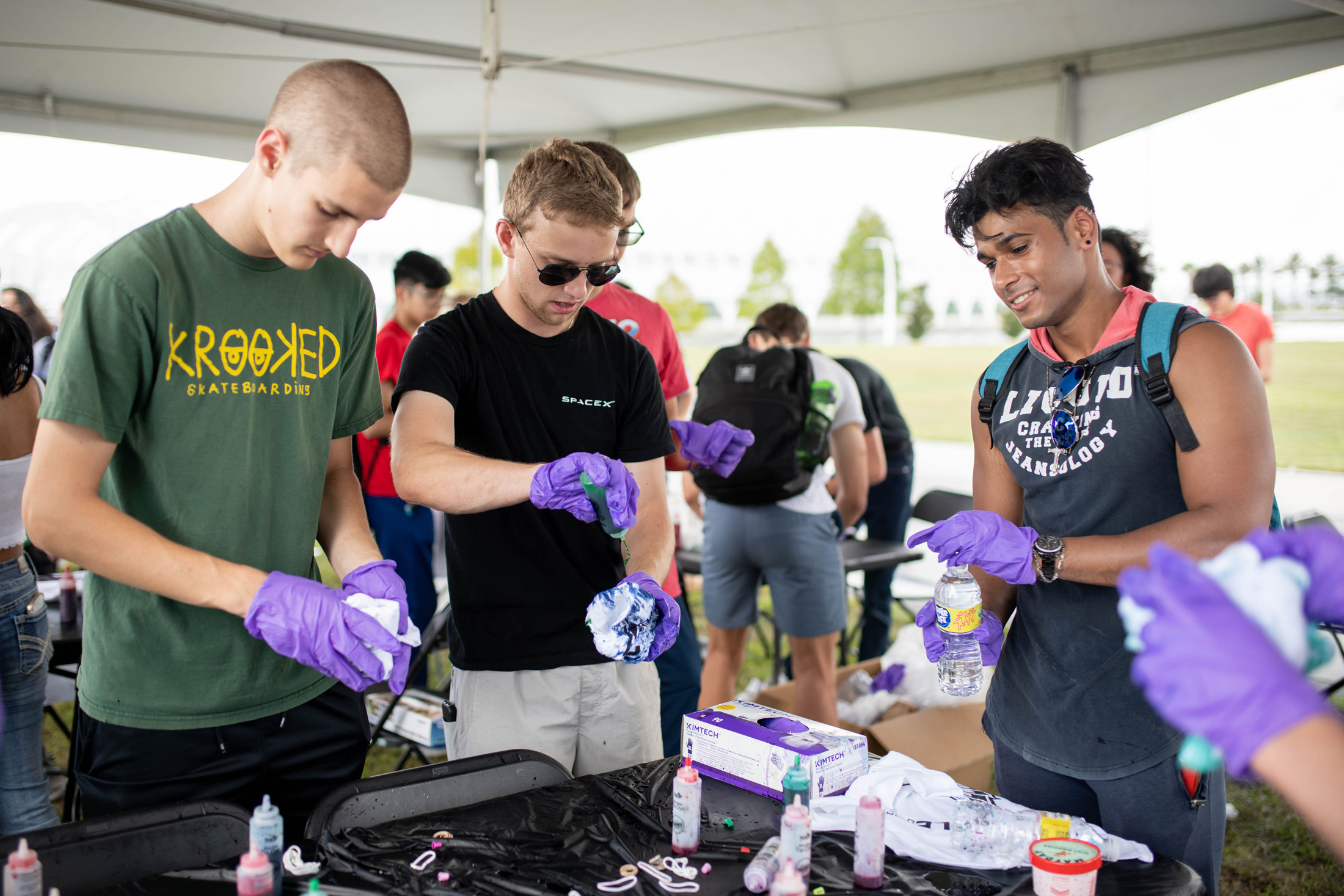 A fun week of events designed to build camaraderie, community, and school spirit has welcomed students to Florida Polytechnic University for the fall semester.
Purple Fire Week, an annual event by the University's Campus Activities Board (CAB), kicked off its weeklong array of activities with the Back to Class Bash on the first day of classes Aug. 23. Other events have included Movie on the Lawn, Drag Queen Bingo, Tie Dye and Ice Cream, and Power Hour, a guided workout with music and lights.
"This first week when we're getting on campus, we want people to be around each other outside of class and get them excited about doing stuff," said Ian McLennan, a senior business analytics major who is president and treasurer of CAB. "It's nice to have fun activities to do – college doesn't have to always be super serious – and it's good having events that allow you to explore something new."
On Thursday, Aug. 25, crowds of students gathered under a canopy near the residence halls to tie dye Purple Fire T-shirts and cool off with ice cream.
"I'm really digging the vibe of the whole university so far," said sophomore Jacob Miller, a new transfer student majoring in computer science who attend the event. "Here, it's a small, tight-knit community and I've definitely been meeting new people, especially at these events held by the Campus Activity Board."
Nearby, freshman Jack Kerkering was eager to show off the flame-tinged design pattern he created on a shirt.
"It's really fun here. This school is really good for diversity, and I'm a trans student, so it's nice," said Kerkering, a computer science major most recently from Jacksonville, Florida. "I feel accepted and already had a ton of friends from summer classes, but the friend group keeps expanding and I keep meeting people. People here are so nice."
Purple Fire Week activities continue through Saturday, Aug. 27. Neon Night will be at 8 p.m. on Friday, Aug. 26 at the basketball courts, and Let's Relax, S'more will be at 7 p.m. Aug. 27 at the Residence Hall pool.
Visit Phoenix Link for more information about Purple Fire Week and to learn about clubs and events throughout the year.
Contact:
Lydia Guzmán
Director of Communications
863-874-8557