Mauritian student dives into education, cultural acclimation at Florida Poly
Celebrating International Education Week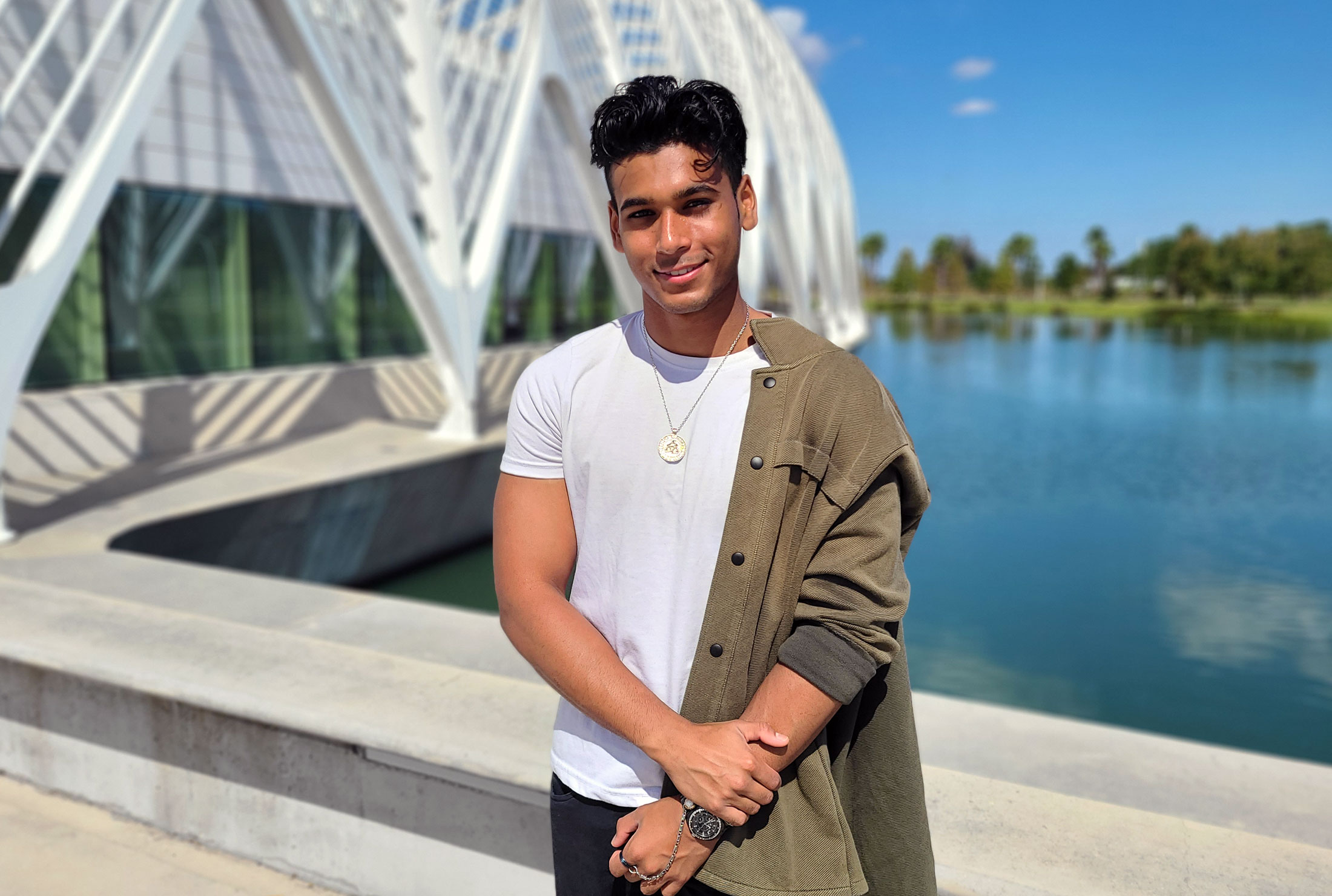 Freshman Armaan Teeruth Roy traveled nearly 10,000 miles from home to get a leading STEM education at Florida Polytechnic University. Teeruth Roy is a native of Mauritius, an island nation off the eastern coast of Africa.
"It's basically called the crown jewel of the Indian Ocean," he said. "I enjoy the nature of the island. You have mountains and forests, but the beaches are the selling point, really. The beaches are breathtaking."
Teeruth Roy is working toward a degree in mechanical engineering and hopes to pursue a career in aerospace. Florida Poly's deliberately small size and affordability were two of the biggest selling points for him.
"I chose to attend this university because of the size of the school – it's a small campus and allows me to build a close rapport with my educators," he said. "It's also very affordable for such a high-perceived school, and the campus is beautiful."
Teeruth Roy is among 49 international students representing 26 countries at Florida Poly, including England, Argentina, Iran, and Ghana.
"International students bring a unique perspective, reflective of their culture, and it provides opportunities for all involved to learn of other cultures, traditions, and values," said Michelle Powell, director of Florida Poly's office of admissions. "While international students have the opportunity to access the number-one ranked state university system in the country, utilize top-of-the-line resources, learn from leaders in their respective fields, and experience hands-on learning, the students are also providing the University with exposure to diverse cultures, traditions, and opinions."
Although this is only in his first semester of college, Teeruth Roy said he is already gaining a lot from the experience.
"So far, it's been great, and learning has been fun – I enjoy studying, so that has something to do with it," he said. "I'm finding Americans are friendlier than the people I'm used to, so I have to be more outgoing than I expected."
Teeruth Roy also has been indulging his extracurricular interests, including weightlifting, archery, and drawing. He began studying jujitsu at 8 years old, pausing recently to attend Florida Poly.
"People think jujitsu is just fighting, but you have to understand pressure points and biology. It teaches you self-discipline and how to use your body," he said. "It's a lot of thinking."
That aspect of the sport applies to the way he approaches his studies.
"There's nothing more exciting in life for me than learning," Teeruth Roy said. "I enjoy knowing things and understanding why things do what they do."
Contact:
Lydia Guzmán
Director of Communications
863-874-8557