Florida Poly kicks off Black History Month with slate of campus events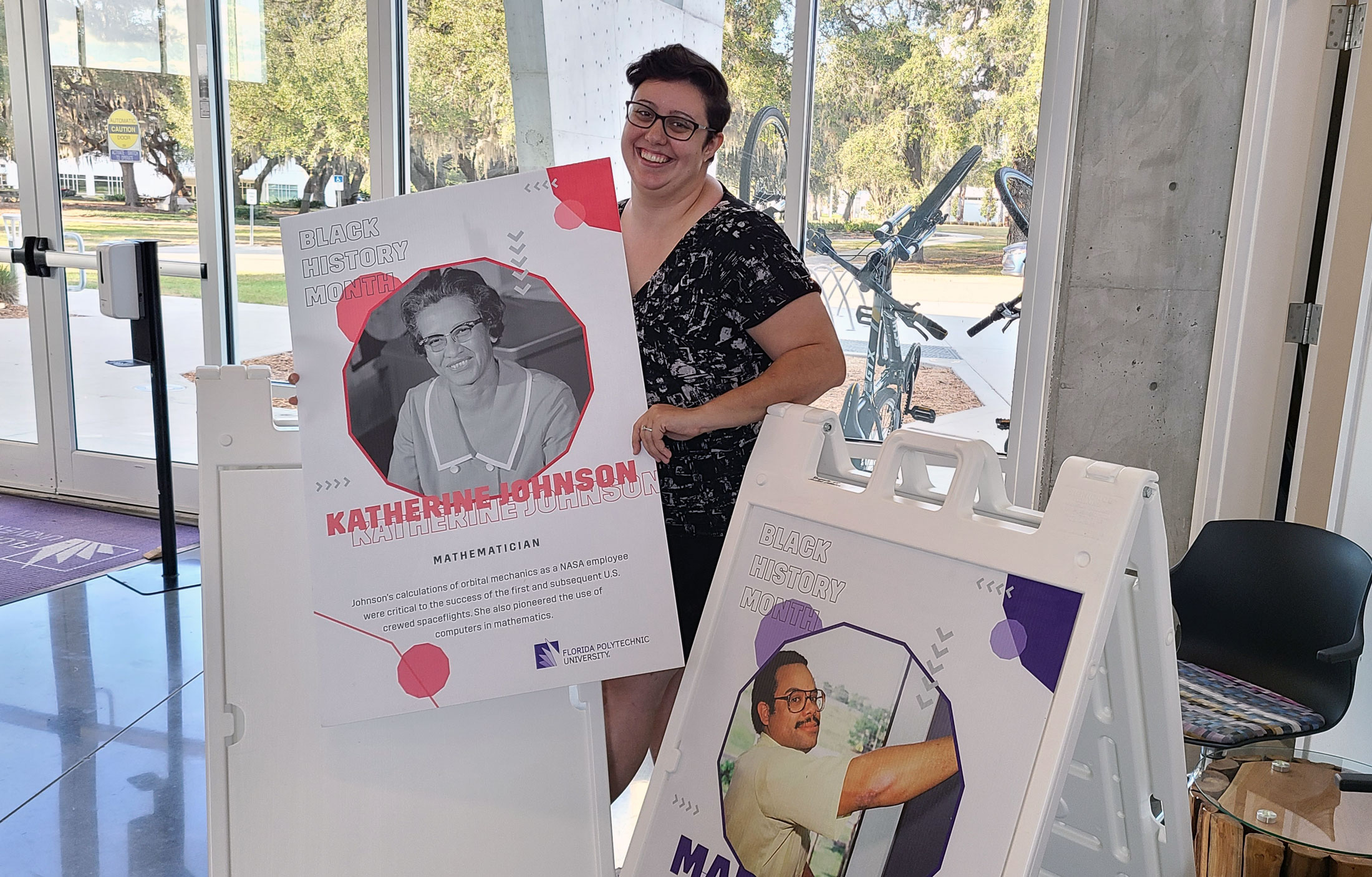 Students at Florida Polytechnic University will have ample opportunity to commemorate Black History Month throughout February.
"We think it's really important to recognize the multicultural, inclusive environment we have at this campus," said Melanie Morenz, coordinator of student experience in the University's Department of Student Affairs. "Everybody can learn from these events. Not just people of color, but all individuals can take time and learn a little about themselves and the community around them."
The first Black History Month observances students may encounter are passive programming around campus. Signs highlighting successful and notable Black people in STEM. These will be located at the north and south entrances to the Innovation, Science, and Technology Building (IST), as well as at the main Applied Research Center entrance.
Inside the IST commons, the library is hosting a monthlong exhibit titled "The Creative Mind" on loan from the National Academy of Science in Washington, D.C. The exhibit features the accomplishments of Black Americans in different scientific fields.
In addition to the eye-catching displays, Morenz said there are interactive educational activities scheduled throughout the month. Students will be encouraged to take advantage of a coloring session that highlights important Black historical figures such as Fredrick Douglass and Maya Angelou. Sessions will take place on Feb. 9, 16, and 23 on the Wellness Center patio. Canvasses will be available for students who prefer to express themselves through painting.
"This kind of event is super popular with our students," Morenz said. "It's a super chill way to maybe learn something you didn't know."
Morenz said there will also be a trivia and movie night hosted in conjunction with the Department of Residential Life from 6 p.m-10 p.m. on Feb. 22. Students will gather in the unfenced area of Field 3 to watch Black Panther: Wakanda Forever. Participants at the trivia and movie night will enjoy baked treats and be asked general knowledge questions about notable Black Americans and Black history. Prizes will be awarded. In case of inclement weather, the event will be moved inside the IST.
Justin Henry, student event planner working with Morenz, said he is excited to help coordinate and participate in the campus celebration of the annual observance and all it represents.
"It is important for the University to recognize observances like Black History Month because it also recognizes the student population that it includes," said Henry, a sophomore majoring in mechanical engineering. "It is a token of respect for the contributions and advances that Black history has given to the STEM field. It is also a promise to foster the futures of Black students to continue contributing to the STEM field."
It is a feeling shared by Jessica Quang, a sophomore majoring in mechanical engineering with a concentration in aerospace.
"Events like these showcase the diversity of our student population," said Quang, who is also a student event planner. "I feel excited Florida Poly recognizes observances like Black History Month because it exemplifies an appreciation of diversity as it acknowledges, honors, and celebrates African Americans who have positively impacted history."
Contact:
Lydia Guzmán
Director of Communications
863-874-8557