Annual STEM awards luncheon celebrates STEM standouts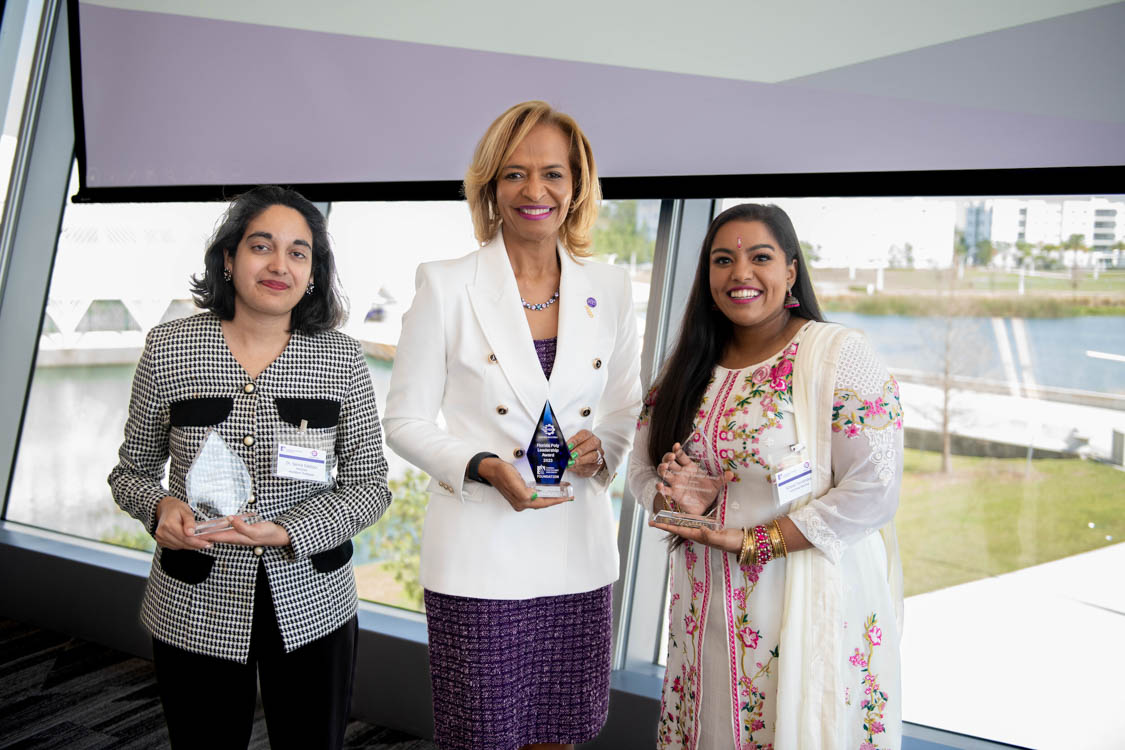 Three outstanding leaders who are making a big impact on Florida and the world were honored at Florida Polytechnic University Foundation's 2023 Women in STEM Awards on Thursday, March 2. The event was part of annual Women's History Month celebrations.
Florida Poly Trustee Lyn Stanfield was the event's keynote speaker.
The annual event honored Ava Parker, president of Palm Beach State College; Sinead Fernandes '19 '22, test development engineer at Jabil; and Dr. Sanna Siddiqui, assistant professor of mechanical engineering at Florida Poly. It was sponsored by Publix Super Markets Charities, Polk County Waste and Recycling, Julianne McKeel, and Kathy Abels.
Ava Parker, president of Palm Beach State College, received the Women in STEM Leadership Award. She was Florida Poly's first executive vice president and chief operating officer and helped establish the state's only all-STEM university. Reflecting on the award, she focused on the impact women can make in science and technology.
"The key to all of this is we must recognize that there are women who are successful in STEM careers," Parker said. "It's important for emerging women in STEM fields to envision themselves as successful and to seek out those accomplished women they admire as mentors and advisors who can help provide them with career insights and growth opportunities along the way."
Parker said this kind of representation is important as anyone pursues a leadership role of any kind.
"Successful leaders are really self-aware, and they do a lot of self-examination to understand what their leadership sweet spot is. 'What type of leader do I feel comfortable aspiring to be?'" she said. "Once you figure out what your strengths are you can ask yourself 'How can I channel my strengths to be the best leader I can be in the circumstance I find myself in?'"
Sinead Fernandes '19 '21 a test development engineer at Jabil in St. Petersburg, Florida, received the Women in STEM Emerging Leader Award. She received her bachelor's degree in computer engineering and master's degree in electrical engineering from Florida Poly.
"I'm honestly shocked to receive this award but really excited about the opportunity," she said. "I'm from India and grew up in Kuwait, and as an international student and a minority it's really great to see the representation aspect of this."
In her role with Jabil, Fernandes uses both her computer and electrical engineering background to work with clients to design various aspects of functional test systems for specialized equipment and to develop test solutions for the fulfillment of the manufacturing tests they are seeking.
"I'm so thankful I went to Florida Poly – it was the best decision I could have made," said Fernandes, who published four research papers with Dr. Muhammad Ullah during her graduate program. "It gave me the hands-on experience I wouldn't have gotten at other universities. I was able to get the one-on-one attention from my professors in the small classes and they always felt accessible."
Dr. Sanna Siddiqui, assistant professor of mechanical engineering at Florida Poly, received the Women in STEM Academic Award. She has been the recipient of several STEM recognitions throughout her career, including the American Society of Mechanical Engineers (ASME) 2020 Young Engineer Turbo Expo Participation Award, and Florida Poly's 2021 ABLAZE Excellence in Research Award.
Her research specialization is in characterizing the mechanical performance of 3D-printed materials for use in aircraft structural and engine components. She also has received several STEM recognitions throughout her career.
"With the current state of 3D printing of aerospace parts on the rise, one of the most exciting aspects of my research has been the opportunity to contribute to the state of knowledge in this field, with a research grant award from the National Science Foundation," she said.
Siddiqui said recognitions like these awards are important to celebrate the successes and contributions of women leaders in STEM.
"By celebrating diversity, we actively encourage the next generation of women leaders to strive to reach their ultimate potential," she said. "It is very rewarding and humbling to witness the impact that I have had, and I hope to continue to inspire women to pursue a career in STEM."
Contact:
Lydia Guzmán
Director of Communications
863-874-8557