Society of Hispanic Professional Engineers chapter builds 'familia' for Latinx STEM students
Celebrating Hispanic Heritage Month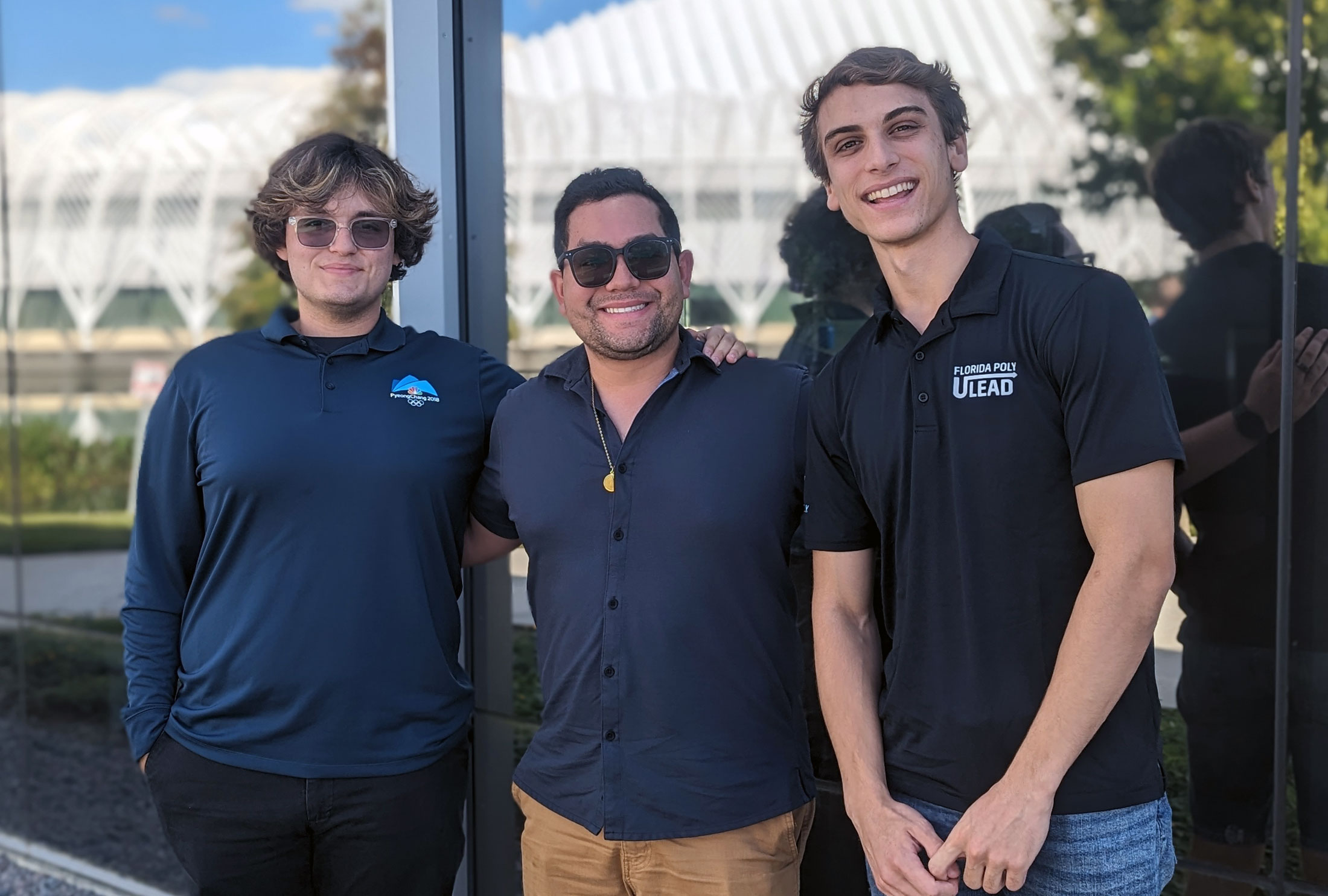 In a student-led effort aimed at fostering professional growth and community support, a chapter of the Society of Hispanic Professional Engineers (SHPE) has roared to life at Florida Polytechnic University. The student organization works to empower Latinx students pursuing STEM degrees by providing important resources, mentorship, and networking opportunities.
Moisés Elías Muñoz Salazar, a senior majoring in mechanical engineering, Raúl Lopez, a junior majoring in computer science, and Gaspar Chayer, a sophomore majoring in computer engineering, have taken the lead in establishing the group.
"It all started during the spring when we were brainstorming ways to bring more engagement and benefits to the Latin American Studies Association (LASA) and its members," said Muñoz, who is president of both the LASA and SHPE organizations. "We want to create a sense of 'familia' for Hispanic and Latinx students in STEM fields while preparing them for successful careers."
Together with Nelson Suarez '23, LASA's former vice president, the group pushed through the application preparation and submission process. Today, SHPE leadership is coordinating multiple events focused on academic and career growth, as well as soft-skills development, that will help its members as future professionals.
"Our goal is to help students excel in their studies and prepare them for successful careers," said Lopez, SHPE's vice president for professional development. "We're planning to host resume workshops, interview practice sessions, and other professional development events to equip our members with the skills needed to stand out in the job market."
The Florida Poly SHPE chapter has about 20 members. While the organization primarily focuses on serving Hispanic and Latinx students, they emphasize that anyone interested in Hispanic/Latinx culture or professional development is welcome to join.
"We want to level the playing field for our members and provide them with the tools and skills they need to succeed professionally," said Chayer, an international student from Argentina and the chapter's vice president. "We aim to connect them with companies that share our commitment to diversity and inclusion."
The organization has ambitious plans for the future. Its leadership is planning to attend the SHPE National Convention in Salt Lake City, Utah, this November. The five-day event will provide students with networking opportunities, professional development workshops, and the chance to interview for internships and jobs with leading STEM companies.
In addition to their professional development efforts, SHPE at Florida Poly is collaborating with other student organizations such as LASA to provide a well-rounded experience for its members. Together, the student organizations celebrated Hispanic Heritage Month with several events, including a celebration featuring games, movies, and food.
"We believe that by providing both cultural awareness and professional development, we can empower our members to achieve their fullest potential," Muñoz said.
Contact:
Lydia Guzmán
Director of Communications
863-874-8557