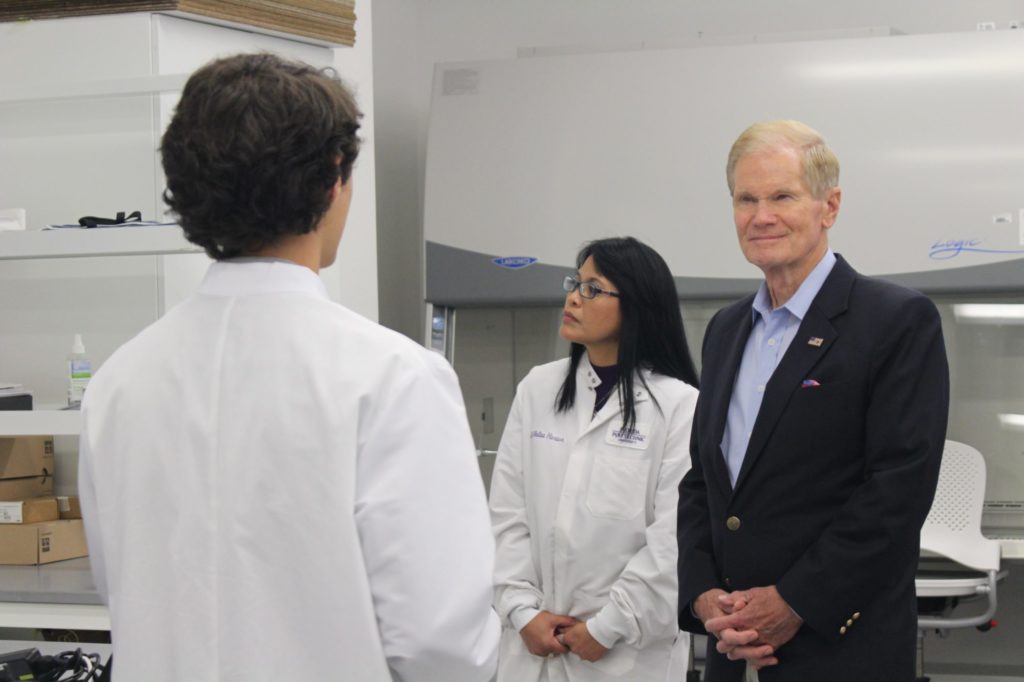 Tapping into the multimillion dollar market flowing through Central Florida's I-4 Corridor was the focus of a conference Friday at Florida Polytechnic University.
The I-4 Commercial Corridor Conference sponsored by CBC Saunders, Ralston & Dantzler Realty, featured panel discussions with industry experts in the areas of commercial real estate, closing deals and raising capital. It included a keynote speech by U.S. Senator Bill Nelson, who linked ongoing student research at the University with an urgent need for a highly trained U.S. workforce.
Prior to his speech, Nelson met with University leadership and students, and took a brief tour where he heard from students about their research projects. During a roundtable discussion, Nelson said the U.S. is unmatched in military might but vulnerable in the area of cyber security.
"When you think about the electrical systems, water systems, sewer systems, the traffic lights — all of it is affected by (cyber threats)," Nelson said. Students at Florida Poly are on the "cutting edge" of responding to those threats, the senator said.
Nelson heard from student Randy Lopez, CEO of Logentix, an after-market product that provides autonomous vehicle capabilities like automatic braking. Logentix's software has already caught the attention of autonomous vehicle pioneer Tesla.
In addition to Logentix, student Omar Montesinos took Nelson on a virtual reality tour of an environment developed to train crime scene investigators. The senator also learned about research into using high frequencies to eradicate mosquitoes.
Nelson commended the University for its dedication to training the next generation of high-tech business leaders.
The U.S. can't be beat for "its ingenuity and creativity," Nelson said.