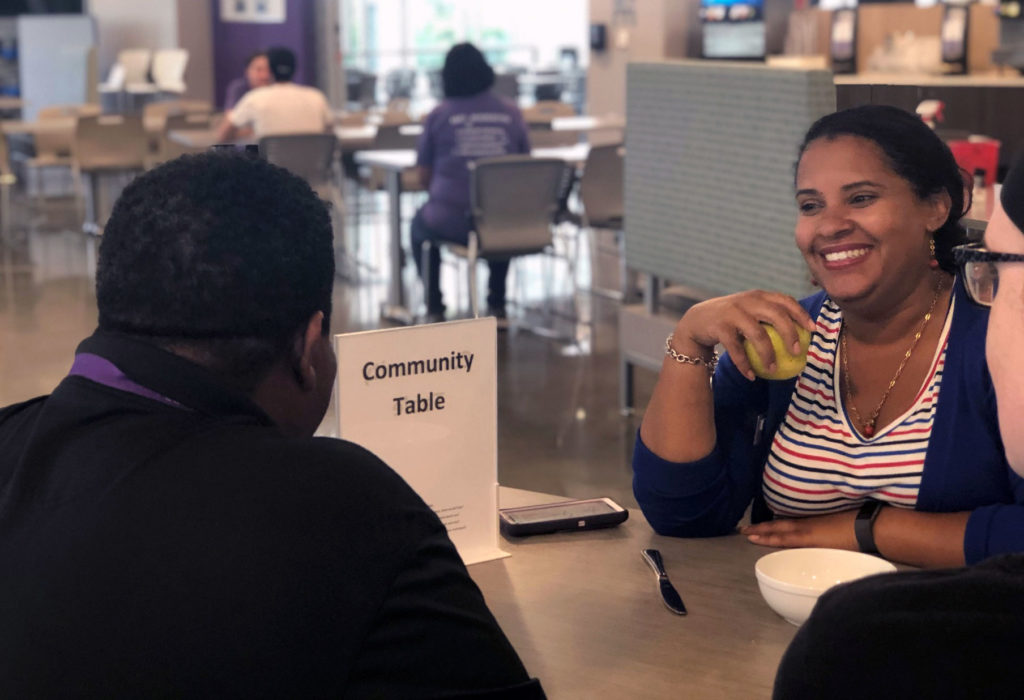 Students who want to meet new people, make friends, or just share something about their day now have an easy way to do it. A new "community table" inside the Wellness Center's dining hall serves as an avenue for people to connect and start a conversation on campus.
Freshman Kolby Dutcher is excited about the idea and said the community table can have a positive impact not only at Florida Poly, but at any university.
"The importance of the community table as a symbol of home and belonging is undeniable," the mechanical engineering major said. "It provides a neutral space where students can feel safe and respected while trying to expand their social horizons."
Academic success coach Carolina Barrios established the table to help students in the academic and professional skills class she teaches, connect with strangers as an assignment. She soon realized the simple table could go beyond her class and help students, staff, faculty, and visitors engage more intentionally with one another on campus.
"We can all agree that one of the major problems we face today is communication, meeting new people, and making friends," Barrios said. "This table benefits everyone because maybe a friendship can develop with someone that otherwise one would never thought of approaching."
Barrios said the transition to college can be challenging for some students who may find it difficult to step out of their comfort zone and make friends.
"This is a great way of taking the pressure off students because it allows them to invite people without having to say anything," Barrios said. "By sitting at the table, it is understood that you are there ready to chat with someone who wants to do the same."
The community table has been in place for several weeks and Barrios said she hopes it becomes an important resource for students for many years to come.
"From a self-development point of view, you are investing in yourself by meeting someone new every single day," Barrios said.
Contact:
Lydia Guzman
Director of Communications
863-874-8557