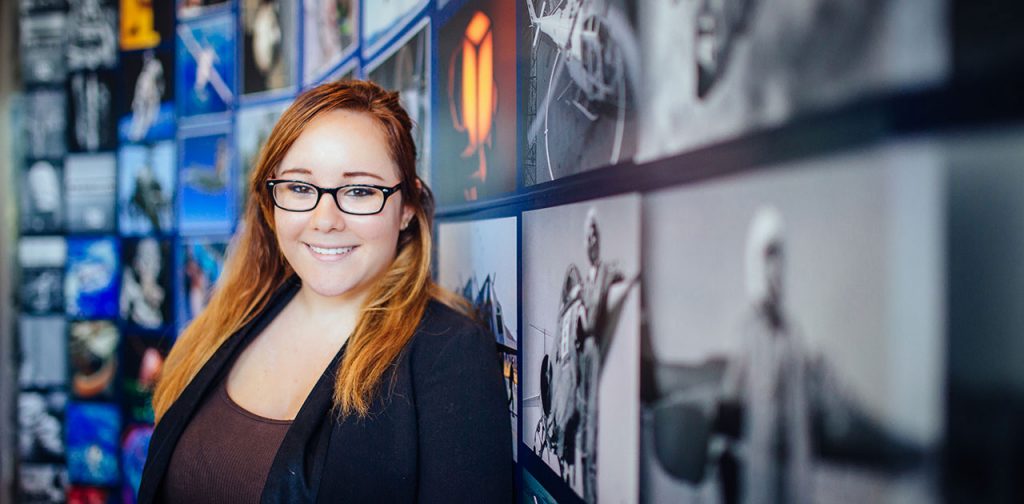 The role is reserved for senior students, but rising junior Michelle Culbert not only persuaded Lockheed Martin to give her the internship, she also became the first Florida Polytechnic University student to earn a position there.
It hasn't taken long to prove her value. Every month, the Lockheed Martin payroll facility in Lakeland creates metrics reports of vendors and suppliers. Michelle was shown the tedious process and she asked to take a shot at making it more efficient.
"I just said 'I'll write a program for it,'" Michelle says. "I wrote a program in C++ that all you have to do is enter a text file, and it outputs what they need. It reduced the process time by 85 percent."
Michelle started at the defense and aeronautics company on May 9 and continues to work on the project. She credits the classes she's taken at Florida Poly for easing her transition into the internship.
"What they've asked me to do at Lockheed is exactly what I did in my class," she says.
Data Structures and Algorithms, a summer class she took that is heavily focused on C++, was particularly helpful. It was "perfect timing," Michelle says. The project "is exactly what I learned in data structures. It really helped me explain to them what I could provide."
Before coming to Florida Poly, Michelle didn't know any object-oriented programming such as C++ and Java, and it wasn't until high school that she started programming with HTML. The Pompano Beach native's interest in computers and technology began in middle school, where she pursued a technology track. In high school, she began to realize there is a demand for cyber security, and was drawn to the programming aspects.
"Programming made me feel like I could design something and create something. All I need is my computer, and I can do anything I want," she says.
But Michelle doesn't want to just sit behind a computer. She wants to be proactive in cyber security, preferably doing a role similar to Elizabeth Keen, the strong female lead and FBI agent in the TV show "Blacklist."
"I see myself in her exactly," Michelle says. "She's protecting the country. It's cliché, but she's a role model."
Working at Lockheed has shown Michelle "that every person needs cyber security, and that's never going to stop. They've let me in on the cyber security side, and I get to see some of what they talk about and how they handle it," she says.
The 20-year-old, who learned about her internship through Florida Poly's Purple Briefcase, expected to be working and physically interacting with a group of interns at Lockheed. Instead, she engages virtually through Skype with company veterans of 10-20 years.
With her previous job being at Florida Poly's bookstore, the virtual interaction is not the only adjustment Michelle had to make. She worked 25 hours a week during her summer class, but, since it ended, she's bumped that up to a full-time Monday through Friday shift.
"This is an actual workplace that you see in the movies, and I never imagined I would be in that kind of place as a sophomore in college," Michelle says.
Moving to Lakeland from Pompano Beach took Michelle out of her comfort zone, but she is glad to be part of Florida Poly's inaugural class and living in the picturesque city.