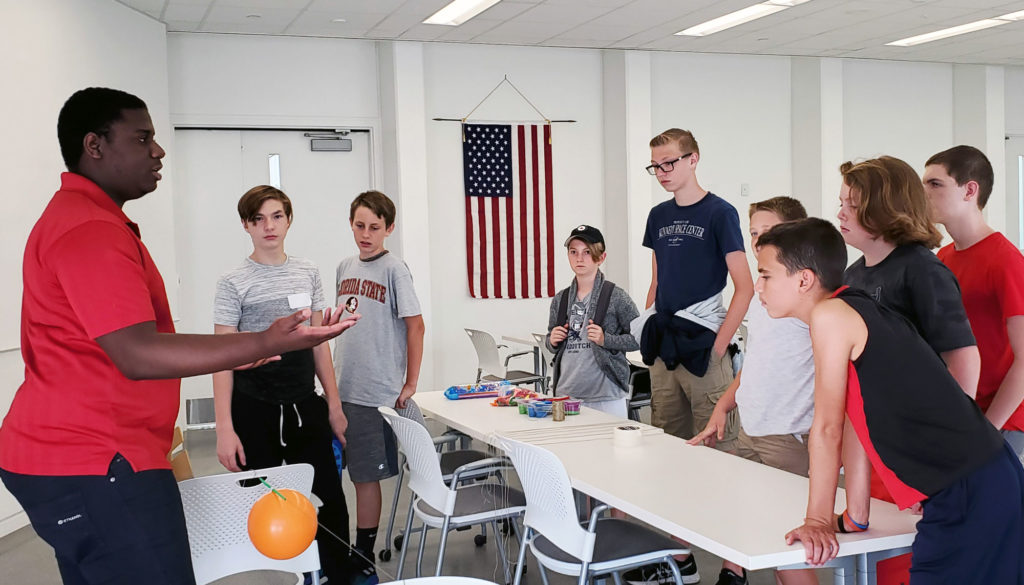 Future aviators and engineers received a close-up look at Florida Polytechnic University this week as part of a program designed to fuel their budding interest in aviation and STEM (science, technology, engineering and math) disciplines.
Aerospace Center for Excellence (ACE), the educational component of Sun 'n Fun Fly-In Inc., hosts the Destination Aviation Summer Camp for students ages 11 to 18 throughout June and July. The weeklong immersive educational program includes ground school, field trips to institutions such as Florida Poly, and an opportunity to log real flight experience with a certified instructor.
"We're learning things you usually don't learn until you get to college," camp participant Nathan Clarke, 13, said.
ACE is partnering with Florida Poly for the first time this year. Students visit the campus for a day, tour the labs and facilities, and receive classroom instruction in topics such as physics in flight, magnetic navigation in aerospace, and weather and air travel.
"It's definitely an amazing opportunity and a once-in-a-lifetime experience," said Charlie Call, 14. "I'm excited to have this experience, especially since it's something not a lot of people get to do."
As part of their classroom instruction at Florida Poly this week, the campers learned about Newton's third law of motion and how it affects flight. They launched balloons along a string track in a hands-on activity that demonstrated how the air being pushed out of a balloon can also push the balloon forward. They then observed how additional weight on the balloon affected its performance.
Florida Poly camp instructors said the effort is a great partnership for the University, considering its mechanical engineering concentration in aerospace.
"I wish I was able to do something like this when I was a kid," said Cedric Philias, a Florida Poly rising sophomore and computer science major who taught the physics in flight lesson on Tuesday. "It's really interesting and they will do great in school because of this experience."
Michael McCarty, a Destination Aviation instructor for ACE, said the program is transformative for the students involved.
"You see them come in they are engaged and ready to learn," McCarty said. "By the end of the camp, they are excited about everything they've learned and get to log some flight time."
At the conclusion of their experience, the campers take to the skies with an instructor and are given control of an airplane for a 20-minute flight.
Clarke, the 13-year-old camper, said the experience is reinforcing his love of flight and his future career.
"One day I want to join the Air Force and it's good to learn some of the essentials now," he said. "This whole experience has been amazing."
To learn more about the Destination Aviation Summer Camp, visit www.flysnf.org/summercamp
Contact:
Lydia Guzman
Assistant Director of Communications
863-874-8557