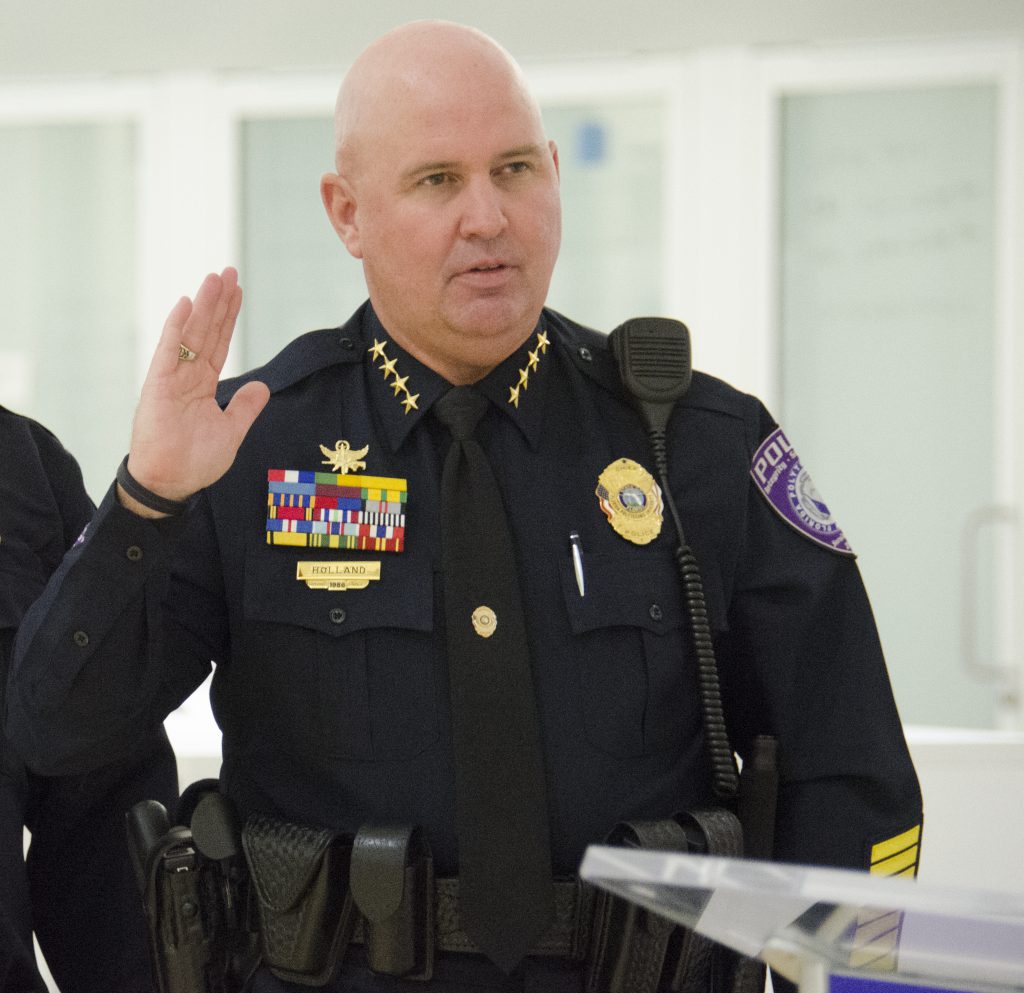 Florida Polytechnic University Police Chief Richard A. Holland has been selected to head the Polk County Police Chiefs Association. He served as the vice president in 2017.
Holland was sworn in during the 36th Polk County Police Chief's Association Annual Installation of Officers Thursday, January 4th at 6:30 p.m. at the Florida Polytechnic University campus located at 4700 Research Way in Lakeland.
"This is very exciting! I always had dreams of being a police chief and to now be their voice and to carry that voice all the way to Tallahassee is a prestigious thing and truly an honor," said Holland.
During his presidency, Holland says he wants to use this opportunity to highlight what Florida Poly and its Police Department have accomplished in such a short period of time.
"I hope to showcase what we have done. To look back three and a half years ago when we were not sure of the future and to look at us now, it's quite impressive," added Holland.
About a dozen officers from different police departments in Polk County will also be recognized during the ceremony for their courage and hard work. Florida Poly President Dr. Randy K. Avent will deliver the welcoming message and Polk County Sherrif's Office Senior Chaplain Marvin Pittman will administer the oath of office during the installation of the 2018 officers. Polk County Sheriff Grady Judd will lead the invocation.
Hundreds of law enforcement officers from across the county will be in attendance along with members of the State Attorney's Office, the Federal Bureau of Investigation, Drug Enforcement Agency, Bureau of Alcohol, Tobacco, Firearms and Explosives, and the Florida Department of Law Enforcement.
Before Holland came to Florida Poly in 2014, he worked for the Polk County Sheriff's Office for 27 years where he served in multiple leadership and supervisory roles. He has worked as an adjunct professor at Polk State College since 2010, teaching criminology courses.
Holland has a master's degree in criminal justice from Troy University in Alabama and a bachelor's degree in criminology from Saint Leo University in Saint Leo, Florida. He earned his associate's degree in criminology from Polk Community College.