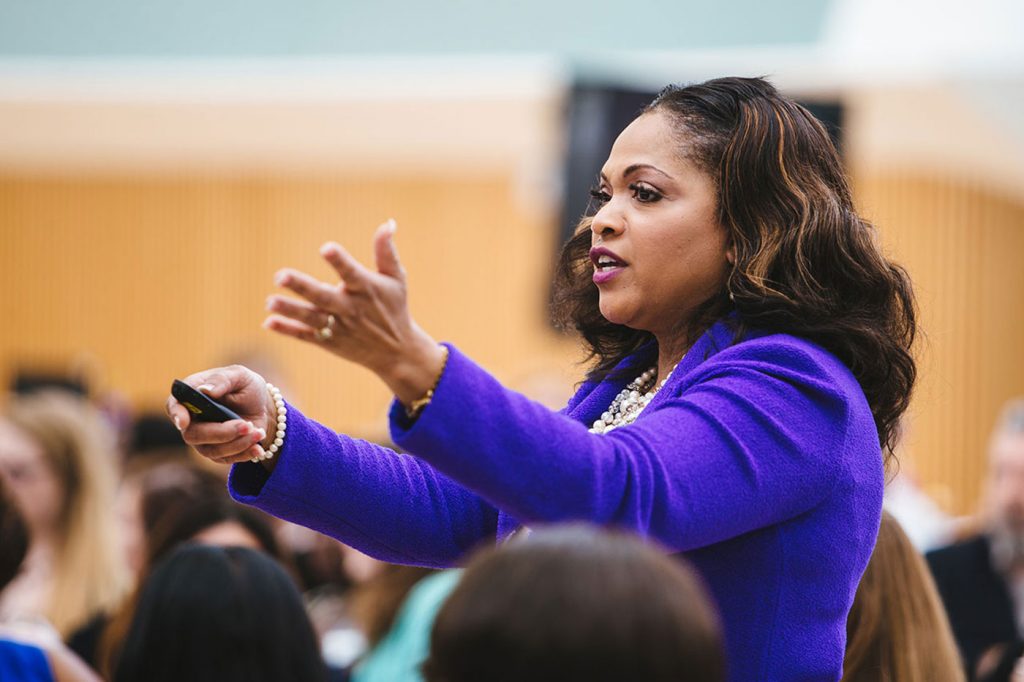 The Florida Polytechnic University Foundation and the University's Women in STEM Program launched their Inaugural Women in STEM Lunch & Lab on Monday, March 14, at the University's Innovation, Science and Technology Building, to help women in STEM professions build meaningful networks and recognize opportunities within high-tech fields.
Open to the public, the sold-out event featured keynote and nationally recognized speaker, Dr. Pamela McCauley, Director of the Ergonomics Laboratory at the University of Central Florida, who discussed key issues and challenges impacting women in STEM. All proceeds from the Lunch & Lab support scholarships and Florida Poly's mission to prepare students in the advanced fields of science, technology, engineering and mathematics (STEM) to become innovative problem-solvers and high-tech professionals.
It is truly exhilarating to have experienced what happened on the campus of Florida Poly today," said Foundation Board Chair, Loretta Sanders. "We are grateful to all who were able to attend the event and to all who gave their support through sponsorship. Their attendance and participation made it possible to advance our students, this innovative university and to provide a source to maximize collaborative resources and opportunities for women seeking STEM careers."
The University hopes this year will be the first in an annual series to develop long-term relationships with industry leaders and mentorship opportunities for students.
"We are on a mission to foster technology-rich, applied interdisciplinary learning at the University for all students who have an interest in and aptitude for STEM," said Dr. Randy K. Avent, Florida Polytechnic University President. "To ensure we are drawing from the widest array of experience, perspective and culture, it's important that we build a diverse campus community. I thank Dr. McCauley for sharing her experience and perspective with us today."
Author of more than 80 technical papers, book chapters, and conference proceedings, Dr. Pamela McCauley is an ergonomics and biomechanics expert and a professor in the Department of Industrial Engineering and Management Systems at UCF where she leads the Human Factors in Disaster Management Research Team.
"The Women in STEM Program will help maximize innovation and creativity on our campus," said Student and University Leader, Aubury Erickson who is Co-President of the Women in STEM Leadership Program. "We want young women to know that gender roles should not define their career paths."
In addition, the Lunch & Lab highlighted some of the exciting and innovative projects Florida Poly students have underway. Groups of students created unique centerpieces for this year's event where guests voted on their favorite one. The winner Kevin Stephens received an Amazon gift card for $300.
"This was a phenomenal event" said Veronica Perez Herrera, Women in STEM Leadership Program Co-President and current President of the Florida Poly Student Government Association. "Many women at Florida Poly hold strong leadership positions and I am glad everyone at the event got to experience first-hand what we are capable of."
Sponsors of the Inaugural Women in STEM Lunch & Lab include: Bright House, The Beck Group, Florida Hospital, Mosaic, Port Tampa Bay, ValPak, Owens Corning, Jabil, Nielsen, Tech Data Corporation, A-C-T Environmental & Infrastructure, Inc., Heacock Insurance, Terracon, Tinsley Family Concessions, Inc.