LAKELAND, Fla.– More than 200 students impressed an eager crowd of industry and community leaders as they presented their capstone projects during the inaugural Capstone Design Showcase held Wednesday, April 24 at the Saddle Creek Logistics Commons in the Innovation, Science, and Technology (IST) Building.
The students have been working on industry-focused projects for the entire school year with the help of their professors, sponsoring companies, and classmates.
Some of the projects included safety devices, communication applications, environmental solutions, and automated vehicles. Sponsoring businesses ranged from start-ups that had great ideas but needed the development skills that Florida Poly students offered, to well-known companies like Jabil. Several companies offered more than one capstone project for students to work on, including Lakeland Regional Health, Winter Haven Hospital, W G Roe & Sons Inc., and Jupiter Bike.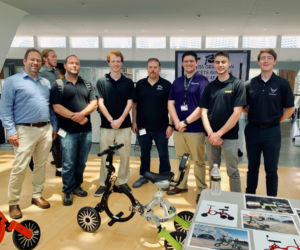 "We wanted to partner with a school that's using the latest in software and mechanical engineering and Florida Poly students are the brightest and the best around," said Rob Daniels, a representative for Jupiter Bike. "We are thrilled with all of the products that the students produced."
Jupiter Bike, based in Tampa, Florida, sponsored the team that took home the Fellow's Award, which honors the most impressive capstone project according to industry judges. This team augmented the existing Jupiter Bike, which is a compact, folding, electric bicycle, by adding a third wheel. This additional wheel resulted in an ultra-transportable mobility alternative that weighs just 37 pounds compared to the standard 350-400-pound mobility devices currently on the market.
"It was such a valuable experience, to be able to take what we learned here at Florida Poly and apply it to a practical engineering problem," said Chris Konow, a mechanical engineering major from Odessa, Florida, and part of the winning team.
The Child Alertness System team took home the Faculty Choice Award for creating a system that alerts emergency medical services (EMS) if a person is detected to be trapped in a vehicle that reaches unsafe temperatures, either too hot or too cold.
"The capstone program is a win-win for students and companies alike," said Dr. Matt Bohm, university capstone design coordinator and associate professor of mechanical engineering.
"The Capstone Projects give students an opportunity to apply the knowledge that they have learned in a real-world setting," said Bohm. "It's an experience that's not cooked up in a lab. Students can touch, see and feel the impacts of their work while companies absorb the benefit of the skills these students bring to the table."
Contact:
Lydia Guzman
Assistant Director of Communications
863-874-8450